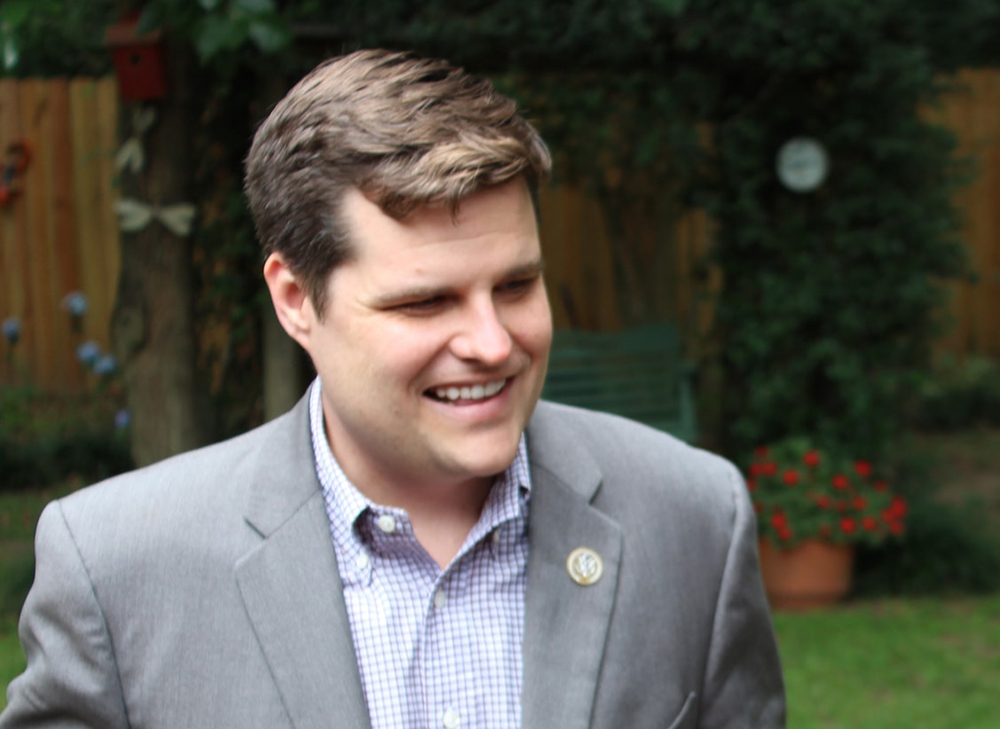 A poll commissioned after Matt Gaetz cruised past his two primary challengers found that Republican primary voters were just fine with their Congressman supporting medical marijuana.
Nearly 70 percent of Republicans in Florida's 1st Congressional District told St. Pete Polls they cast their ballot for Gaetz in last week's primary election.
Though the Shalimar Congressman's actual vote total was closer to 65 percent, more than half of those who said they were in Gaetz's corner were also supportive of the Sunshine State's 2016 medical marijuana law while only 37 percent said they were against it.
That gives the law a plus-16 margin of support among Gaetz's voters in the ruby-red district — registered Republicans outnumber registered Democrats by more than 2-to-1 in CD 1.
In 2016, Floridians voted overwhelmingly in favor of a constitutional amendment allowing people with debilitating conditions to use medical marijuana.
Well before that amendment (or the failed 2014 version) went before voters, Gaetz sponsored the state House version of a bill legalizing the use of low-THC medical marijuana to treat certain patients, such as children who suffer from debilitating seizures.
When dispensaries started rolling out medical marijuana to patients, Gaetz even went on a ride along to deliver the medication to a Northwest Florida family.
The first term Congressman has also given medical marijuana some attention during his time in Washington. Earlier this year, he joined Kendall Republican U.S. Rep. Carlos Curbelo and Orlando Democratic U.S. Rep. Darren Soto in sponsoring a bill to legalize and promote federal research into medical marijuana.
When St. Pete Polls asked Gaetz supporters if they were aware that their Congressman was "a strong supporter of medical marijuana research and helped pass Florida's first low-THC medical cannabis law," 58 percent answered in the affirmative.
Among those who said they were aware, only 29 percent said it influenced their vote — 16 percent said that it was positive, while 13 percent said it was negative. For the remaining 71 percent, medical marijuana didn't factor into their decision at the polls.
When asked if they had seen any advertising on Gaetz's support for medical marijuana, 31 percent said they had while the balance said they had not.
The St. Pete Polls survey, conducted Sept. 4, received responses from 604 registered Republicans in Florida's 1st Congressional District who said they voted in the Aug. 28 Republican primary. The survey has a margin of error of 4 percentage points at a 95 percent confidence level.
The poll was commissioned as part of "Wellness Week," a collaboration between Florida Politics, St. Pete Polls and Empowering Wellness.