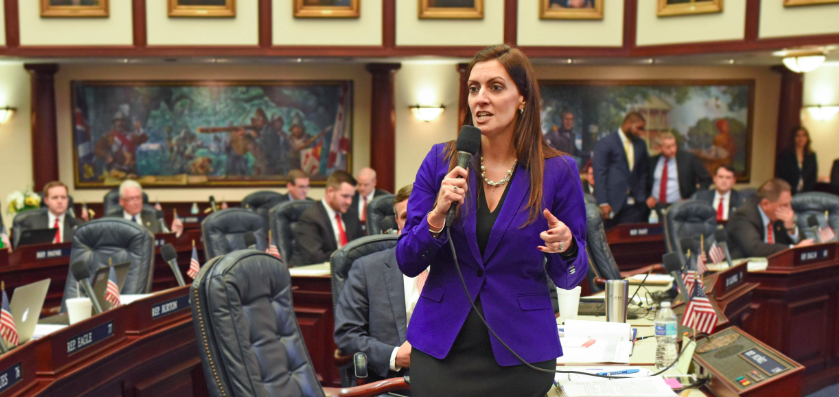 After much speculation, Ron DeSantis made it official Thursday: Rep. Jeanette Nuñez is his pick for Lieutenant Governor.
"Jeanette Nuñez is a strong, principled leader who will be an outstanding Lieutenant Governor for the people of Florida," DeSantis said Thursday morning. "She has a proven record of leadership and legislative accomplishments, delivering for both her constituents in Miami-Dade and the state of Florida as a whole.
"Jeanette will help us build on our economic success, protect our environment and empower parents to make the best educational decisions for their children. I look forward to campaigning with her across our great state to secure Florida's future," he concluded.
The campaign announcement said Nuñez will join DeSantis for campaign stops in Orlando and Miami today.
"I'm honored to have the opportunity to serve the people of Florida with Congressman DeSantis," Nuñez said. "In South Florida, we know that by empowering the free market — not big government — we succeed as a state. Together, I know we can build an economy that works for all Floridians, protect our natural resources and provide every child a great education. I'm excited about sharing our message across the Sunshine State and bringing home a big win in November."
Nuñez is the first female Cuban American to be named as a Lieutenant Governor nominee in Florida.
Nuñez initially shied away from running a statewide campaign but was urged to accept the role by U.S. Sen. Marco Rubio. She currently represents House District 119 in Miami-Dade County and most recently served as Speaker Pro Tempore in the Florida House.
Nuñez began her political career working for former state Rep. Alex Diaz de la Portilla before moving on to work in government affairs at Jackson Health System.
She returned to politics with a run for Florida House in 2010, which she won. Nuñez has been re-elected three times since, and had she not accepted DeSantis' overture, she would have left public office on Election Day because of term limits, however, she is currently a candidate for Senate District 39 in the 2020 cycle.
Nuñez has shown her conservative bona fides, earning a 96 percent rating for the Florida Chamber of Commerce and a 93 percent rating from the National Rifle Association according to Vote Smart, which tracks candidates votes and positions.
But Nuñez also played a more moderate role at times, pushing for passage of a bill which would allow undocumented students to qualify for in-state tuition rates at Florida public schools.
And in contrast to DeSantis, who has heavily embraced President Donald Trump, Nuñez was a bit more lukewarm on Trump when he was a candidate in 2016.
Nuñez served as one of 99 delegates from the state of Florida to participate in the GOP nominating convention. In an interview with Jim DeFede on CBS Miami's Facing South Florida, Nuñez talked about her role as a delegate ahead of that convention.
"I was not an early Donald Trump supporter," said Nuñez, who originally supported Rubio for the nomination. "In all honesty, he wasn't my pick. He wasn't, probably, my second or third choice."
Still, she said her duties as a delegate bound her to vote for Trump, as discussions of a possible "Dump Trump" rebellion were had ahead of the convention in Cleveland.
"He won our state resoundingly and I think that we have an obligation to respect the will of the voters even if we don't necessarily like it or agree with it," said Nuñez at the time. "I have a job as a delegate that I need to sort of separate from, perhaps, my personal views."
And Nuñez did make clear she supported the party coming together in support of Trump's general election campaign.
"I think ultimately, [the convention will] be just a really great opportunity for the party to get behind the nominee and move forward."
"She's someone I've been a big fan of for a long time," said Agriculture Commissioner Adam Putnam, who lost by 20 points to DeSantis. He said he hasn't given much thought to what he'll do when his term as agriculture commissioner expires in January.
Shortly after the Nuñez pick became official, the Florida Democratic Party noted that she "hit the panic button" and deleted a 2016 "NeverTrump" tweet.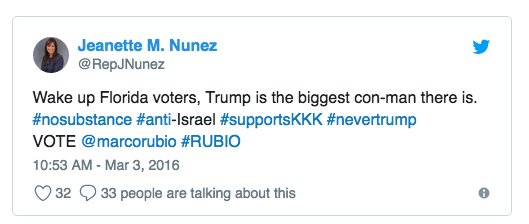 "In the Republican gubernatorial primary, DeSantis repeatedly attacked Adam Putnam for making very similar anti-Trump comments during the 2016 election," FDP said in an email asserting DeSantis "botched" his LG announcement. "The fact that the tweet wasn't deleted before Nuñez's rollout raises questions about why the DeSantis team didn't properly vet their running mate — and is just the latest setback for a campaign that has been struggling with poor fundraising numbers and a candidate who hasn't held a campaign event in days."
—
Some material from the News Service of Florida is used in this article, with permission.