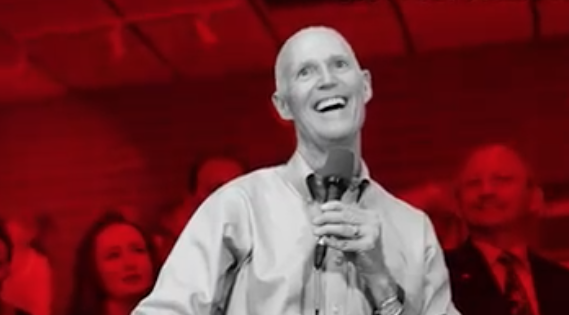 Two Democratic political action committees, the Senate Majority PAC and Priorities USA, are teaming for a new digital ad blitz against Republican Gov. Rick Scott's U.S. Senate bid, part of a $21 million national internet advertising campaign targeting Republican U.S. Senate candidates in nine states.
One new 15-second spot set to run in Florida, "Richer" charges that, as Governor, Scott turned down funding for health care and cut funding for public education while supporting tax cuts for the rich, and got richer himself along the way.
"Scott got richer, and even bought himself a new private jet, while our families got hurt," the narrator says, as pictures of Scott, a private jet, and a sad mother and daughter move across the screen. "Scott's never been on our side. He never will be."
Senate Majority PAC and Priorities USA said in a news release they're spending $18 million combined on this ad and other attack ads being launched in Florida, Arizona, Indiana, Missouri, and North Dakota. Senate Majority PAC also announced it is spending an additional $3 million on its own for new ads in Montana, Nevada, Tennessee, and West Virginia.
The release did not break down how much of the $18 million is being spent on Florida, but the Sunshine State has more residents than the other four states combined. The ads will run on Facebook and video and audio streaming platforms such as YouTube, Hulu and Spotify, among other platforms, the release stated.
Last month, the same two groups spent $1.1 million on internet ads attacking Scott on health care issues. Earlier this year, Senate Majority PAC put $2.2 million behind television commercials backing Democratic incumbent U.S. Sen. Bill Nelson, who's being challenged by Scott in the Nov. 6 election. And in May, the two groups teamed up for $600,000 in digital ads supporting Nelson.
"Across the Senate map, Republican candidates are on the wrong side of the issues most important to voters, and we are using every tool we have to hammer that point home," J.B. Poersch, president of SMP, stated in the release. "With Priorities' help, we are amassing a robust and efficient digital program to communicate to voters that Democrats are the ones fighting for the middle class, while Republicans continue to look out for the wealthy and the special interests."
"Mitch McConnell and Senate Republicans are desperate to hold on to power so they can stack the courts, weaken Medicare, and pass even bigger tax cuts for the wealthy and big corporations at our expense," Guy Cecil, chairman of Priorities USA Action stated in the release. "Priorities USA Action is committed to closing the digital spending gap in critical races and is thrilled to work closely with SMP to talk to voters about the issues that matter most."