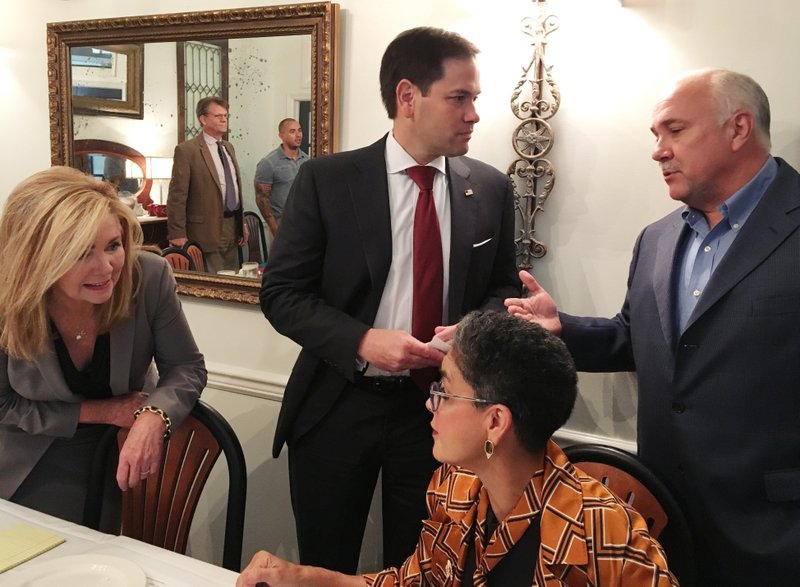 Republican U.S. Sen. Marco Rubio said Friday that Democratic former Tennessee Gov. Phil Bredesen is "trying to pull a fast one" on voters by promising to be moderate if he's elected to the Senate in a critical race.
The Florida senator made the comments to reporters Friday after attending a Tennessee campaign roundtable with Hispanic community members for Bredesen's opponent, Republican U.S. Rep. Marsha Blackburn. Rubio praised the congresswoman as having the right background to contribute to what Republicans are doing in the Senate.
Bredesen and Blackburn are locked in a tight contest to replace retiring Republican Sen. Bob Corker. Democrats' hopes to overturn a 51-49 GOP Senate majority could hinge on the outcome in Tennessee, a red state where Bredesen is hoping to draw some support from moderate Republicans, and Blackburn is trying to curb his crossover appeal.
Rubio said Democrats like Bredesen promise that they're middle of the road, but when they get to Washington, they vote 99.9 percent of the time with lawmakers whom Tennesseans would never vote for themselves. Rubio also touted the recent economic growth, tax cuts, GOP judicial appointments and other occurrences while Republicans have been in control.
"So you have a great candidate," Rubio told reporters. "You have someone on the other side who's trying to pull a fast one on you. And you have real progress in this country, despite all the rhetoric and the noise, that would all stop if too many of the wrong people get there, like the individual running as a Democrat here in this state."
Bredesen campaign spokeswoman Alyssa Hansen responded Friday that, like Bredesen, Tennesseans are independent thinkers and don't need out-of-state politicians telling them what to do.
"Congresswoman Blackburn should keep this in mind the next time she wants to bring one of her D.C. friends to town," Hansen said in a statement.
The roundtable event delved into a discussion on immigration, a system that Rubio said needs to be modernized away from being "almost entirely built on, 'How many relatives do you have living here now?'"
"Now, if you can dunk a basketball or throw 98 mile-an-hour fastballs, you'll have no problem getting into the U.S.," Rubio said. "But if you're going to be a Ph.D. that's going to cure cancer, you may or may not get to come depending on when you apply and how lucky you are. That's got to be fixed."
Blackburn has been a strong advocate of President Donald Trump's immigration crackdown plans, including his proposal to build a wall on the U.S.-Mexico border.
She also has opposed a President Barack Obama-era program that shields from deportation young immigrants brought or kept here illegally as children. Blackburn said in September 2017 that the program offers "the false hope of amnesty that led to a surge of illegal immigration and stole jobs from American citizens by giving illegal aliens work permits," while also calling for a larger fix to the immigration system.
Hansen, the Bredesen campaign spokeswoman, said Blackburn's roundtable displayed "jaw-dropping hypocrisy" on immigration.
When a reporter asked Blackburn why Friday's discussion didn't touch on Trump's wall, she refocused the conversation on support for economic growth, entrepreneurial activity and emphasis on "religious liberty" to help charities under Trump.
—
Material from The Associated Press was used in this post.