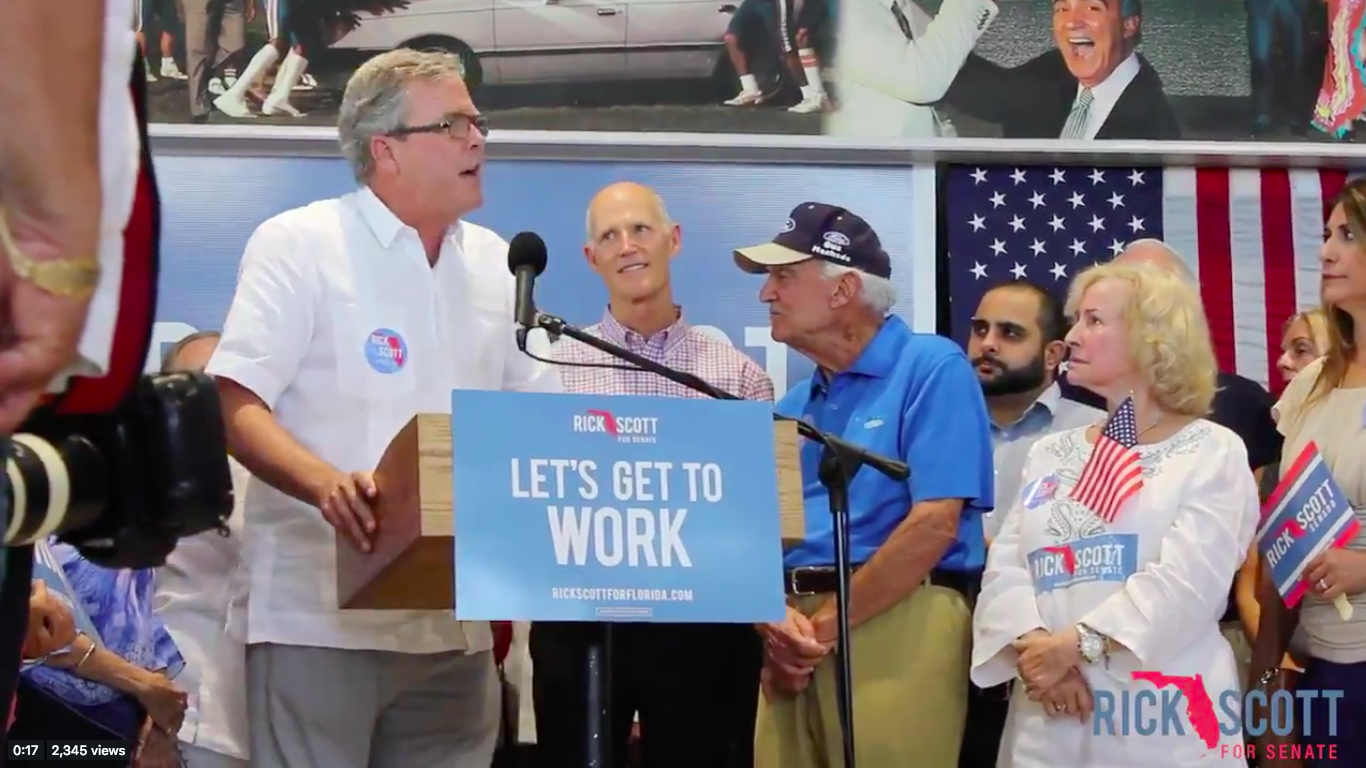 Former Gov. Jeb Bush hit the campaign trail this weekend and leveled heavy criticism at U.S. Sen. Bill Nelson, saying the Democrat voted "for every liberal idea" when party leadership asked.
Bush stumped Saturday on behalf of one of his successors, Gov. Rick Scott, the Republican nominee challenging Nelson's re-election this year. And while Bush's governorship overlapped with Nelson's first term, Bush did not express much nostalgia from the podium.
"With all due respect to the current incumbent, the United States senator, what has he done?" Bush asked. "I've been waiting. I can't think of anything. He must have done something."
Then he answered his own question.
"Yes he has," Bush said. "He has voted for every liberal idea that has made it harder for us to progress as a nation."
Bush said Nelson sometimes would hedge and "dance" on hard or unpopular decisions during his three terms in the Senate but always buckled when pressured from the left.
"When he is forced to by the leadership of his party, he will always vote for more taxes, more regulation, more government, a weaker national defense."
That led into a full-throated endorsement for Scott.
Bush rode on Scott's bus tour, making stops along the way in Miami and optimistically referencing the South Florida region as Scott country on Twitter.
Great day on the campaign trail with my friend Rick Scott. Miami is @ScottforFlorida country! pic.twitter.com/MaZsJGK61J

— Jeb Bush (@JebBush) September 15, 2018
He also showed himself on Scott's campaign bus with Republican U.S. Rep. Mario Diaz-Balart and former U.S. Rep. Lincoln Diaz-Balart, members of another South Florida political family.
The event came a day after former President George W. Bush, Jeb's older brother, appeared at a Tampa fundraiser supporting Scott, according to News Channel 8 WFLA.
Of note, Jeb Bush did not originally back Scott's ambitions when the Naples executive first ran for governor, instead preferring then-Attorney General Bill McCollum. Of course, the governor quickly backed Scott after his surprise primary win in 2010.
Scott has remained a figure with an outsider mythos, becoming an ally of President Donald Trump, while the Bushes remain the mascots of the establishment (and not such allies of Trump).
But Bush's arrival on the campaign trail for Scott shows that in the Senate race the sometimes disparate factions of the GOP share an enthusiasm for the current governor's Senate ambitions.
Incidentally, Bush himself rebuffed efforts to recruit him to a Senate race after his time in Tallahassee drew to a close. He rebuffed calls to run in 2010.