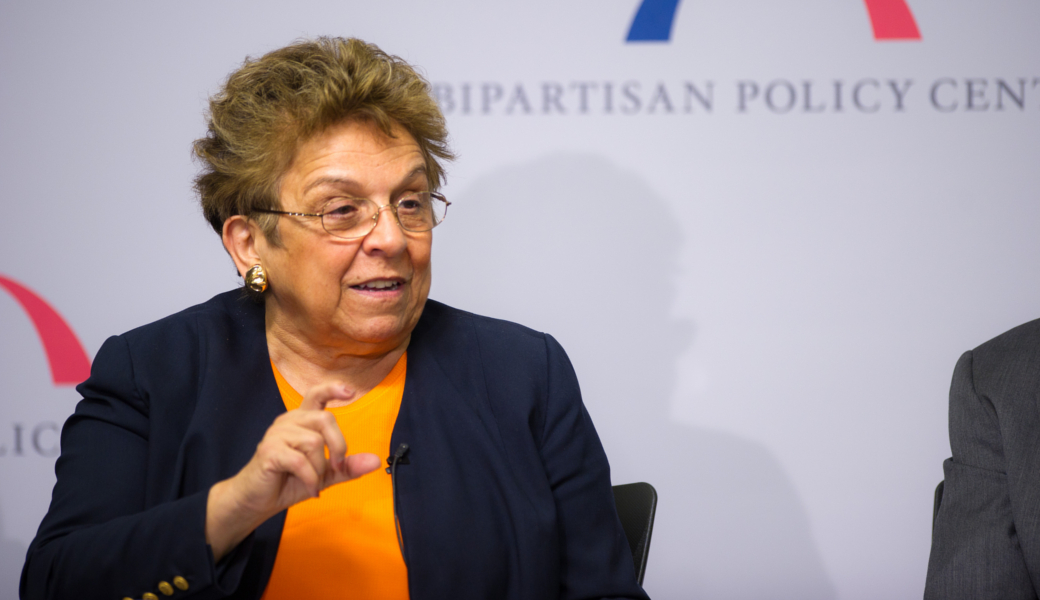 A pair of internal campaign polls obtained by POLITICO suggest a surprisingly close race in Florida's 27th Congressional District.
The race has long been considered one of Democrat's best pickup opportunities in 2018. Those chances were seemingly strengthened when favorite Donna Shalala won the crowded Democratic primary last month.
But a new internal poll from Republican Maria Elvira Salazar shows Shalala trailing by nine points. A separate internal from Shalala's own campaign bodes somewhat better for the Democrat. It shows Shalala ahead by four points.
Now, Shalala's campaign is calling into question the veracity of Salazar's polling.
"This was a Republican push poll that read more than 10 negative statement about Donna Shalala," said Mike Hernandez, a Shalala campaign spokesperson.
"Given that, it's no surprise the result. This will be a very competitive race, no doubt. But this study is not an accurate snapshot of where the contest stands today."
The National Republican Congressional Committee, which has named Salazar to its "Young Guns" program, denied those accusations in a statement to Florida Politics.
"No push questions were asked before the ballot test," said Maddie Anderson, an NRCC spokesperson.
However, when asked for a copy of the questions as they were posed to potential voters, neither the NRCC nor the Salazar campaign agreed to disclose them.
Whatever the reality of the Salazar poll, this episode is a great example of why publicly-released internal campaign polls should be taken with a grain of salt. Not only do they tend to skew heavily toward the candidate releasing them, but the exact methodology is at times unavailable for any sort of screening.
Still, it is worth noting both polls are painting the same picture: This is a close race.
That would be in line with how several forecasters view the race, plugging it into the "lean Democratic" column.
That designation entails a small advantage for the Democrat, one that could easily be overcome on Election Day. And if these polls are to be believed, Shalala might indeed come up short.
But FiveThirtyEight is far more bullish on Shalala's chances, giving her a more than 98 percent chance of taking the seat.
POLITICO notes that some Democratic insiders are spooked by these survey numbers and do not see this race as a sure thing.
Overall, Salazar's poll shows her earning 51 percent support, with Shalala pulling in just 42 percent. Seven percent of voters are undecided. That survey was conducted by McLaughlin & Associates from Sept. 10-13 among 400 likely voters.
Shalala's survey had her with 46 percent support to Salazar's 42 percent. It also included third-party candidate Mayra Joli, who earned 8 percent of the vote, with the remaining 4 percent undecided.
Despite running an independent challenge, Joli has heavily aligned herself with President Donald Trump. Should she earn fewer than 8 percent of the vote on Election Day, most of that support would likely go to the Republican Salazar. That would put an even bigger dent in Shalala's chances.
Shalala's poll was conducted by Bendixen & Amandi Aug. 29-Sept. 2 and surveyed 600 likely voters.