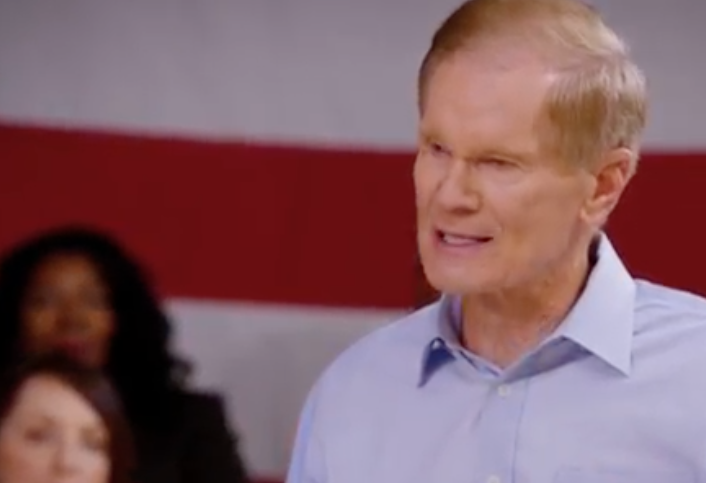 Democratic U.S. Sen. Bill Nelson's campaign is launching two very different new television commercials, one attacking his election opponent Republican Gov. Rick Scott and the other drawing inspiration from Nelson's moment as an astronaut.
Nelson's first ad, "Speak", shows no mercy for Scott, setting him up to take blame for the red tide disaster devastating Florida's waters, the ranks of uninsured Floridians, cuts in education funding, and scandals over hurricane contracts, while also noting that the governor's personal wealth soared while he was in office.
The first charge comes from Nelson's and Democrats' contention that this year's algae blooms are at least in part worsened by Scott's record on environmental protection over eight years; the second on the governor's refusal to seek the federal Medicaid expansion offered Florida to cover uninsured residents through the Affordable Care Act; the third from media reports regarding cleanup contracts in Monroe County following last year's Hurricane Irma; and the fourth from financial disclosures that revealed Scott's blind trust finances have been performing very, very well while he's been governor.
"The worst toxic algae crisis in Florida's modern history," the narrator declares. "Eight hundred thousand Floridians denied health coverage, $1.3 billion cut in education. Gave donors secret contracts after Hurricane Irma that cost taxpayers $30 million. Made half a billion dollars in one deal as governor and hid it."
"The results speak for themselves," Scott declares after each point, in a brief video clip that keeps repeating.
Previously, Scott and his office and campaign have vigorously defended his record on addressing the algae blooms, including funding released Monday, have defended his decision to reject the Medicaid expansion as a potential financial obligation for Florida down the road, and noted that after initial education cuts to balance the state budget in the Great Recession, Scott oversaw increased spending on education through much of the rest of his tenure. The Monroe County issues were dismissed as outside the governor's actions, as Scott's campaign declared, "his top focus was on the safety and recovery of our communities and he did that while protecting taxpayer dollars."
Nelson's other new commercial, "Strapped," has an entirely positive tone. It renews Nelson's reflections on his time as a U.S. Congressman sent into space as a payload specialist astronaut on the Space Shuttle Columbia in 1986. At what appears to be a town hall meeting, Nelson recalls looking down on the Earth and seeing "we're all in this together."
"I look back at Earth. I didn't see religious divisions. I didn't see political divisions. I didn't see racial divisions," he says in a speech, a point that's been a staple of his speeches for many years. "What I saw is, we're all in this together. If we just remembered that, we'd get a lot more done."
As for that spot, Camille Gallo, spokeswoman for the National Republican Senate Committee, charged that all Nelson ever wants to talk about is space, because he has no other accomplishments.
"With such a weak record, it's no wonder Nelson would rather talk about outer space than Florida," she said in a response statement.
The two 30-second spots began airing throughout Florida over the weekend, his campaign announced Monday.