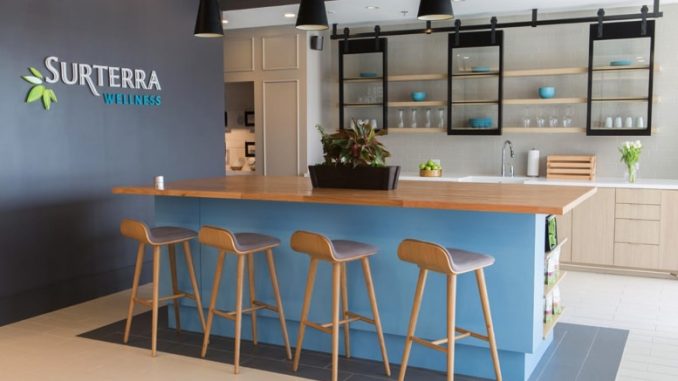 Representatives of medical marijuana provider Surterra were joined by members of the Clay County Chamber of Commerce on Thursday for a ribbon cutting that seemed implausible a couple of years ago.
Clay County was cautious in allowing medical cannabis dispensaries to open, but the conservative Northeast Florida county eventually saw benefit.
In October 2017, the city of Orange Park greenlighted dispensaries. It took almost a year for Surterra, which is state-licensed, to open in a strip mall near the Orange Park Mall.
Even as popular opinion seems to be moving toward outright legalization of adult-use cannabis (a.k.a., "recreational marijuana"), the evolution in the medical space is worth noting, underscored by statewide candidates on the 2018 ballot.
In the Agriculture Commissioner race, South Florida Democrat Nikki Fried has been a medical cannabis lobbyist. North Fort Myers Republican Matt Caldwell represents reform also, however; he advocates rescheduling cannabis on a federal level. The two diverge on whether medical cannabis should be smoked.
No matter who wins, expect friendlier terrain for the booming cannabis industry than the current framework.
Democrats up and down the ticket have embraced reform:
— Gubernatorial nominee Andrew Gillum wants legalization.
— Sean Shaw recently did a press conference at another Surterra, where he advocated for the program.
— Even Sen. Bill Nelson, at the urging of Orlando lawyer and medicinal cannabis advocate John Morgan, has embraced the idea that the plant should be smoked by those whose doctors prescribe it.
These are boom times for the heavily capitalized Surterra, which is expanding its cultivation and retail footprints while announcing new celebrity collaborations (Jimmy Buffett, looking at you).
With the regulatory climate becoming more pragmatic as capital convinces legislators to evolve, we spoke with Surterra's Kim Hawkes, who handles government and public relations for the company.
She came to the private sector from the state's Office of Medical Marijuana Use (OMMU), where she was External Affairs Coordinator. Having seen the program evolve, she is optimistic about the future of the medical cannabis industry.
Hawkes, a veteran of the Rick Scott administration, noted that in recent years, "the learning curve has been quite steep" for legislators as the program ramped up.
"However, we're now finding that most Floridians are surmounting" that curve, Hawkes said, as "cannabis-based medicines" become "more mainstream."
"Elected officials in Florida are finally understanding that the majority of their constituencies want medical cannabis," Hawkes said. "The majority even support having it regulated in an adult-use program."
"It's surprising to them when they see the numbers. Over 70 percent support medical cannabis," Hawkes said, referring to public opinion surveys. That's an echo of the constitutional amendment that allowed medical marijuana, passed by 71 percent of voters in 2016.
And those numbers could move elections, including in six weeks.
Hawkes noted that "single-issue voters who are excited about what medical cannabis can do … are not keeping quiet" or "staying lethargic as you might have seen before."
"It's a really exciting election cycle to be part of that," Hawkes said.
With adult-use legalization becoming less of a hypothetical as time moves on, we asked Hawkes if Surterra was concerned about that development. Quite the opposite, she said.
Surterra "started in the medical space, and that's what we believe in: Empowering people's wellness," Hawkes said.
However, "we're more in the health and wellness market, which expands across the medical cannabis market and the adult-use cannabis markets. The health and wellness market expands over both of them, and that's where we aim to target."
"Recreation is a part of treatment plans for recovering addicts. Recreation is part of a holistic approach to becoming better, living well, and that's what Surterra stands for," Hawkes added.
Whatever the framework, "support of health and wellness" is the company's goal.
Regarding the question of smokable cannabis, there are some dispensaries (Trulieve, most prominently) that offer flower pods that can be vaporized (i.e., "vaped").
Surterra does not. Hawkes noted that's not because of any philosophical difference, but interpretation of the state law that implemented the amendment.
"If we receive approval from the Department of Health to offer those products, we will offer those products," Hawkes said, citing a need to allow an amendment to its medical marijuana treatment center (or MMTC) application.
Hawkes expressed optimism also about the OMMU processing patient applications more quickly, noting that the use of a third-party vendor (Veritec) has ended the narrative about onerous wait times for state approval.
"For patient-access purposes," Hawkes said, "that's fantastic."