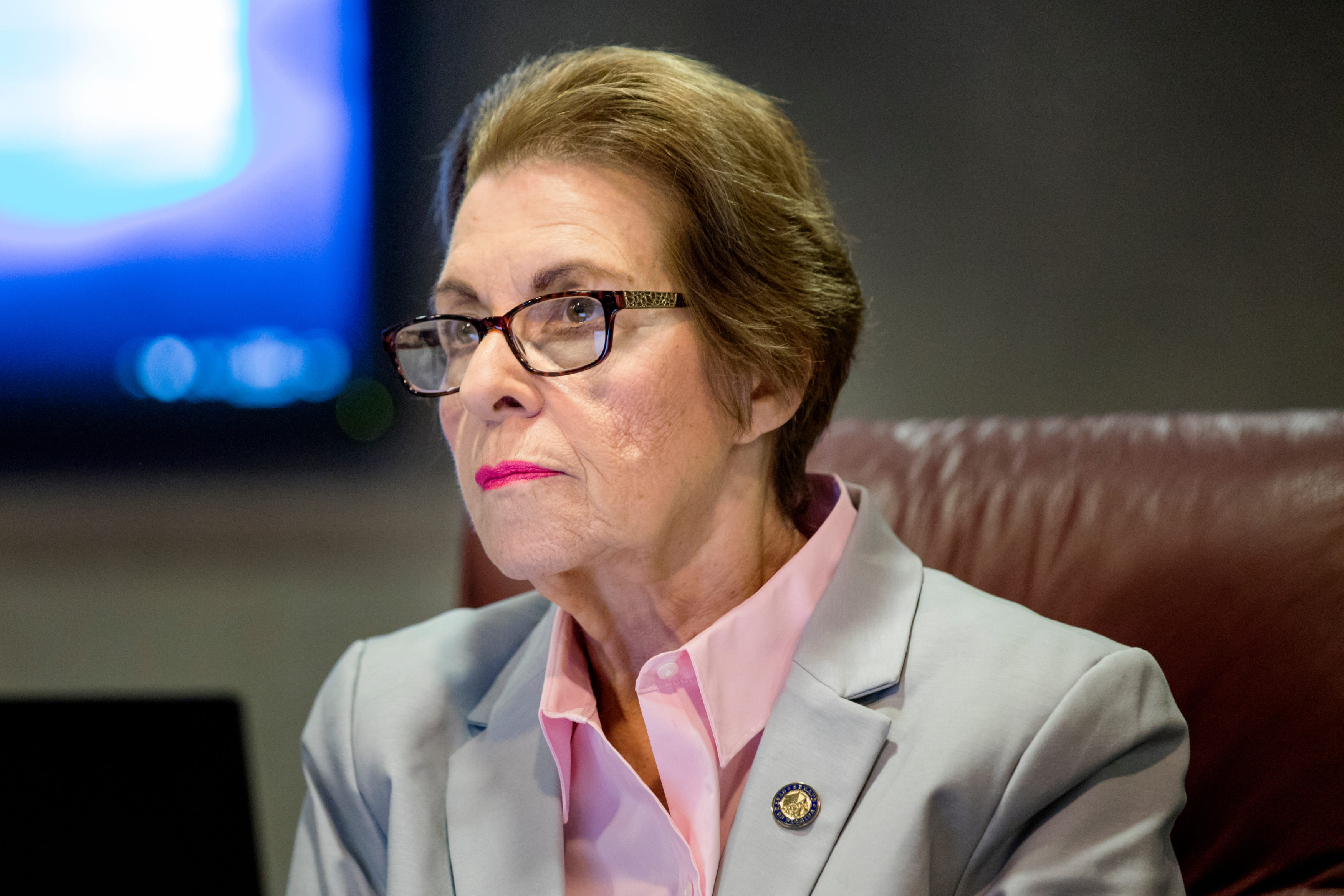 State Sen. Dorothy Hukill on Friday announced on Facebook that she "recently experienced an aggressive recurrence" of cancer and has decided to enter hospice.
"I received treatment for cancer in 2016," the Port Orange Republican wrote. "Thanks to the well wishes and prayers from so many of you, and the excellent care from my medical team, the cancer went into remission. Returning to work serving my constituents over the past two years was one of the great joys of my life.
"Unfortunately, I have recently experienced an aggressive recurrence of this cancer. Along with my family, I have made the difficult decision to enter hospice care and no longer seek treatment for this disease. As a result, I will no longer be seeking re-election this November."
Hukill, first elected to the Senate in 2012, was running against Democrat Melissa "Mel" Martin in Senate District 14. [Ed. Note — See bottom of post.] Hukill also served in the House 2004-12 and was mayor of Port Orange 2000-04.
"I have so enjoyed serving you and the people of Florida," she said. "I have been honored by your friendship and the trust you have placed in me, from my very first term serving on the Ponce Inlet Town Council to the past six years in the Florida Senate.
"To all of my friends, supporters, constituents, colleagues, and my dedicated staff who have all done so much on behalf of the people we've served: thank you from the bottom of my heart."
In November 2016, Hukill disclosed that she had been diagnosed with cervical cancer. She missed the 2017 Legislative Session while she was undergoing treatment.
Last March, Hukill told Senate President Joe Negron that she was on the mend and she returned to Tallahassee this past Session. The attorney, chair of the Senate's Education Committee, has long been interested in education, legal and technology issues. She is a former public elementary school teacher.
She sponsored a measure that became law in 2014 prohibiting Florida public schools from collecting or using student "biometric data" — fingerprints, handprints, and retinal scans — as part of an education data privacy measure.
"I am deeply saddened by the news today from Senator Hukill's family on her declining health," Senate President-designate Bill Galvano, a Bradenton Republican, said in a statement.
"Dorothy is a longtime dear friend and my heart breaks at this news," he added. "I know my friend to be a fighter and she has battled this terrible disease with everything she has. Julie and I send our prayers to Dorothy and her family at his time."
Outgoing President Joe Negron, a Stuart Republican, added: "Senator Hukill is a tireless, passionate and selfless advocate for her constituents. Even in her times of greatest medical challenge, she has remained steadfast in representing her community. On behalf of the Senate, I offer our thoughts and prayers to her and her family in this difficult time."
Gov. Rick Scott was among the hundreds of well-wishers who expressed concern for Hukill on Twitter.
Scott and his wife, Ann, were "saddened" to hear the news about Hukill, the governor tweeted.
"I am grateful for her steadfast commitment to Florida & have been glad to work with her in Tallahassee. We are praying for comfort and peace for Dorothy & her family," he went on.
Sen. Rob Bradley, a Republican from Fleming Island, called Hukill "a dear friend and cherished colleague."
And Susanne Raines, president of the Democratic Club of Northeast Volusia County, issued a statement praising Hukill for setting "a good example by her community service" and calling her "a well-loved public servant."
In her re-election campaign, Hukill had a sizeable financial advantage over Democratic challenger, Martin, a former judge advocate in the U.S. Marine Corps. The Republican-leaning Senate District 14 includes covers southern Volusia and northern Brevard counties.
As far as the election, Sarah Revell, director of communications for the Florida Department of State, explained that if the state receives a letter of withdrawal, "it would create a vacancy in nomination which triggers a process outlined in state law.
"The Republican Party would have the opportunity to designate a nominee to fill the vacancy," she said. "Since it is too late to change the ballots, a notice would be provided to voters at the polls, and enclosed with any future vote-by-mail ballots, indicating that a vote for the former party nominee will be counted for the person designated by the political party to replace the former party nominee."
This is the same process being followed in Congressional District 17, she added. Democratic U.S. House candidate April Freeman died unexpectedly Sunday night.
__
Updated 6:45 p.m. — Martin, Hukill's Democratic opponent, released this 'open letter' on Friday:
Dear Dorothy,
While we have only had the opportunity to meet in person a few times, please know you have always had my respect and admiration. The news today sent shockwaves of sadness; a surreal moment where the reality of our fragile humanity stomps the notion of party politics into the dirt.
You have given so much of yourself serving Ponce Inlet, Port Orange and the state of Florida, and we are incredibly grateful for your decades of service.  
I'm not sure what comfort I can provide you or your loved ones in this time of sadness and reflection, but please accept my most sincere condolences and gratitude for your contributions to our community.
Now is not the time to reflect on politics, and I will not spend any time doing so.  At this moment, we reflect on your lifetime of service to those in need and the people you so ably represented.
Today, we are all kin.  We all share in this heartbreak and we all send our warmest thoughts and earnest prayers.  We lift you up in true respect and esteem, and I would love the honor to sponsor a bill on Day 1 to assure your name continues to be known and loved in perpetuity.
With deep regard,
Melissa Martin
—
Some material from the News Service of Florida is used in this post, with permission.