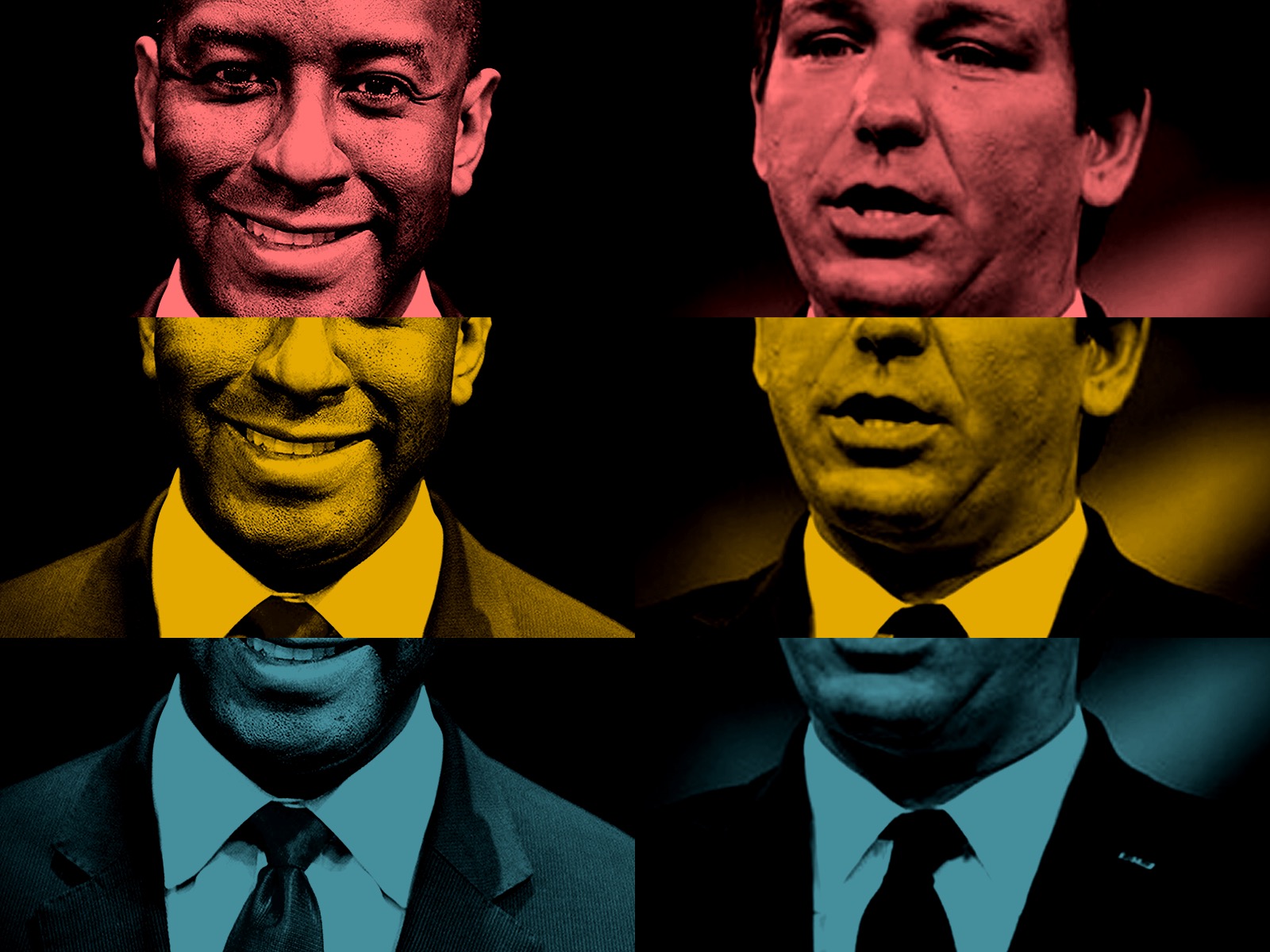 Republican opponent Ron DeSantis is behind Democratic gubernatorial nominee Andrew Gillum by just two percentage points in a new statewide poll of likely voters.
The St. Pete Polls survey, commissioned by Florida Politics, found Gillum leading DeSantis 47 percent-45 percent with Reform Party nominee Darcy Richardson pulling 2 percent support and the remaining 6 percent of voters undecided.
DeSantis and Gillum are supported by about 75 percent of registered Republicans and Democrats, respectively, with about a sixth of those voters saying they would cross party lines on Election Day.
Gillum, however, holds a strong lead among independent voters, who prefer the Tallahassee Mayor over the former Congressman by a 52-36 percent margin.
By age, Gillum has a 10-point lead among Gen Xers while DeSantis leads by 3 percentage points among Millennials. The two candidates, both 39 years old, are virtually tied among voters aged 50 to 69 years old and those over the age of 70. Gillum leads by a hair among men, 47-45 percent, while women prefer him by three points, 47-44 percent.
DeSantis holds a 10-point lead among white voters, who made up about two-thirds of the sample, and the pair were tied among Hispanic voters. Every other demographic preferred Gillum by a wide margin. Among black voters, Gillum — the state's first black gubernatorial nominee for a major party — holds an 80-15 percent lead.
Regionally, Gillum holds a strong lead in the Tallahassee, Gainesville, West Palm Beach and Miami media markets. DeSantis takes Pensacola, Panama City, Jacksonville and Fort Myers while he and Gillum are statistically tied in the Orlando and Tampa markets.
The automated phone poll was conducted Sept. 29 through Sept. 30 and received responses from 2,313 registered voters who said they planned to vote in the November election. The topline result of the St. Pete Polls survey has a margin of error of plus or minus 2 percentage points at a 95 percent confidence level.
An early September survey from the same pollster showed Gillum and DeSantis tied, with Gillum holding a statistically insignificant lead of three-tenths of a percentage point. Other recent polls, however, have shown Gillum leading the race.
A poll released Friday by the Florida Chamber of Commerce, which recently gave DeSantis their "firm endorsement," showed Gillum leading by 6 percentage points. The lead in that poll fell outside the poll's margin of error of plus or minus 4.4 percentage points.
Two weeks prior, the Chamber pegged the race at 47-43 percent in favor of Gillum.
Thanks to the support of President Donald Trump, DeSantis steamrolled Putnam in last month's primary election by more than 20 points. On the Democratic side, Gillum defied most polling to defeat former Congressman Gwen Graham and three other major contenders by a slim margin.
Election Day is Nov. 6.