Republican state Rep. Ross Spano leaped to the center in his campaign against Democrat Kristen Carlson. Spano's campaign updated his website after the August primary to reflect "policy-based questions of a broader electorate," a campaign spokesperson said.
Before the primary, Spano's website had several tabs for various policies. When website visitors clicked on the links, they were redirected to a page explaining his position on those issues.
The campaign deleted tabs for life, the Second Amendment and President Donald Trump. The "life" tab displayed a graphic of a fetus, and the link explained Spano's pro-life values. The Second Amendment tab displayed a gun icon and painted the conservative as pro-gun rights.
Campaigns on either side of the aisle often shift talking points after a primary election to more moderate talking points.
Spano's base Congressional District 15 is largely conservative. His district covers parts of Hillsborough, Lake and Polk counties. It went plus 10 for Trump in 2016. The incumbent, Republican Dennis Ross, is retiring. Spano currently holds the House District 59 seat covering Brandon and surrounding areas.
Spano defeated Neil Combee and three others with 44 percent of the vote in the Republican Primary for Ross's district.
Playing to Second Amendment rights, anti-abortion morals and pro-Trump sentiments helps conservative candidates turn out voters during Florida's closed primaries, but when campaigning shifts to a bipartisan electorate, moderate voters don't respond as well to partisan talking points.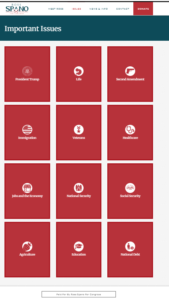 Now Spano's website focuses on topics that affect all voters regardless of party affiliation like health care, jobs and the economy and education.
Spano's biography on his website also changed. His old biography listed the church Spano and his family regularly attend — Bell Shoals Baptist Church, which is a mecca for die-hard conservatives. It mentioned his pro-life beliefs and explained where gets his conservative values.
"Ross Spano's belief in limited government came at an early age, watching the negative effect the government had on his father's small business," the bio read. "After graduating law school, Ross started his own small business and felt those effects first hand."
"He saw how much government red tape, overregulation and high taxes held back entrepreneurs from expanding, creating more jobs and supporting their family."
The new version of his biography omits that anecdote and only briefly glosses over Spano's advocacy for less regulation, lower taxes, higher paying jobs and safer communities. It also eliminates references to working toward eliminating illegal immigration.
The new version also adds comments about committing to lower health care costs and restoration of doctor-patient relationships and says he will work to make recent tax cuts for the middle class permanent.
The most recent polling shows Spano holding a three-point lead over Carlson, but that's within the margin of error. A previous internal poll by the Carlson campaign found the Democrat with a 1 point lead.