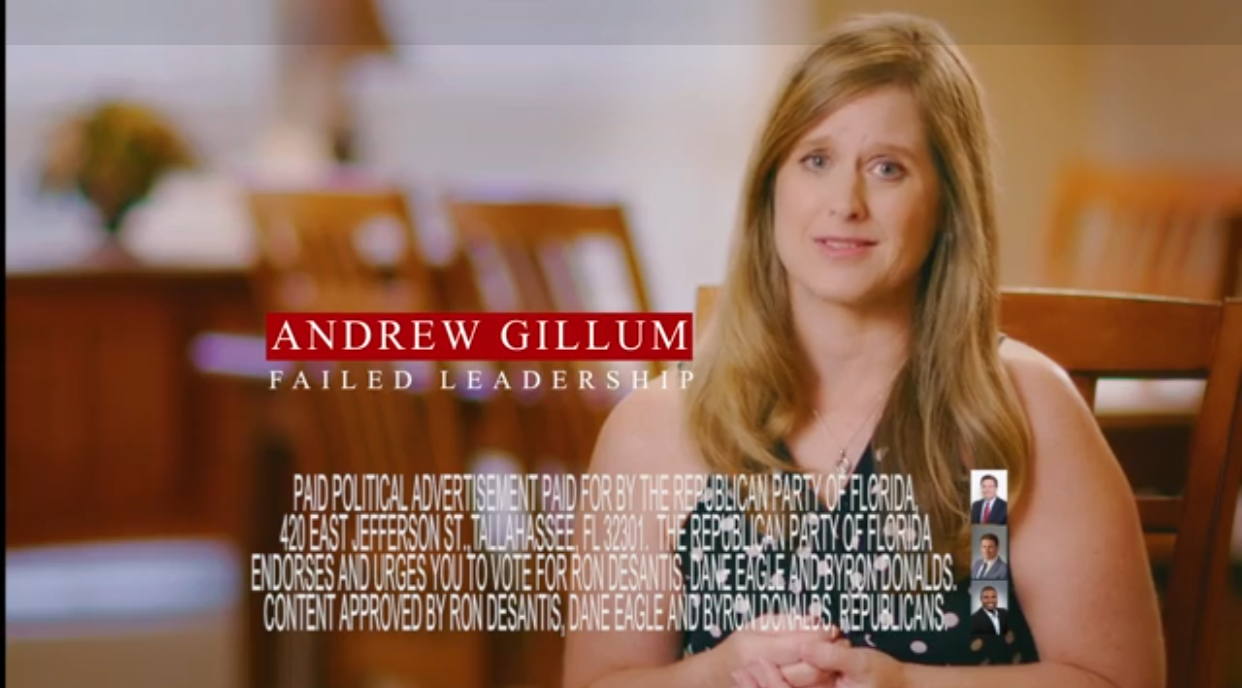 In Florida, responding to a hurricane is often the ultimate measure of leadership.
On Thursday, Republicans began hitting Democratic gubernatorial nominee Andrew Gillum on the issue, charging him with failure to lead when Hurricane Hermine struck Tallahassee in 2016.
This critique is nothing new: Days after Gillum's surprise win in the August primary, the conservative National Review lowlighted Gillum's quixotic response to power outages after the 2016 storm, which was slowed because Gillum refused to allow nonunion workers to help with the complex and time-consuming task of power restoration.
National outlets spotlighted this issue for a reason. It is, potentially, a damning indictment of Gillum as Mayor, although he later said he had not been told of offers of help and his utilities head admitted he didn't accept them.
In 2016, as power restoration delays mounted, the candidate admitted that "I know we made mistakes — I can't name them all right now — but we're working really, really hard."
Not a good look.
Those power outages, naturally, affected actual people. To that end, two Republican Party of Florida spots underscore the contention that Gillum is "unfit to lead."
Each spot features a white female spokesperson in the 35- to 44-year-old age bracket, suggesting an appeal to swing voters who have yet to firm opinions about the Tallahassee Mayor as the race tightens (as per recent polling).
"After the Hurricane, we had no electricity for over a week," one spot contends.
"Gillum refused help from workers. The trucks just sat, while people suffered. Incompetence, or extreme politics, I don't know. But leaders are supposed to help people in tough times. And Andrew Gillum, he didn't help us. He failed us.
The second spot raises the stakes, spotlighting a mother of a special-needs child.
"My son was diagnosed with complex autism. High temperatures typically cause health complications for children like him, that require specially licensed facilities. After the hurricane, they lost power, and should have been first-restored," the voice-over asserted.
"Gillum turned away workers who could have restored our power," the voice-over vowed. "It was devastating. Pure politics or bad judgment, Andrew Gillum failed us, and we'll never forget."
After the storm, Tallahassee officials clarified they did not "reject" offers of help from outside utilities in the wake of Hurricane Hermine, but rather just didn't say "yes" to everyone right away.
That was because too many workers, rather than being a boon, would have presented a coordination and safety nightmare, officials suggested at a special meeting to "discuss the impacts of Hurricane Hermine and the (electricity) restoration progress."
City utilities chief Rob McGarrah explained "it would have been very easy for us just to turn the power off to the whole system and bring in a couple of thousand people in from other utilities.
"While our focus is to get the customers back up, our No. 1 job is to do it without anyone getting hurt," he added. "…When I bring mutual aid crews in, I've got to have my people with them, to help do that coordination and (give) a situational awareness to where everybody else is working.
"…If crew A doesn't know where crew B is, and we energize a line, somebody's going to get hurt," he said. "It's about what we can manage … everybody I know in our business does it that way. We've reached a saturation point of how many we can manage safely."
Moreover, Gillum — perhaps limited by Tallahassee's weak-mayor form of government — had said he was in the dark about a formal offer by Florida Power & Light to help restore power after Hermine.
"I was never aware that there was a formal offer of anything," Gillum told Florida Politics at the time.
"I heard them list what assets they had available … (City) staff listed our assets and needs and they said that if the utilities didn't take their offer that night, they would move them all to North Carolina to assist others. Following those reports the governor suggested they all get together and figure it out."