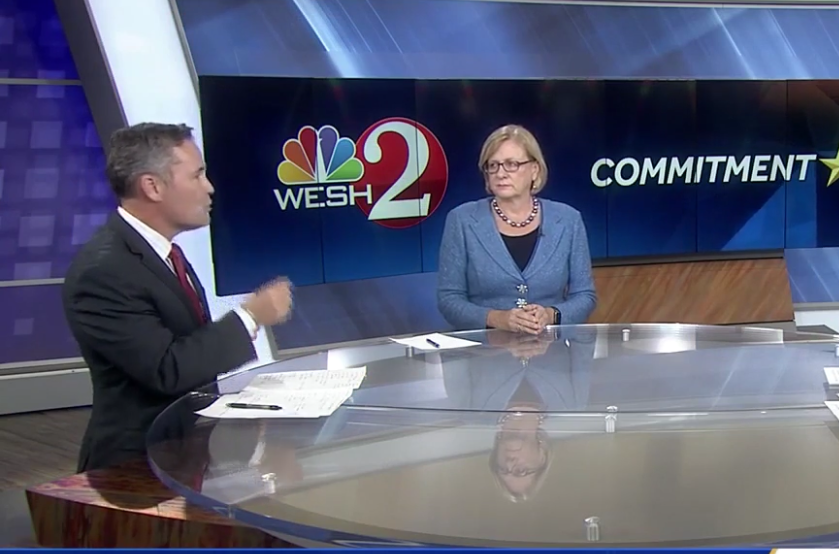 The race to replace Ron DeSantis in Congress is on, and it's looking more like a race to the center between two former White House staffers as the 30-day mark before the primary approaches.
"Let's bring the warring parties together and get things done," asserted Democrat Nancy Soderberg early in a debate televised last week on WESH TV.
Soderberg, who won her primary in August with more than 55 percent of the vote, worked in former President Bill Clinton's administration on the National Security Council and as Ambassador to the United Nations.
Those roles brought her high-profile endorsements, including from former colleagues like Paul Begala and from former President Barack Obama.
The latter endorsement, a boon in the sense of national visibility, became a talking point for Republican Mike Waltz (who won his own primary with 42 percent of the vote) during their debate.
"This choice is about America moving forward," between "individual liberty" and a "government that piles on regulation and taxes," Waltz (a former aide to Vice President Dick Cheney) said, framing the debate before at least once conflating the name Nancy Soderberg with Nancy Pelosi and reminding CD 6 voters that Obama endorsed his fellow Democrat.
"In the [Obama] administration, the military really floundered … their funding was cut year over year … incredibly restrictive rules of engagement," Waltz chided.
"This President and this Administration have reasserted American leadership," Waltz said, framing that as necessary given the problems established by the Obama and Clinton administrations. "It may be unconventional what he's trying to do, but heck, what [was done] for the last 35 years didn't work."
Soderberg identified foreign policy affinities with the Trump administration, including moving the U.S. embassy in Israel to Jerusalem, advocating the "two-state solution," and the "new NAFTA accord."
"I believe the President is fighting for American interests abroad in a way that is unconventional for sure, but I wish him well in that," Soderberg said, trying to pivot the debate midway through to a major campaign talking point for her: a Republican health care plan that would be bad for people with pre-existing conditions.
Waltz said he opposed any plan to limit coverage for those with pre-existing conditions, before saying "Obamacare has been a failure."
"You need to stop distorting my positions," the Democrat protested.
Just as Soderberg didn't want to get identified with the Washington left (including going so far as to say she wouldn't vote for Pelosi for party leader), Waltz (despite the historic GOP lean in the district, which went with President Trump in 2016), realizes that post-primary base appeals come with diminishing returns.
As POLITICO Florida reported Thursday night, Waltz rebuffed an invitation from President Donald Trump to rally for him in his district. A Trump fundraiser was more agreeable to the candidate, but that fell through also.
For Waltz, a candidate pilloried during the primary for being #NeverTrump, the chance to hit the reset button wasn't worth the optics of the rally. A fundraiser closed to the press was worth the risk, in no small part because Soderberg has already raised more than $2 million, a number Waltz's team realizes it can't match.
A rally though, with potentially pyrotechnic quotes? Not worth it given the dynamics of this contest, very much a swing race at this point.
CD 6 is a Republican-leaning seat, a Daytona-centric district that hugs the Atlantic Coast, including territory in St. Johns, Flagler, Volusia, and Lake counties.
The 2016 race between DeSantis and Democrat Bill McCullough was not competitive, with DeSantis winning by 17 percentage points.
This one should be closer.
A survey from St. Pete Polls released Sept. 20 revealed just a five-point lead for Waltz.
Both candidates are consolidating support within their respective parties. Soderberg is the choice of 74 percent of Democrats, Waltz of 76 percent of Republicans. Independents skew slightly to Soderberg (46-43).
However, with the district showing a strong GOP plurality (205,633 Republicans, compared to 177,345 Democrats and 152,330 independents), these results suggest Soderberg will need to further strengthen her appeal to independents to make up for the realities of party loyalty.
She has the resources to do so. DeSantis, according to Soderberg polling, was underwater in his district when he resigned. And yet, despite running a textbook centrist campaign, Soderberg may find the lean of the district proves prohibitive.
Consultants on both sides bring the spin. Those close to the Waltz campaign paint a picture of Soderberg burning through hundreds of thousands of dollars on TV yet not moving polls. Those close to Team Soderberg counter that Waltz isn't communicating with voters and use phrases like "campaign in crisis" to describe the Republican effort.
New polls and Q3 fundraising reports will soon enough paint a picture of the race that is less impressionistic and more realistic.