The Tampa Bay area once again avoided major impacts from a catastrophic storm as Hurricane Michael breezed through the Gulf of Mexico far offshore before barreling into Mexico Beach on Florida's panhandle. While the area avoided any catastrophic damage, strong currents and a slight storm surge left Pinellas Beaches a wreck.
At Madeira Beach, the stench of rotten fish and the respiratory sting of red tide was still in the air as dead fish still dotted the shoreline and were washed up far further up the beach than they had been before the storm.
The rough waters pounding the beach along Madeira Beach and other local beaches churned up foam that blew along the shore as a few curious residents and visitors surveyed the effects of Michael's wrath in the Gulf.
The waves on beaches from St. Pete Beach north to Madeira Beach where Florida Politics surveyed the damage rivaled Florida's east coast on a calm day. There were a handful of surfers braving the wind and currents – and red tide – but they could only be seen driving over John's Pass far out in the distance.
At Treasure Island, the iconic expansive beach was largely intact. Some standing water pooled in the sea oats and the beach was littered with seaweed and still a few dead fish from red tide.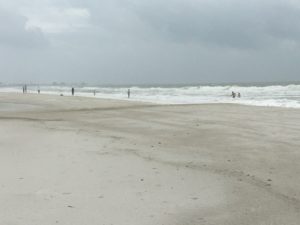 St. Pete Beach might have seen the worst effects from the surf and periodic heavy rains. Portions of the beach were had lakes of water pooled into mini-ponds. The Beau Monde hotel went from a beach front property to a literal waterfront property.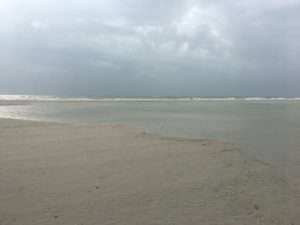 A quick drive through St. Pete Beach and Sunset Beach neighborhoods showed no signs of flooding – just some minor standing water. People were out walking their dogs during breaks in the rain and enjoying the reprieve from what has been a blisteringly hot October.
Caddy's on the Beach in Sunset Beach was packed with bar-goers despite the weather, but the beach itself was empty … except for an ironic bench.
Photos by Janelle Irwin Taylor and her daughter, Zoe.