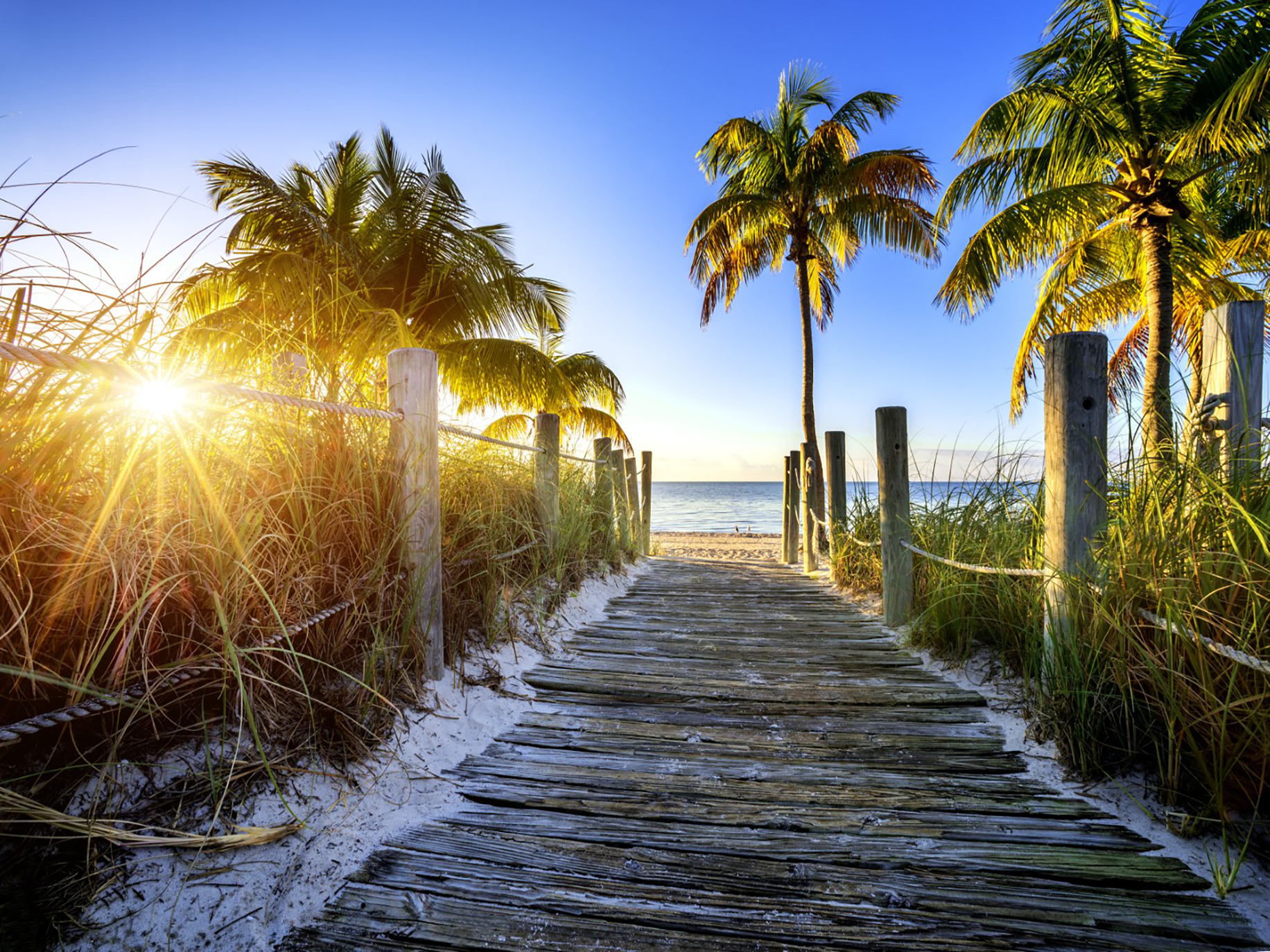 Sunburn — The morning read of what's hot in Florida politics.
By Peter Schorsch, Phil Ammann, Daniel McAuliffe, Jim Rosica, and Drew Wilson.
Months ago it seemed like Florida Democrats' optimism of flipping the state Senate was justified. Democratic voters appeared calcified in the "blue no matter who" mindset while Republican voters seemed almost Laodicean after their 2016 Trump high faded.
Now, with three weeks to go before tallying votes, those hopes of ending the GOP's decades-long stranglehold on the Florida Senate are dwindling. Fast.
A new poll of Senate District 8 shows Sen. Keith Perry with a 10-point lead over Gainesville physician Kayser Enneking, who is failing to gain traction among Democratic voters as a significant part of the base is being lulled away by no-party spoiler Charles Goston.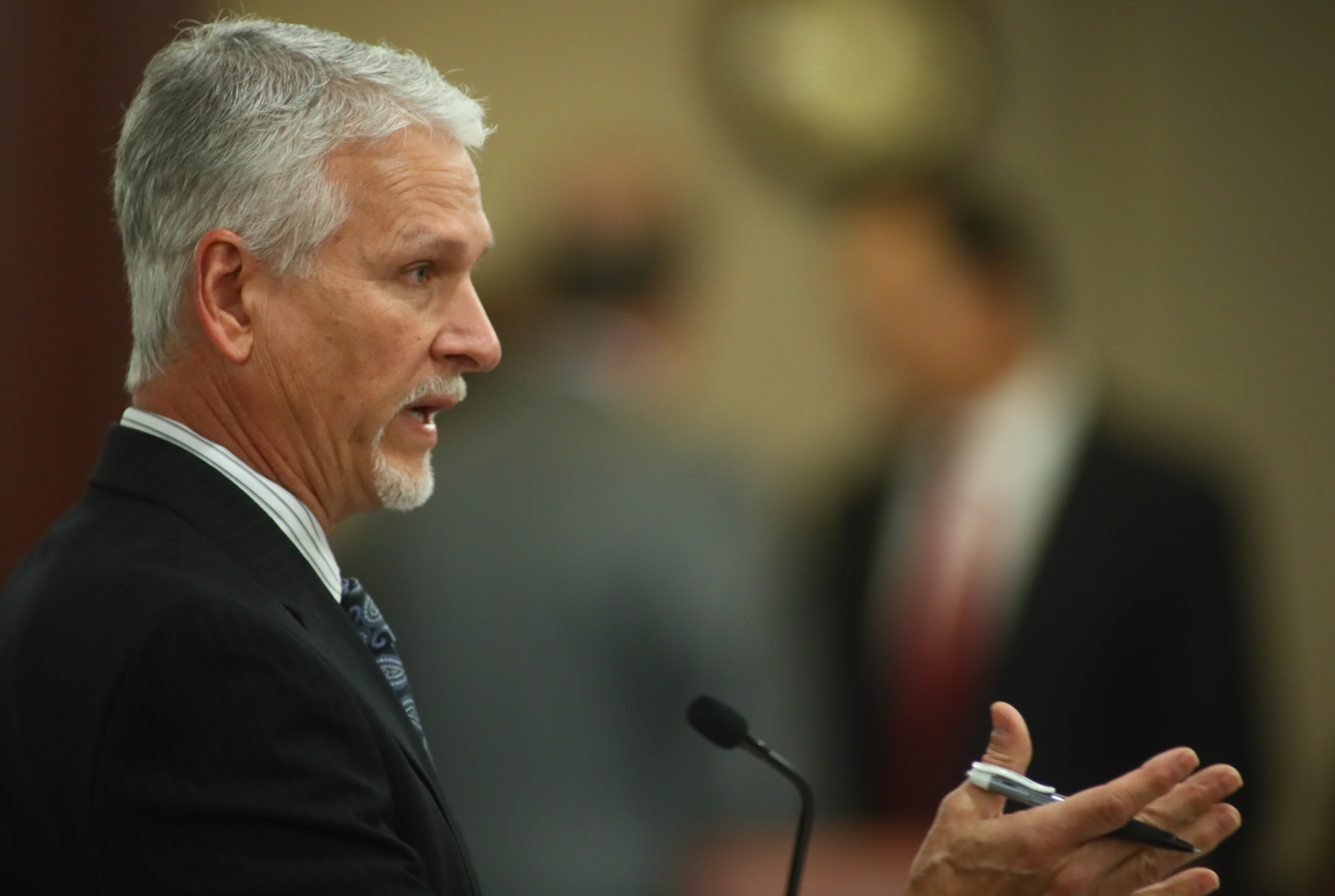 It's a similar story in SD 22, held by Sen. Kelli Stargel, and 24, held by Sen. Jeff Brandes. Despite Democrats' constant declarations that each is a competitive seat, that didn't pass the smell test among most politicos and polling has only confirmed that.
Polling confirms that If today were Nov. 6, Sen. Kelli Stargel would beat retired circuit court judge Bob Doyel by a baker's dozen. She won re-election in 2016 by just seven percentage points against a weaker, underfunded challenger. Brandes, likewise, holds a double-digit lead over former Florida Wildlife Corridor director Lindsay Cross.
None of the results are particularly surprising for those not sporting rose-colored glasses. All three Senators won their 2016 campaigns by comfortable margins, and each district delivered a victory to Trump at the top of the ticket.
Though a flip now seems out of reach, and the chances of a tie are waning, there's still hope of significant gains. Amanda Murphy is a legitimate threat to upset Ed Hooper in SD 16, and state Rep. Janet Cruz has an even-money chance of toppling Sen. Dana Young in SD 18, although Young's ground-game could very well save her.
There's also a glimmer of hope David Perez could spoil the ever-popular Manny Diaz in his bid to ascend in SD 36, though like other majority-Hispanic districts, there an equal chance that glimmer is fool's gold from Trump's resounding loss in the district.
What will the party split be in the state Senate next year? The answer very well could be 21-19, but short of a miracle, the GOP will still be on top.
— SITUATIONAL AWARENESS —
—@Messina2012: Argue the substance all you want, but why 22 days before a crucial election where we MUST win house and senate to save America, why did @SenWarren have to do her announcement now? Why can't Dems ever stay focused???
—@Corbella: People have died and are suffering after one of the worst natural disasters in American history, and some of you're out here arguing about DNA. Shameful.
—@foswi: If Ann Scott is on the campaign trail does Scott World still pretend it is improper to ask about her investments?
—@TroyKinsey: As the FL Supreme Court tells @FLGovScott no dice on replacing the three outgoing members of the court's liberal wing, @LWVFlorida's John Mills says @AndrewGillum will "appoint diverse, qualified judges who represent the breadth & depth of people in this state" if elected.
—@Fineout: Statement from @RonDeSantisFL campaign says SCOFLA ruling makes election that more important and that "if Andrew Gillum is elected, out-of-state, radical groups would pressure him to appoint activist judges who would legislate from the bench to fit their own ideology."
—@Conarck: [email protected]_Corrections announced an additional evacuation and updated numbers for others. Bay CF, a private prison in Panama City, evacuated nearly 1,000 inmates.
Considering all the horrific damage I've seen in HD7, lives changed and ruined, someone still found the energy and effort to try & stay positive. Thought it was worth sharing… pic.twitter.com/edaBgeT14e

— HalseyBeshears (@HalseyBeshears) October 16, 2018
— LATEST TURNOUT NUMBERS —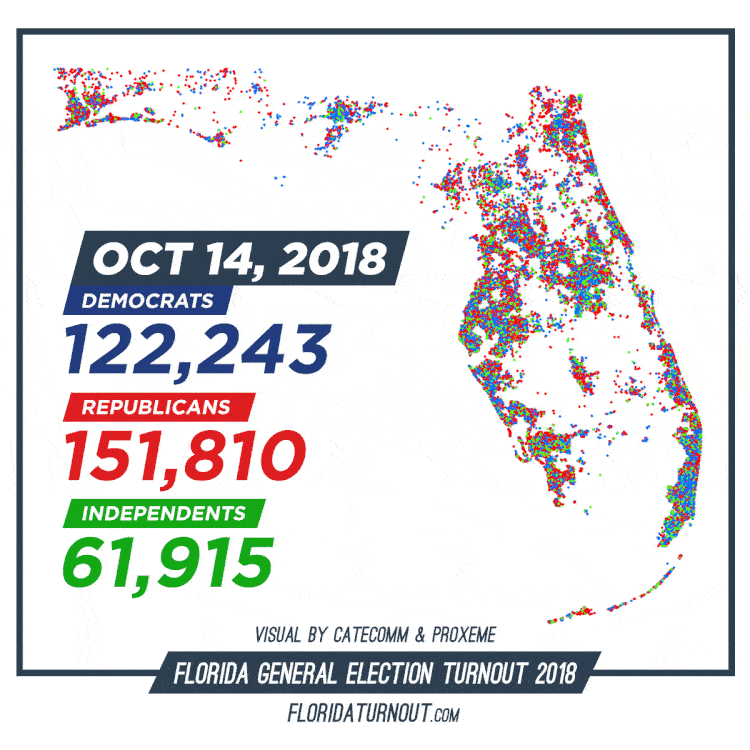 — DAYS UNTIL —
MLB World Series begins — 7; 'Before You Vote' Florida Governor debate — 8; Early voting begins — 11; Halloween — 15; General Election Day — 21; Florida Blue Florida Classic: FAMU vs. BCU — 32; 2019 Legislature Organization Session meetings — 35; Thanksgiving — 37; Black Friday — 38; Florida Chamber Insurance Summit — 42; 2019 Session Interim Committee Meetings begin — 56; 'Hamilton' comes to the Straz Center — 119; 2019 Legislative Session starts — 140; 'Captain Marvel' release — 143; 2020 General Election — 749.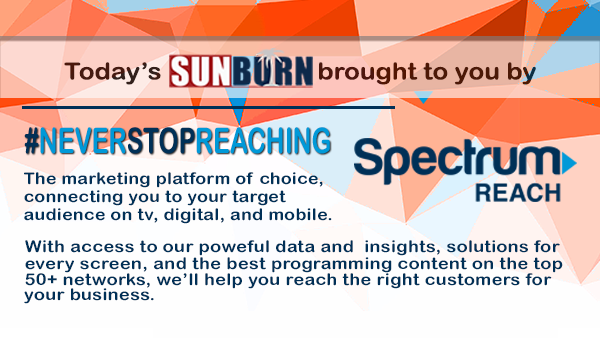 — TOP STORY — 
"Supreme Court: Next Florida governor will pick new justices" via Gary Fineout and Curt Anderson of The Associated Press — Florida's next governor and not incumbent Gov. Rick Scott will get to pick three new justices to the state Supreme Court, the court ruled Monday in a decision with major implications in this year's gubernatorial campaign. In a major rebuke to Scott, the Supreme Court concluded that the Republican governor exceeded his authority when he started the process to find replacements for the three justices. Age limits of 70 are forcing three of the seven justices — Barbara Pariente, R. Fred Lewis and Peggy Quince — to retire at midnight Jan. 8, the same day Scott is scheduled to leave the governor's office. … The court's one-page ruling Monday says "the governor who is elected in the November 2018 general election has the sole authority to fill the vacancies" triggered by those mandatory retirements.
— AFTER MICHAEL —
"Donald Trump arrives in Panhandle: 'Many of these people have no home'" via Steve Bousquet of the Tampa Bay Times — Air Force One landed at Eglin Air Force Base in Okaloosa County at about 10:35 Central Standard Time. First Lady Melania Trump was with the president, and they were met by Gov. Scott, U.S. Rep. Matt Gaetz and former Arkansas Gov. Mike Huckabee, who lives in nearby Walton County. "Many of these people have no home. Some of them have no trace of a home," Trump told reporters on the airport tarmac. "Rick Scott has done an incredible job." Trump cited the "thousands and thousands" of repair workers trying to restore power to storm-battered Panama City, Mexico Beach and surrounding areas.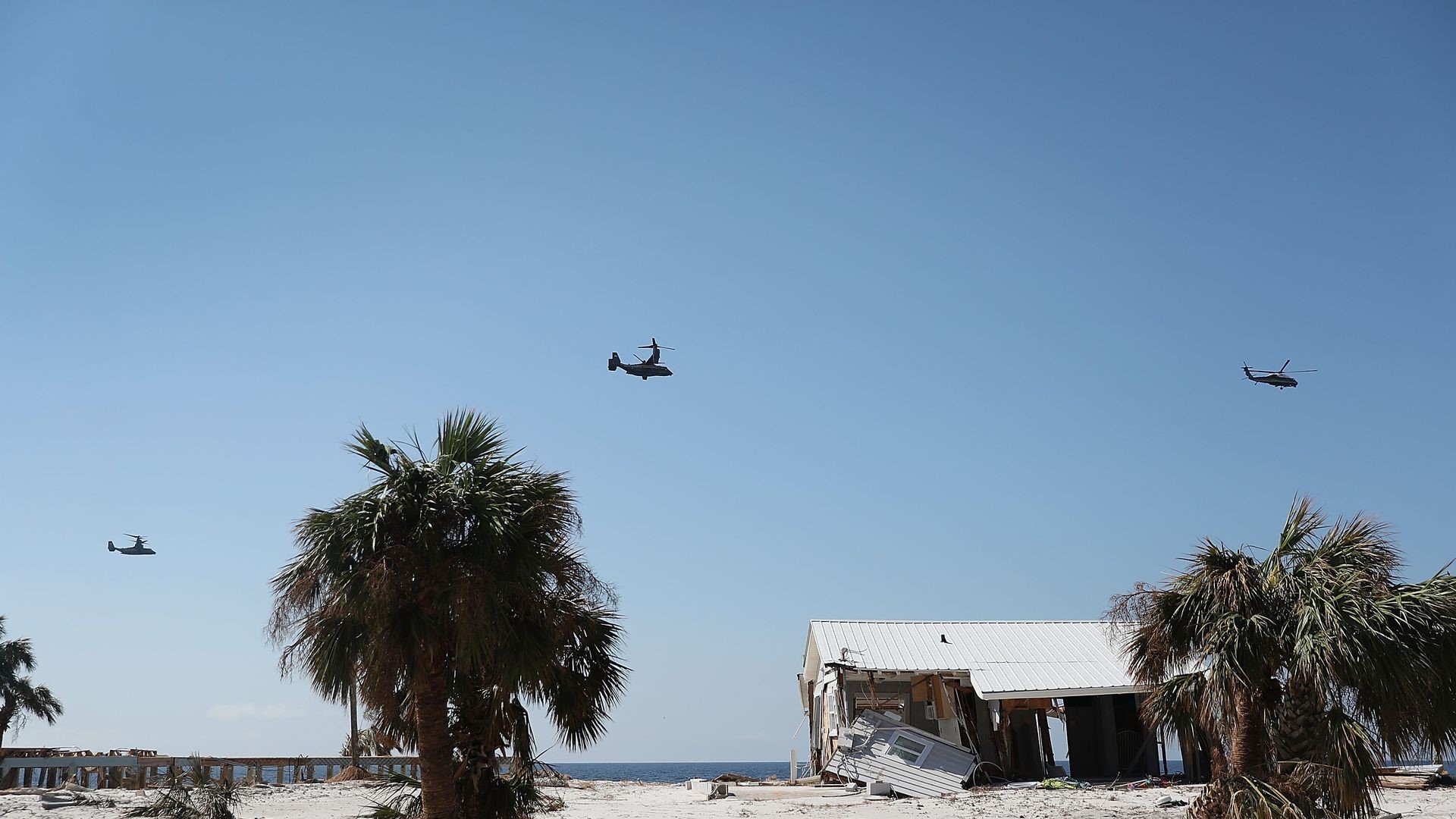 "Trump plays consoler in chief in key swing state" via Nancy Cook and Christopher Cadelago of POLITICO Florida — An upbeat Trump toured a Florida neighborhood wrecked by Hurricane Michael, with downed trees, damaged roofs and a deserted school. The optics of late have been different than the images to emerge from past tours of disaster areas … The administration has sought to avoid such coverage by demonstrating — via frequent news conferences, through surrogates, and on social media — that the president and top officials are on top of things. Trump has come to more fully understand the significance to the people in the midst of a crisis, as well as how the fallout is viewed by TV audiences who may judge the totality of the response by a brief snippet of exposure. While touring Florida, Trump told onlookers that his administration is "doing more than has probably ever been done" when it came to this storm response. The stakes are incredibly high for Trump and Republicans to get the hurricane response right in the home stretch before the midterm elections.
"Families worry about missing loved ones" via Russ Bynum and Brendan Farrington of the Associated Press — Joanne Garone Behnke has replayed every possible scenario in her mind a hundred times. Maybe her 79-year-old aunt sought shelter at the sturdy condo nearby that survived Hurricane Michael's devastating winds. … The pile of rubble that was once her Mexico Beach home is shallow, too shallow for a body to go unnoticed. "It's torture," said Garone Behnke, who last talked to her Aunt Aggie Vicari right before the storm hit, begging her to leave. Five days after the hurricane slammed into the Florida Panhandle, how many residents might be missing seemed to be anyone's guess … A Houston-based organization called CrowdSource Rescue that takes calls from worried family members and sends the details to rescue crews on the ground said it has helped find nearly 1,500 people across the region since Michael struck. But co-founder Matthew Marchetti said it was still looking for more than 1,350.
"'Trouble lasts': Gretna church searches for solace after one of its own dies during storm" via Nada Hassanein of the Tallahassee Democrat — Tyrone Grant slowly rose from the chestnut pews of Dream, Vision and Destiny Ministry church Sunday morning. They were the same ones he sat in with his mother, Demashell Bass, his whole life. No more. His mom died during Hurricane Michael. She was 43. "Trouble lasts — tell me, how long will trouble last," Tyrone sang, lamenting. "Tell me how long." … He burst into tears. Fellow churchgoers joined in. "Trouble don't last always," they sang softly. … It was the first service held at the tight-knit church since Hurricane Michael's fury unearthed trees and stole lives in their beloved Gadsden County town of fewer than 2,000 people. … [Bass] was one of four Gadsden County deaths reported so far by officials that occurred during the storm.
"From atop bridges, those inside the destruction talk to the world" via Josh Solomon of the Tampa Bay Times — Bridges span voids. Traditionally, the gaps are physical barriers, be it rivers, railroads or ravines. After Hurricane Michael, the bridges near Mexico Beach have become portals of sorts, the only place where communication is possible with the outside world. That's because after the Category 4 storm wiped out power and cellular coverage across a wide swath of the Panhandle, the only whiff of a signal is atop those bridges. … "This is the closest connection to the rest of the world," said Sheron Metts, sitting in her car atop the George G. Tapper Bridge just north of Port St. Joe on U.S. 98. … They came to the bridge Friday afternoon to broadcast to friends or family for the first time that they were safe. "Just trying to reach one or two that know others to get the word out there," Metts said. Their social network would inform the rest.
"'Nothing was safe': After Michael stole sand, blasted Alligator Point at crossroads" via Karl Etters of the Tallahassee Democrat — If you want to get a vehicle anywhere deep onto the point, you're going to have to drive through a few front yards. After Hurricane Michael, what's left of the beginning of Alligator Drive, the main drag leading out to the end of the peninsula, is reduced to rubble. … That has made it hard for residents and people with beach houses to return to assess damage — of which there is plenty. … Damages sustained on the eastern side of Alligator Point have left at least half the homes wrecked. … Windows facing the sea are shattered. Entire blown-out walls face the ocean breezes. It's like they were never there. Docks that once trailed in from the sugary sand now stop short of leaning houses. Steps dangle from houses, their bases gone. The sand beneath them moved to another part of the coast. … In places, it's hard to tell by the debris where one person's life ends, and another's begins.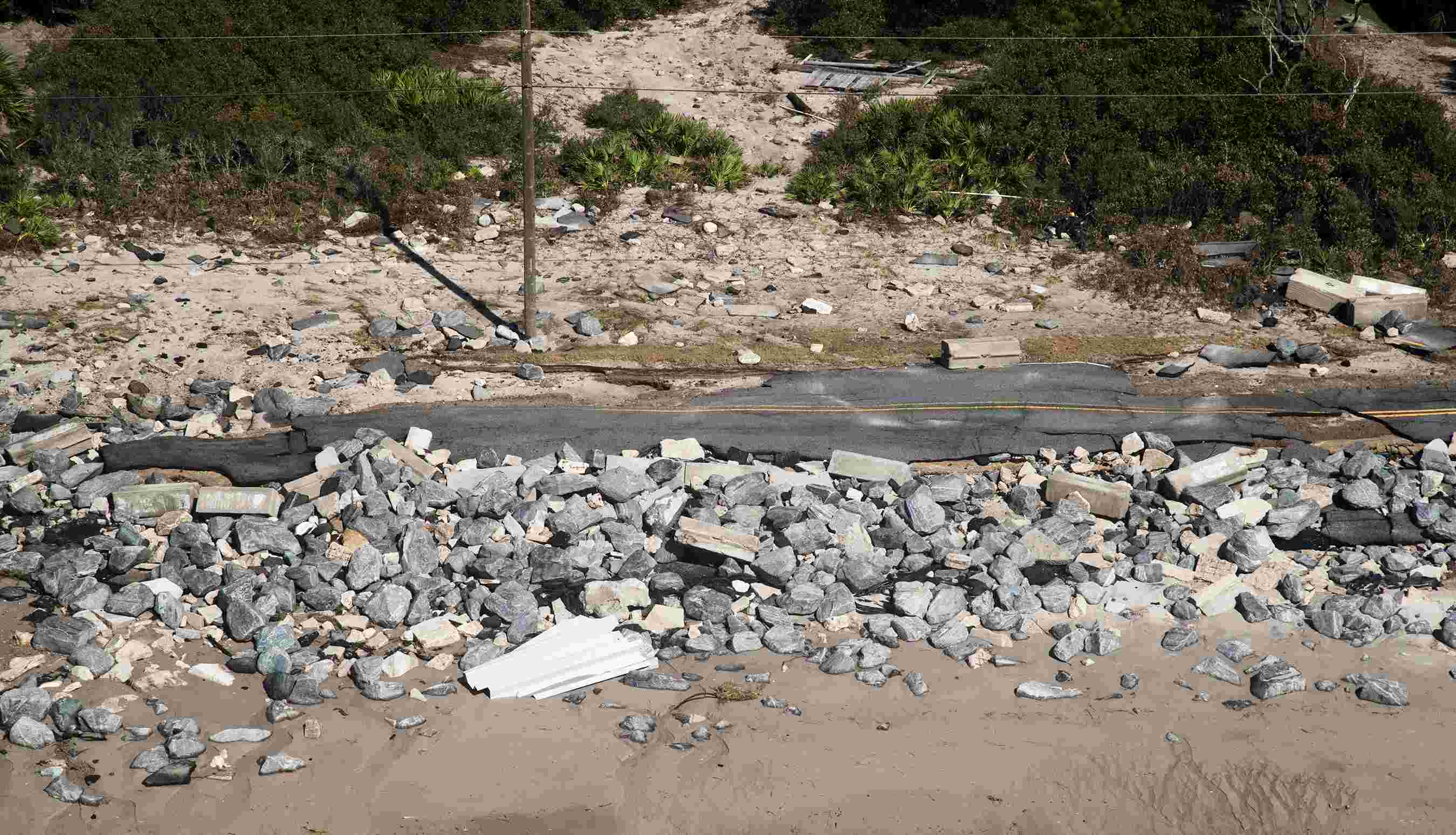 "100 cats airlifted from shelters hit by Hurricane Michael" via The Associated Press — About 100 cats and kittens were airlifted out of Florida to Delaware on Monday, an effort to make room in shelters for animals displaced by Michael. … The Brandywine Valley Society for the Prevention of Cruelty to Animals teamed up with the Jacksonville Humane Society to relocate the cats to shelters in Delaware and suburban Philadelphia, and possibly elsewhere in the Northeast. … The cats, on a flight paid for by Jacksonville Jaguars' defensive tackle Malik Jackson's foundation "Malik's Gifts," landed Monday afternoon at a private terminal in New Castle. … The idea is to make room in the Florida shelters so animals displaced by the hurricane can stay near their homes and hopefully be reunited with their families, said Brandywine Valley SPCA spokeswoman Linda Torelli. … "We learned back in Katrina not to take family pets out of the area," she said, noting how hard it was to reunite animals with their owners once they were out of state.
"Hurricane claims begin streaming into state insurance office" via Michael Moline of Florida Politics — An "extremely preliminary" report from the Office of Insurance Regulation shows that roughly 38,000 Hurricane Michael-related claims have come into Florida carriers thus far, and that paid losses have reached $5.7 million. "These numbers are extremely preliminary and will continue to rise in the days and weeks to come," office spokesman Jon Moore said via email. The office has ordered property insurers to submit claims data on a daily basis until further notice. "Through Hermine, Matthew and Irma, Florida's industry has indicated an ability to respond to these types of events, and we expect the response to Hurricane Michael from the industry will be strong," Insurance Commissioner David Altmaier said in a prepared statement.
"Rick Scott, Jimmy Patronis calling out Verizon for not restoring service after Hurricane Michael" via Lawrence Mower of the Tampa Bay Times — During a news briefing, Scott mentioned Verizon's problems twice, while touting the company's chief competitor. "There in Bay County, we're still waiting on Verizon," Scott said, adding why it was important for cell service to be restored. "We've put a lot of food and water out all across the state," Scott said. "Well, if you have no internet and you have no cellphone, it's hard to get the information out. AT&T is working there, but Verizon is not." Scott, continuing to dig at Verizon, has also been retweeting AT&T and praising the company on Twitter. Patronis, whose hometown is Bay County's Panama City, also took aim at Verizon on Twitter, complete with the hashtag #fixitnow. Verizon in a statement said it's suffered "unprecedented damage to our fiber, which is essential for our network."
Port Panama City intends 'limited service' — The port's director, Wayne Stubbs, on Monday released a statement that power had been restored over the weekend and he expected to offer "limited terminal service for general cargo by the end of this week." Many of the port's buildings were damaged, but none of the docks, cranes, or equipment. "The Panama City Port Authority has not yet been in contact with all of its employees, but most have been contacted and are safe," he added. "Most employees have sustained some damage to their homes, and some have lost their homes. Panama City's residents and businesses have suffered a catastrophic blow. The Port Authority is determined to do its part to demonstrate the resilience of the community and the affected area with a quick and full recovery."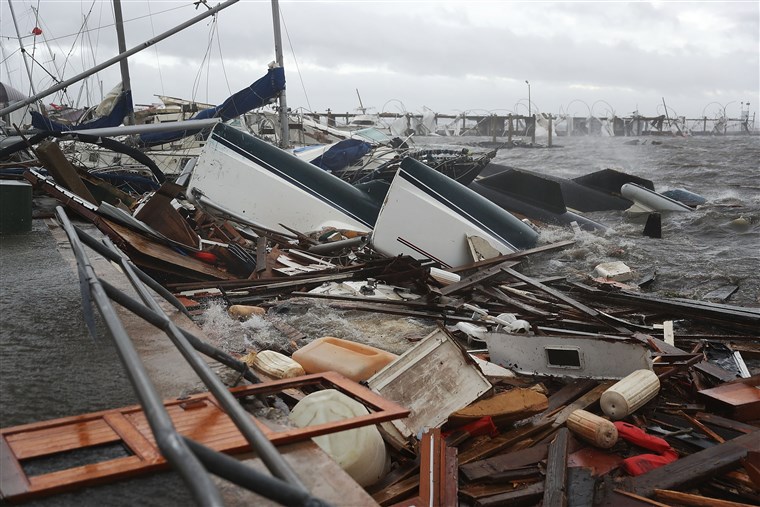 "Health officials warn of silent killer after storm" via Florida Politics — With thousands of people still without power after Michael, the state's Department of Health is warning of the danger of carbon monoxide (CO) poisoning. Generators "can cause CO to build up in a home and poison the people and animals inside," a Monday news release said. "CO is found in fumes produced by burning fuels such as gasoline, natural gas, propane, kerosene, charcoal and wood," it said. "Large amounts of CO can quickly overwhelm a person without warning, which leads to greater risk of illness or death especially with increased exposure time."
"St. Joe Community Foundation donating $1M to Michael relief" via Florida Politics — The St. Joe Community Foundation has not yet decided where the funds will be directed and said it would determine how to spend the money after assessing the needs of disaster relief and recovery efforts. "The St. Joe Community Foundation is honored to be able to contribute to the relief efforts from Hurricane Michael," said Jorge Gonzalez, St. Joe Company's president and the CEO of the St. Joe Community Foundation. "Northwest Florida is our home. The residents and businesses of this beautiful region are strong and resilient. They are family. This is a time when we need to step up and support our family in their time of need. Northwest Florida will come back strong and sound."
"Ken Detzner waiting to consider possible election changes" via the News Service of Florida — "The department is in regular communication with supervisors of elections in affected counties, and they are still in the process of assessing potential damage to early-voting and election-day voting sites as well as any other impacts that could affect voters in their area," Detzner said in a statement. "We will continue to work closely with supervisors and provide any needed assistance, as well as ensure updates are communicated to voters and the media once more information is available." Detzner traveled to hard-hit Bay, Calhoun, Franklin, Gulf and Liberty counties on Monday. "I saw firsthand the devastation Hurricane Michael brought to these areas, and my heart goes out to them," Detzner said. The deadline to register to vote in the November election was last Tuesday. But Detzner granted a partial extension to counties where elections offices were closed that day because of Hurricane Michael, which hit Wednesday as a Category 4 storm.
"Pinellas' beaches apparently escape beach erosion from Hurricane Michael" via Craig Pittman of the Tampa Bay Times — Pinellas County's 35 miles of beaches appear to have emerged largely unscathed by Hurricane Michael, according to a preliminary assessment by county officials and University of South Florida experts. "The impact does not seem to be too bad," said Ping Wang, a coastal geology professor from USF. "The water did not get very high." According to Kelli Hammer Levy, the county's environmental management director, the county has received reports of a possible "narrowing" of Pass-A-Grille and Indian Rocks Beach. "There does seem to be a loss toward the edge," she said. But she added that the sand that washed away may not have gone far, explaining, "It may still be there, and it may come back."
— GILLUM VS. DESANTIS —
"In Andrew Gillum's absence, running mate Chris King brings healthcare attack on Ron DeSantis to Tampa" via Christopher O'Donnell of the Tampa Bay Times — During a campaign stop in downtown Tampa, King blasted DeSantis for campaigning more than 250 days without explaining to voters his plans for health care: "Many Floridians think this is the most important issue in this election cycle. We are running against a major nominee from the other party that, 22 days from the election, does not have a plan." Gillum has made health care a central part of his campaign with pledges to expand Medicaid to cover an extra 1 million Floridians and to strengthen the state's insurance exchanges. By contrast, the "issues" page of DeSantis' campaign website listed the economy, illegal immigration, education and judicial activism. It is silent on health care.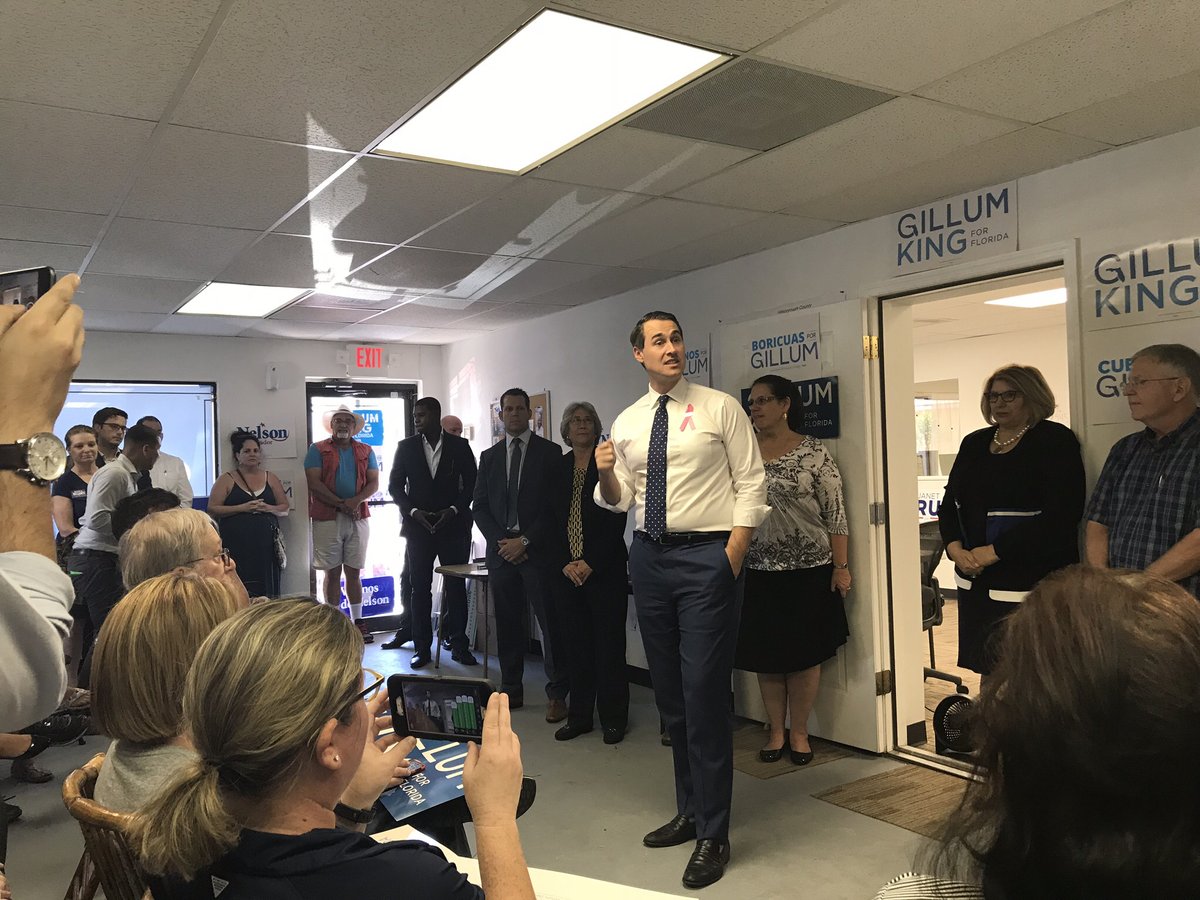 "Marco Rubio spreads 'lie' about Gillum's hurricane record" via Marc Caputo of POLITICO Florida — Rubio told a hometown crowd that Gillum mishandled the Hurricane Hermine response in 2016 — making him the latest Florida Republican to try discrediting the Democratic gubernatorial nominee by invoking the two-year-old storm: "When they had a hurricane up there, they didn't have power for weeks because he stood in the way of crews being able to come in and restore power, because they weren't members of the right union or something." Rubio got two things clearly wrong in that sentence. First, Gillum lacked the authority to order the city's electric utility director to hire work crews — and he didn't try to — officials say. Secondly, Rubio's claim about union workers was debunked two years ago, only to see it reemerge among conservatives on social media after Gillum won the Aug. 28 Democratic primary. In addition, Rubio's claim that the city lacked power "for weeks" isn't supported by post-hurricane power outage records disseminated by the state.
"James Madison Institute hails DeSantis' economic plans, says Gillum's would cost Florida" via Scott Powers of Florida Politics — The institute, grounded in conservative economics championed by Republicans such as Gov. Scott, concludes that Gillum's proposals for a corporate tax increase, increased minimum wage, and increased teachers' salaries "would adversely impact the business climate of the state," costing 155,000 jobs and $28.2 billion in economic loses per year, the report's executive summary states. "Candidate Ron DeSantis' agenda – to largely maintain the pro-growth-oriented strategy of Florida through low and stable taxes, would preserve and strengthen the state's business climate… [and] lead to the creation of 215,000 jobs annually and $26.6 billion in annual economic output," the summary continues. DeSantis' campaign quickly pounced on the report as vindication for the economic message he has been pushing, and as a repudiation of Gillum's.
"State high court decision reverberates in Governor's campaign" via Matt Dixon of POLITICO Florida —The Florida Supreme Court's decision to allow the next governor to fill three vacancies on the state's highest court next year — a rebuke to Gov. Scott and a potential win for Democrats if Gillum wins in November — has added new urgency to both party's campaigns for the governor's mansion. The state high court has thwarted several major policy proposals passed by the GOP-dominated Florida Legislature and signed by Scott in recent years, making it a bogeyman to Florida conservatives and a policy backstop for Democrats who are routinely bested in legislative fights. The court also ruled that Scott overstepped his bounds by ordering the Florida Supreme Court Judicial Nominating Commission to give him a slate of potential nominees by Nov. 10. The JNC is an independent body not subject to timelines from the governor, the court said.
The trolling continues — The Florida Democratic Party is out with another hit on DeSantis. This time it's a real-time clock tracking the number of days that have elapsed since the Republican gubernatorial candidate entered the race. From the Democrats' perspective, it's a matter of how long it's taken for DeSantis to unveil his highly anticipated but prolonged health care plan. "Since launching his campaign in Boca Raton on January 29, DeSantis has refused to release a health care plan," party spokesman Kevin Donohoe said. "DeSantis has repeatedly told reporters his campaign was on the verge of laying out a health care plan — only to cancel the rollout." View the clock in real time here.
Assignment editors — DeSantis joins several Florida Sheriffs for two news conferences: he 10:30 a.m., Brevard County American Police Hall of Fame & Museum, 6350 Horizon Dr. Titusville; and 1 p.m., Old Polk County Courthouse, 100 E Main St., Bartow.
— ALL HANDS ON DECK —
The DeSantis campaign has added a plethora of high-power politicos for the closing weeks of the race for Florida governor, including reinforcements in campaign comms and political consulting.
Under the leadership of Susie Wiles, who helmed Trump's Florida campaign two years ago, Team DeSantis has added numerous campaign veterans. Wiles started bringing on favored staffers shortly after taking the chair position on the Republican gubernatorial campaign, onboarding Jennifer Locetta to oversee operations and Tim Page to manage local and national surrogates.
Also among the new faces joining the Republican nominee's campaign is Matt Parker, who will serve as Team DeSantis' senior consultant for all things related to field operations. Lending their talents in consulting are veteran GOP operative Pat Bainter of Data Targeting Inc. and longtime GOP strategists David Johnson and Rich Heffley.
"These staffers are the best of the best and dropped everything to come join this team. They know what's at stake in Florida and gladly offered their help to a few weeks ago," Wiles said. "I am proud to have them on the DeSantis team, and Ron is grateful for their willingness to help."
— NELSON VS. SCOTT —
"Ann Scott takes over campaign duties as Scott focuses on storm recovery" via Matt Dixon of POLITICO Florida — "Governor Scott will be focused on response and recovery from the devastating hurricane that hit the Panhandle for the foreseeable future," Scott campaign adviser Chris Hartline said in a statement. "It's unclear, at this point, whether he will hold any campaign events before the November 6 election, though it is still possible closer to Election Day." The campaign also says it is setting up an "aggressive schedule of surrogate events." Gov. Scott will also continue to get tons of airtime as he responds to the nationally-watched storm. That sort of attention which helped him in the past and was on full display when President Trump traveled to Eglin Air Force Base to look at storm damage. He said Scott is a "great governor" and that "Florida has been incredible."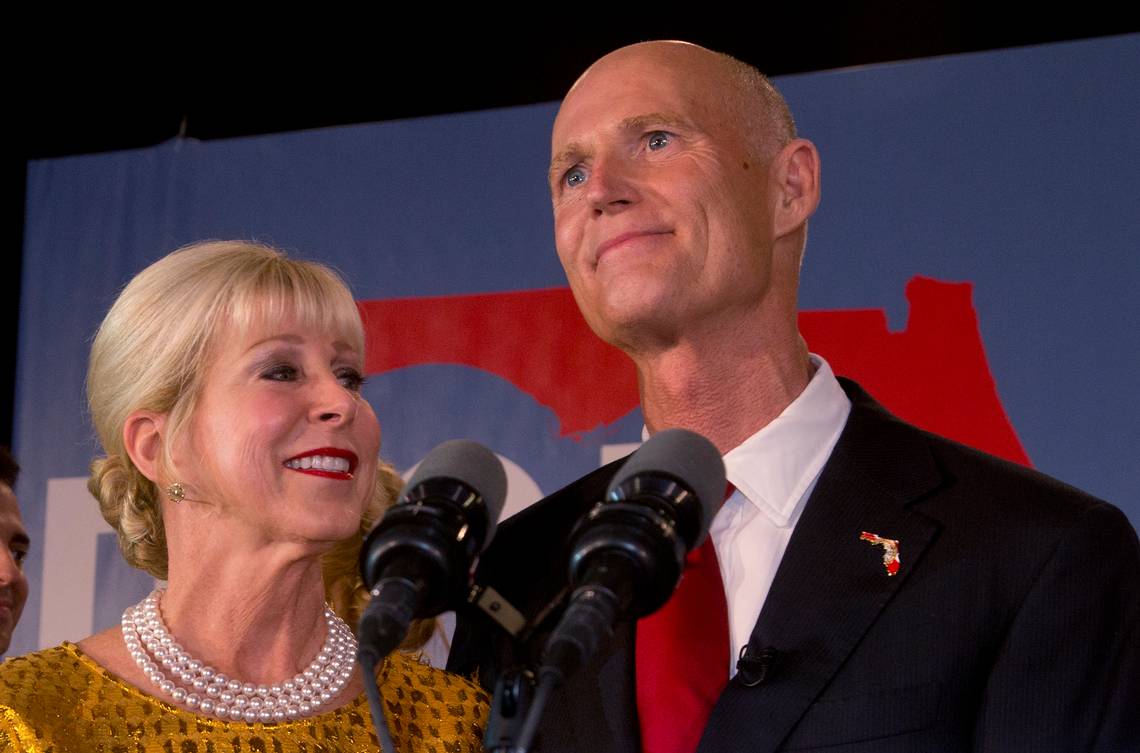 "Parkland parent endorses Scott in new ad" via Ryan Nicol of Florida Politics — Scott, Florida's outgoing Republican Governor, is out with a new ad in the race for U.S. Senate, highlighting the endorsement of Andrew Pollack, who lost his daughter in February's shooting in Parkland. Scott is attempting to unseat Democratic U.S. Sen. Bill Nelson. In the new minute-long ad, titled "Meadow," Pollack speaks of the loss of his daughter during the shooting at Marjory Stoneman Douglas High School. "I get my strength when I think of my daughter and how much she means to me," Pollack begins.
To watch the video, click on the image below:
"Scott puts another $18 million of personal money into Senate bid" via Matt Dixon of POLITICO Florida — Overall, Scott has put nearly $40 million of his own money into the race, a fight with big implications for control of the Senate after the 2018 midterms. During the last reporting period, Scott raised $23.5 million, boosting the total he has brought in — including personal cash — to nearly $54 million. Scott has spent most of that and is now sitting on $2 million cash on hand. Nelson has far fewer resources but is leading by 2.4 percentage points in the RealClear Politics average of polls. Nelson has had marginal leads in the last three polls included in the average.
"Outside money now at $42 million in U.S. Senate race" via Scott Powers of Florida Politics — Outside groups have spent almost $17 million just in the past two weeks on advertising and other campaigning in the battle between Democrat Bill Nelson and his opponent Republican Scott. That spending ramped up from an already impressive $25 million that outside groups previously had spent in 2018, fueling waves of television commercials, stacks of campaign mailers, and other campaign support, according to the latest U.S. Senate independent expenditure reports. Nelson continues to be the biggest beneficiary of outside money, as more than $10.3 million was spent in the past two weeks either supporting him or attacking Scott, while $6.6 million was spent supporting Scott or attacking Nelson. The total in outside spending so far: $25.6 million spent to support Nelson or oppose Scott; $17 million to support Scott or oppose Nelson.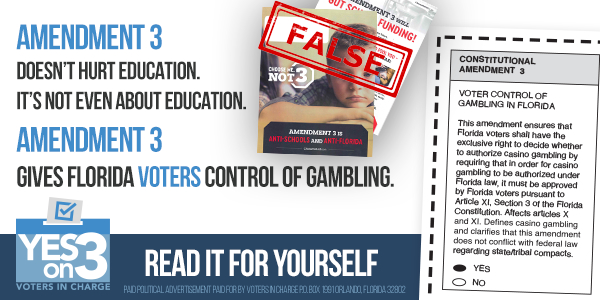 — NOTES FROM THE CAMPAIGN TRAIL —
First in Sunburn — Former Vice President Joe Biden endorses Sean Shaw — Calling Shaw a "fighter with a proven track record of standing up for the little guy," Biden, who served two terms under former President Barack Obama, is throwing his political weight behind Florida's Democratic option for Attorney General. "Sean Shaw will be the kind of Attorney General that the state of Florida desperately needs," Biden said. Shaw responded, likening himself to the former Veep. "Much like Vice President Biden did during his time in the White House, I plan to give issues surrounding common-sense gun reform and tackling sexual assault, the focus, and attention that they deserve," Shaw said. "The grace with which Vice President Biden has carried himself, through both triumph and tragedy, is a lesson in the resilience of the human spirit."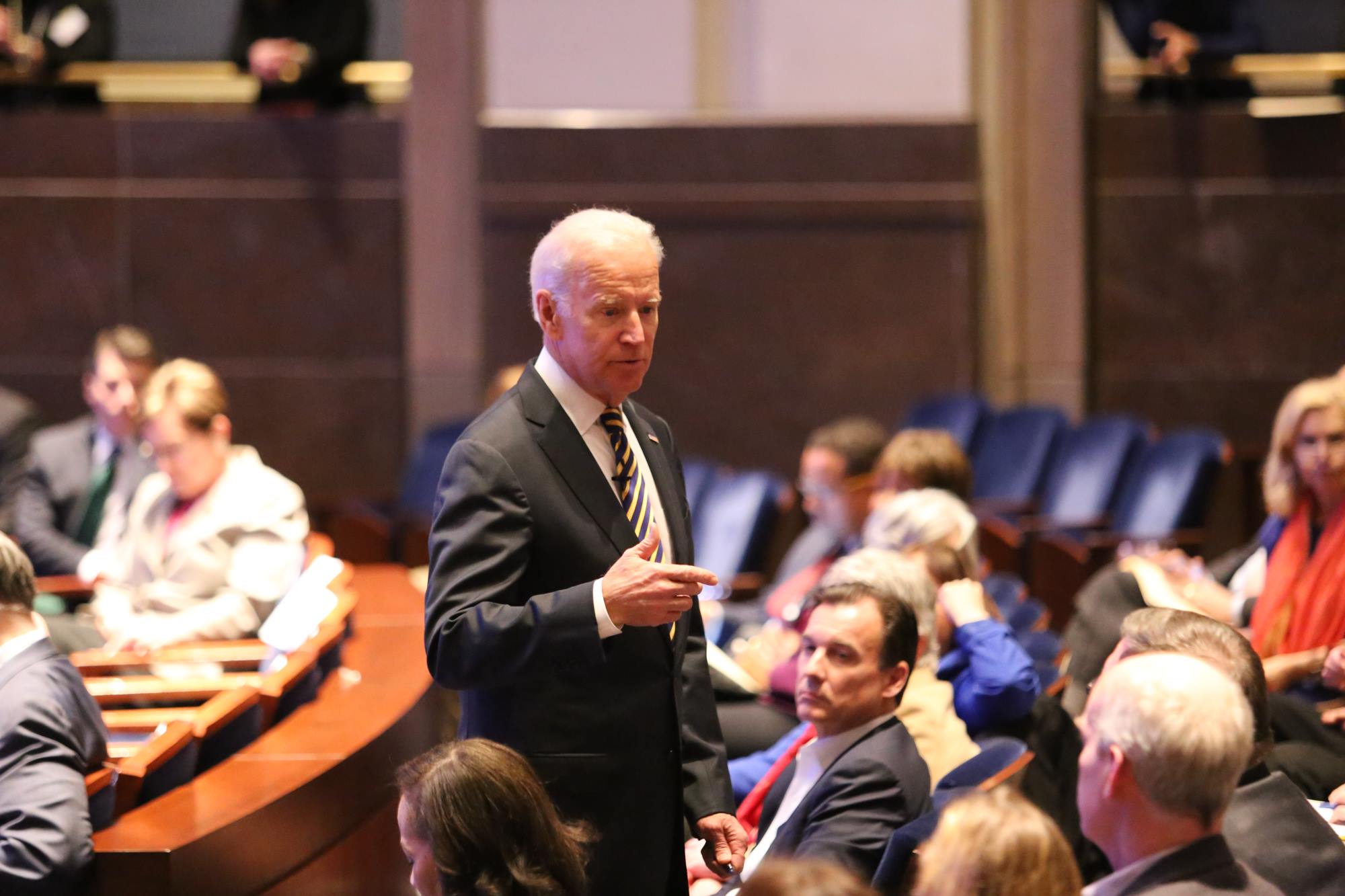 "Matt Caldwell adds $277K, Nikki Fried $218K in Ag. Commish race" via Florida Politics — Nearly $97,000 of the fresh receipts reported by Caldwell were deposited in his campaign account, with another $180,000 heading to his soft money account, Friends of Matt Caldwell. The committee's rake was buoyed by a $100,000 check from Florida Jobs PAC, a political committee tied to the Florida Chamber of Commerce. The Chamber-affiliated committee chipped $100,000 into Caldwell's prior finance report and had given nearly $300,000 thus far. Fried announced her early October reports showed about $45,000 in hard money fundraising and another $173,000 in contributions for her political committee, Florida Consumers First. That tally brings her overall fundraising to the precipice of the $900,000 mark. She had a combined $453,000 in the bank on Oct. 5.
"Gambling measure backers spend nearly $8.5 million" via the News Service of Florida — Voters In Charge had spent an overall total of $30.567 million as of Oct. 5 as it tries to pass a constitutional amendment that has been funded by Disney Worldwide Services, Inc. and the Seminole Tribe of Florida. Of the latest spending, $8 million went to the Virginia-based firm National Media Research, Planning & Placement for advertising expenses, according to the finance report posted on the Florida Division of Elections website. Another $346,582 went to Cornerstone Solutions of Florida, LLC for direct mail and postage. The proposal, which appears on the November ballot as Amendment 3, would change the Florida Constitution and give voters the "exclusive right to decide whether to authorize casino gambling" in the state.
Voters in Charge staffs up in Palm Beach — The political committee sponsoring the "Yes on 3" campaign, continued announcing committee staff. Palm Beach County Chairs: Mayor Jeri Muoio, West Palm Beach; former state Rep. Mary Brandenburg; Julio Fuentes, president/CEO of the Florida Hispanic Chamber of Commerce; and Rachelle Lipman, president of the Kings Point Democratic Club. Palm Beach County committee members: former West Palm Beach Commissioner Sylvia Moffett; Mindy Koch, president of the Boca/Delray Democratic Club; former West Palm Beach Commissioner and local business owner David Smith; former Jupiter Councilman Ben Klug; Jose Garcia, president of Latinos in Action; Bill Newgent, City Voice podcast host; Dana Aberman, president of SEE South Florida; Alexandria Ayala, vice president of the PBC Young Democrats; political science professor Craig Agranoff; high school math teacher Daniella Suarez; and community activist Paula Morra.
"$5M ad buy to push rights restoration" via Florida Politics — With vote-by-mail underway and early in-person voting just a week away, the Second Chances campaign announced a $5 million broadcast ad buy Monday. The pro-Amendment 4 group's television and radio spots will include personal stories from reformed felons who are still denied spent, and from experts in favor of restoring civil rights for those who have done their time. Of the nearly $5 million, over $500,000 will go to a Spanish language TV buy, and $700,000 will go to what the media release calls "radio stations serving minority communities." The spots will be live in every media market in the state, and the hope is that they help continue the momentum established in recent polling that shows Amendment 4 on track to pass with 71 percent support.
To watch the video, click on the image below:
"Amendment 4 group collects another $2.6 million" via the News Service of Florida — Bringing the total raised for the initiative to nearly $17.63 million … The contributions went to the political committee Floridians for a Fair Democracy, which is trying to pass Amendment 4 on the November ballot. The proposed constitutional amendment would automatically restore voting rights for felons who have served their sentences, completed parole or probation and paid restitution. Floridians for a Fair Democracy had about $5.275 million in cash on hand as of Oct. 5, according to the finance report posted on the state Division of Elections website. Contributions during the weeklong period included $1 million from Fort Worth, Texas, psychologist Laurie Michaels and $800,000 from the League of Conservation Voters.
Southern Poverty Law Center sinking $1.3M into Florida get-out-the-vote — "This is one of the most important elections in our lifetime, and the SPLC wants to ensure that Floridians are engaged on the issues that will impact our state's future for generations to come," said Scott McCoy, senior policy counsel for the SPLC. "Whether it's providing a second chance to people with past felony convictions or helping Floridians understand a proposed radical limitation on how the state legislature can amend the state's tax code, the SPLC believes that voters should feel informed and empowered when they cast their ballot." Through a nonpartisan public education campaign, the SPLC will use direct mail, radio, television and digital advertising to inform and motivate voters. The campaign is in addition to SPLC's work in coalition with Floridians for a Fair Democracy on Amendment 4 and the League of Women Voters on Amendment 5.
"Kelsey Grammer pushes for passage of Amendment 6 in new ad" via Ryan Nicol of Florida Politics — Emmy Award-winning actor Kelsey Grammer is starring in a new spot advocating for passage of Amendment 6, which supporters say would grant increased rights to victims of crime. Grammer himself has felt the effects of violent crime on numerous occasions throughout his life. He uses the 30-second ad, which was launched by Marsy's Law for Florida, to talk about those tragedies. "My dad was gunned down at his home at the age of 38," Grammer begins. "Six years later, my sister Karen was brutally raped and murdered. She was 18. When my father's killer was released, I found out through the National Enquirer. It seemed like a cruel joke."
To watch the video, click on the image below: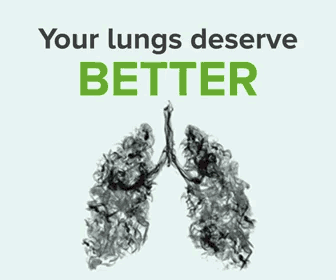 — DOWN BALLOT —
Happening today— Democratic Congresswoman Stephanie Murphy and her Republican challenger, state Rep. Mike Miller, will debate at the Tiger Bay Club of Central Florida, noon, Varsity Club at Camping World Stadium, 1 Citrus Bowl Place, Orlando. Murphy and Miller are competing for Florida's 7th Congressional District.
Charlie Crist releases new TV ad — The latest spot, "This is Charlie," will run in the Tampa-St. Petersburg market. The 30-second ad highlights the St. Petersburg Democrat's commitment to serving Pinellas County, fighting for the people. "It is truly an honor to serve my neighbors in Pinellas County, representing the community that raised me and working every day on behalf of the people," said Crist, who is seeking another term in Florida's 13th Congressional District. "I will never stop fighting for my constituents — my bosses — always putting Florida first."
To view "This is Charlie," click on the image below:
"DCCC cancels ad buy in CD 16, all but writing off David Shapiro" via Jacob Ogles of Florida Politics — The Democratic Congressional Campaign Committee just canceled extensive TV ad buys in the Sarasota market, seemingly abandoning Shapiro's effort to unseat Republican incumbent U.S. Rep. Vern Buchanan. "The DCCC decision to pull the plug on financial aid for David Shapiro confirms what independent polls have shown over the past two weeks—Vern Buchanan is going to win re-election," said Max Goodman, Buchanan's campaign manager. The news comes the same day Shapiro told the Herald-Tribune that he's enjoyed a successful fundraising quarter raking in $873,883 while chipping in $150,000 of his own coin. That means he added more than $1 million to his account in a time Buchanan says he raised $500,000.
Happening tonight: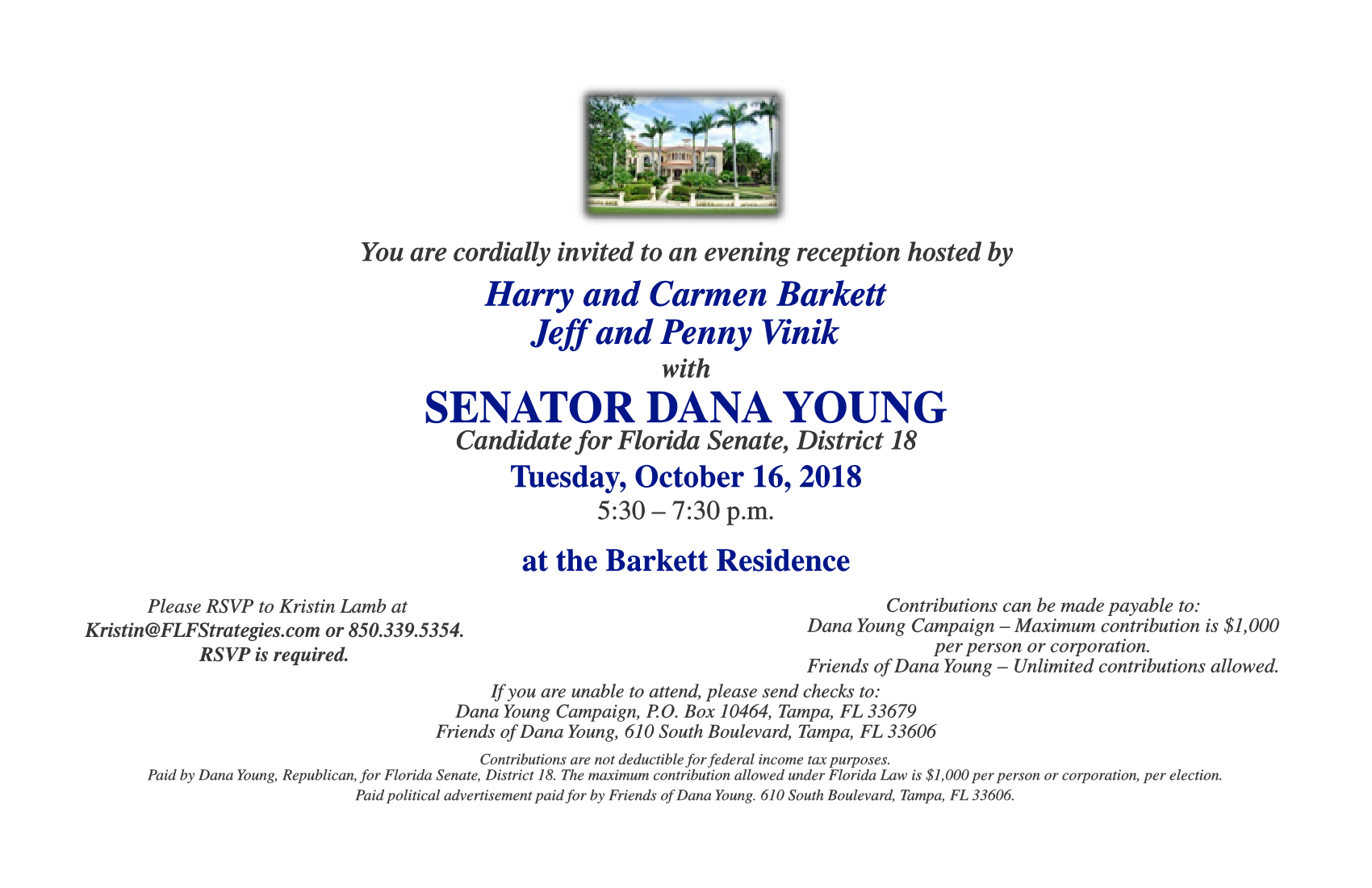 —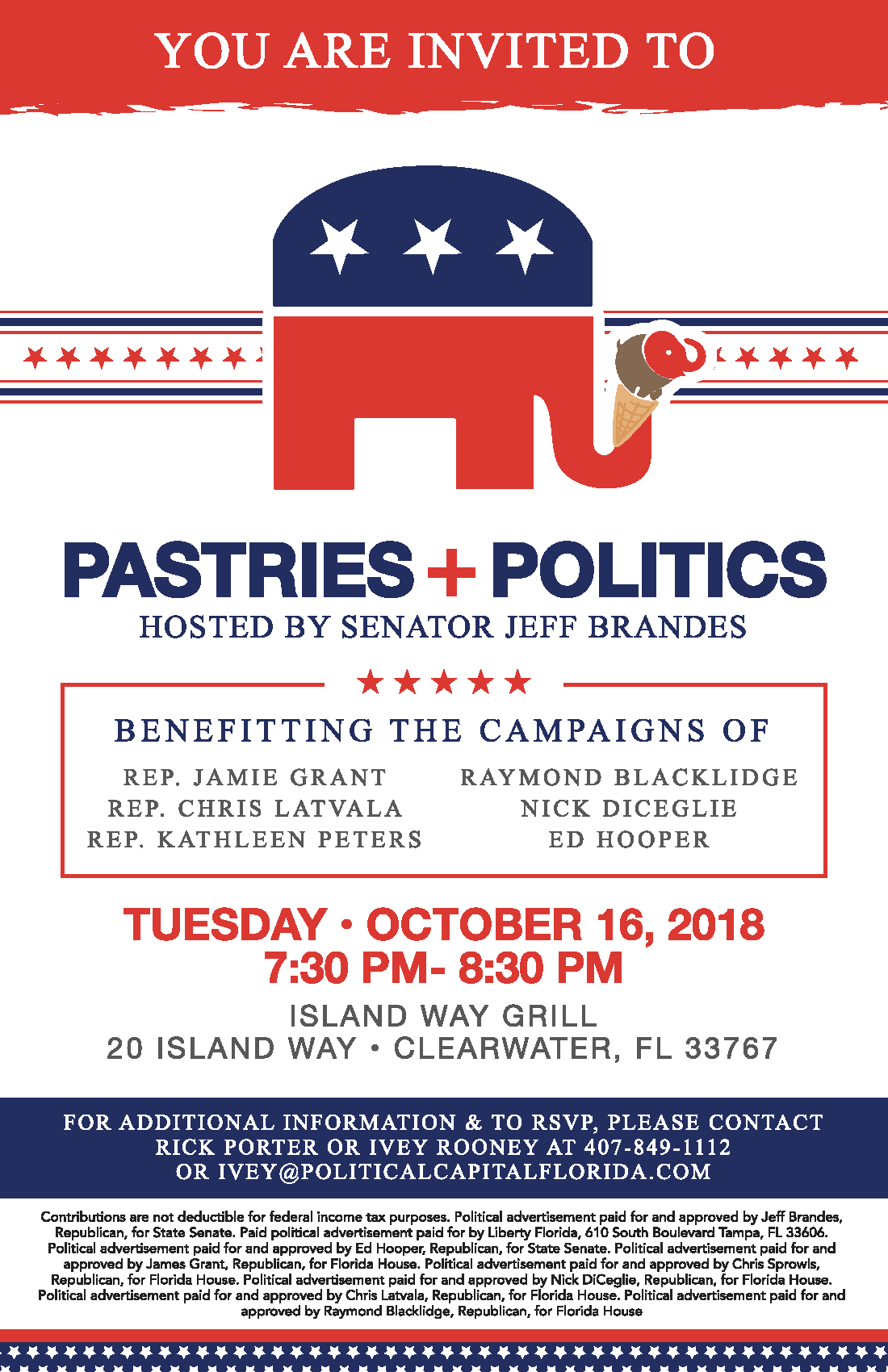 — STATEWIDE —
"AIDS foundation, Governor's office argue over records" via Christine Sexton of the News Service of Florida — The Scott administration does not dispute that information the AIDS Healthcare Foundation is requesting is a public record. Instead, the administration argued to a three-judge panel of the 1st District Court of Appeal about the timing of the release of the information. The AIDS Healthcare Foundation in July requested the Governor's travel schedule, including his overnight accommodations, for three months in advance. The foundation requested the information after the Scott administration made contracting decisions that locked a foundation health plan, Positive Healthcare, out of the state's Medicaid program for the next five years. In legal briefs filed with the 1st District Court of Appeal, Tallahassee attorney Barry Richard, representing the Scott administration, argued that while the schedule isn't exempt from the public-records law, there is a law that exempts from review "any information revealing surveillance techniques or procedures or personnel. "
"Hurricane failed to end Gulf coast's red tide" via Jennifer Kay of the Orlando Sentinel — Hurricane Michael failed to break up a patchy and toxic algae bloom that has lingered in the Gulf of Mexico off Florida's shoreline for the last year, experts said Monday, meaning the red tide outbreak could continue to cause problems in the weeks ahead. Hurricanes can break up algae blooms, but they also drop freshwater and increase nutrient-rich runoff from land, which can make them worse, said Robert Weisberg, a professor of physical oceanography at the University of South Florida. … "The factors that contributed to red tide outweighed the ones that would reduce it," Weisberg said. … After Michael, the algae was found in high concentrations off some Tampa Bay-area beaches, along with dead fish. … NOAA researchers have called this red tide "unusually persistent."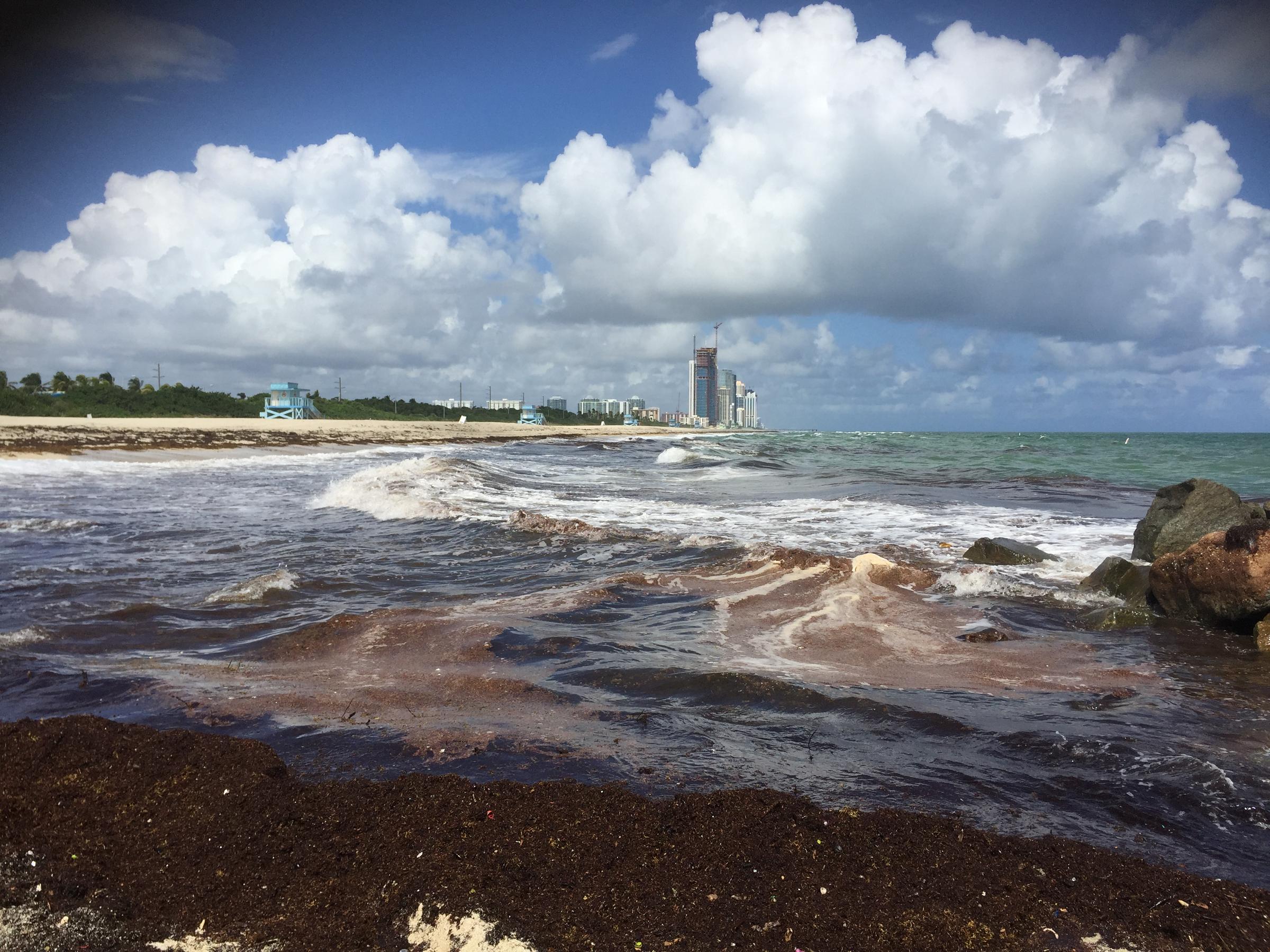 "Red tide reportedly hits Indian River County, Fort Pierce Inlet for first time" via Tyler Treadway of TCPalm — Test results to confirm the algae's presence in Indian River County were expected from water samples taken by the Florida Department of Health and the Florida Fish and Wildlife Conservation Commission, Vero Beach City Manager James O'Connor said. Vero Beach and Indian River County beaches weren't closed Monday but were flying red flags to warn beachgoers of the possible danger of toxic algae, O'Connor said. "We're not going to close beaches until we get verification that it's red tide," he said. Dead fish were reported along Indian River County beaches Monday, and numerous people reported scratchy throats, watery eyes and runny noses — typical symptoms from breathing in toxins from red tide cells in the air.
"Uncertainty abounds as stone crab season begins" via Earle Kimel of the Sarasota Herald-Tribune — Crabbers around the state started putting out traps on Oct. 5, and Monday marks the first day they can be pulled and crab claws harvested. According to the Florida Fish and Wildlife Conservation Commission, the edible parts of stone crabs are not affected by red tide and are safe to eat. Crabbers in north Florida … have not been seeing much. Around the Panhandle, many fishermen and crabbers are still coming to terms with the aftermath of Hurricane Michael … semi-trucks full of ice were heading north from Cortez Friday evening to take the ice to a wholesaler they work with there, Barber's Seafood in East Point, which is east of Apalachicola … crabbers are hopeful that the passing of Hurricane Michael stirred up the water just enough to make it murky and easier for stone crabs to come out of hiding.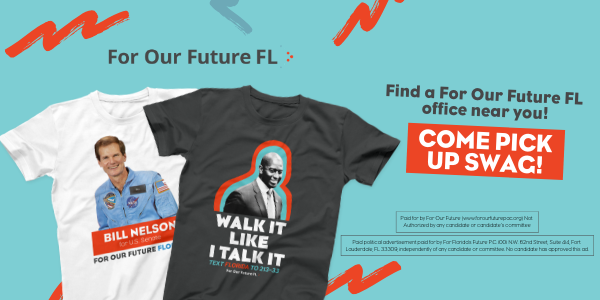 — OPINIONS —
"Gus Bilirakis mimics Donald Trump, colleagues in misleading voters" via Tampa Bay Times editorial board — Bilirakis wants voters to believe he is different than his Republican colleagues in Congress and Trump. The reality is Bilirakis is no different at all. Facing his strongest challenger since he was first elected a dozen years ago, Bilirakis takes credit in a new campaign ad for a law he had no role in writing … The facts show Bilirakis is misleading voters about his record in his latest campaign advertisement in a desperate attempt to shore up his vulnerability on the opioid crisis. The reality is that facing his toughest campaign challenge, Bilirakis resorts to the same deceptions and diatribes used by his colleagues in Congress and by the president. It's beneath him, and it's time for voters to make a change.
"Joe Henderson: If Florida CD 15 flips, blue wave could be coming" via Florida Politics — If you see Florida CD 15 starting to turn in favor of Democrat Kristen Carlson as election results pour in, better get out your rain gear because the blue wave could be coming. Carlson is the underdog against Republican Ross Spano, but three major national outlets — FiveThirtyEight.com, the Sabato Crystal Ball, and the Cook Political Report — continue to agree that the race is close. They all have it leaning Spano's way, but not convincingly. This, mind you, has been as safely Republican as most any you could find. So, what changed? A lot of things, starting with Lakeland — Polk's largest city. Democrats have targeted this as a seat they believe they can flip as part of an overall strategy to regain control of the U.S. House, and Carlson is running hard. Her TV ads are beginning to show up with increasing frequency. Will it be enough? That's hard to say.
— MOVEMENTS —
Personnel note: Florida Lottery veteran Connie Barnes retiring — Barnes, the agency's Communications Director, said she would retire Tuesday from the Lottery. She's been there for about 10 years, according to her LinkedIn page. She will remain in Tallahassee with her also-retired husband, Charlie Barnes, the longtime executive director of the Seminole Boosters. Connie Barnes also has been a senior governmental affairs analyst and communications manager for the Agency for Health Care Administration, and Vice President of Marketing & Sales for the Greater Tallahassee Chamber of Commerce. The position will stay open; Taylor Nash will remain the Lottery's Deputy Communications Director.
— ALOE —
"Disney Springs restaurant throwing 'The Nightmare Before Christmas' celebration" via Gabrielle Russon of the Orlando Sentinel — For fans of "The Nightmare Before Christmas," a Disney Springs restaurant is throwing a themed celebration on Halloween. Tickets are $85 to attend the Oct. 31 event at The Edison in Disney Springs. The cost includes a complimentary cocktail at the adult-only event that begins at 7:30 p.m. The movie tribute includes a costume contest, live music, flying aerialists and costumed stilt-walkers, according to a news release that said the party was not affiliated with Disney.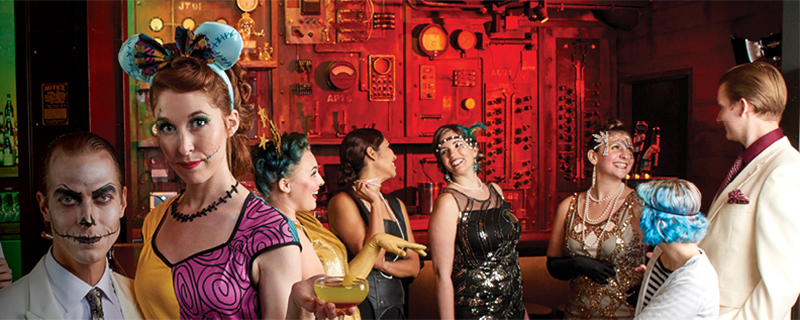 "Legoland Florida reveals trio of new rides in the works" via Richard Bilbao of the Tampa Bay Business Journal — The new land, which will bring the Lego World from the popular The Lego Movie franchise to life, is set to have three main attractions: The Lego Movie Masters of Flight, Unikitty's Disco Drop and Battle of Bricksburg. The new land debuts next spring and will take over the former World of Chima land, which opened in 2013. The Lego Movie World Land also will include themed areas such as downtown Bricksburg with character meet-n-greets, dining at the Taco Tuesday Everyday eatery and a visit to The Awesome Shop retail store. Playgrounds themed after the Lego world also will be there for fans.
Happy birthday belatedly to one of our favorites, Edie Ousley of the Florida Chamber of Commerce. Celebrating today is my wonderful mother-in-law, Robin Todd, as well as Rep. Loranne Ausley Beth Switzer, and Carrie Patrick.