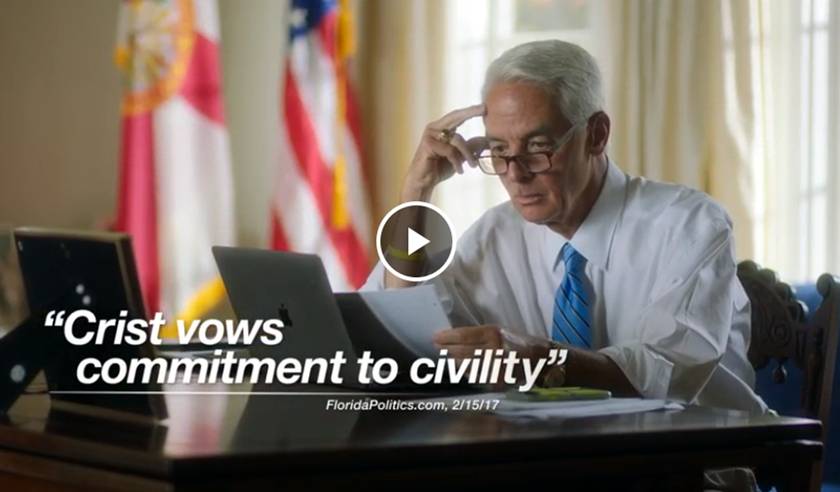 Democratic U.S. Rep. Charlie Crist is rolling out a new ad for his re-election campaign touting his commitment to putting constituents first during his time in public office.
The ad, titled "This is Charlie," features the first term congressman and former Governor answering a number of phone calls while he's out and about in Florida's 13th Congressional District.
"Everywhere I go, it happens," Crist says, before several clips of him answering his cell phone.
"I give my cell phone number to constituents. After all, you're my boss. So whether it's delivering benefits to Florida veterans, voting down the age tax on Florida seniors, or even trying to bring a little more civility and decency to Congress, you know I'm always on call for you," he says in the ad.
The 30-second spot ends with the first-term Congressman picking up another constituent call.
Crist's campaign said the new ad will start running on TV stations in the Tampa-St. Petersburg media market today.
"It is truly an honor to serve my neighbors in Pinellas County, representing the community that raised me and working every day on behalf of the people," Crist said in a press release announcing the ad buy. "I will never stop fighting for my constituents – my bosses – always putting Florida first."
Crist faces Republican George Buck, a retired academic and firefighter, in his campaign for a second term in CD 13, which covers parts of St. Pete, Seminole, and mid-Pinellas.
As of Aug. 8, Crist had raised nearly $3.1 million for his re-election bid and had about $2.2 million on hand. The veteran politician's bankroll was large enough at the end of Q2 that he was able to toss $200,000 to the Democratic Congressional Campaign Committee, the fundraising arm supporting the national Democratic Party's goal of flipping the U.S. House.
Buck, meanwhile, has yet to break the $20,000 mark in total fundraising.
After CD 13's prior congressman, David Jolly, announced in March that he would not run to take back the purple seat, Crist went from having the odds in his favor to a near-certain victory on Election Day. Political handicappers agree —both the Cook Political Report and Larry Sabato's Crystal Ball list CD 13 as a Democratic lock.
Crist's ad is below.