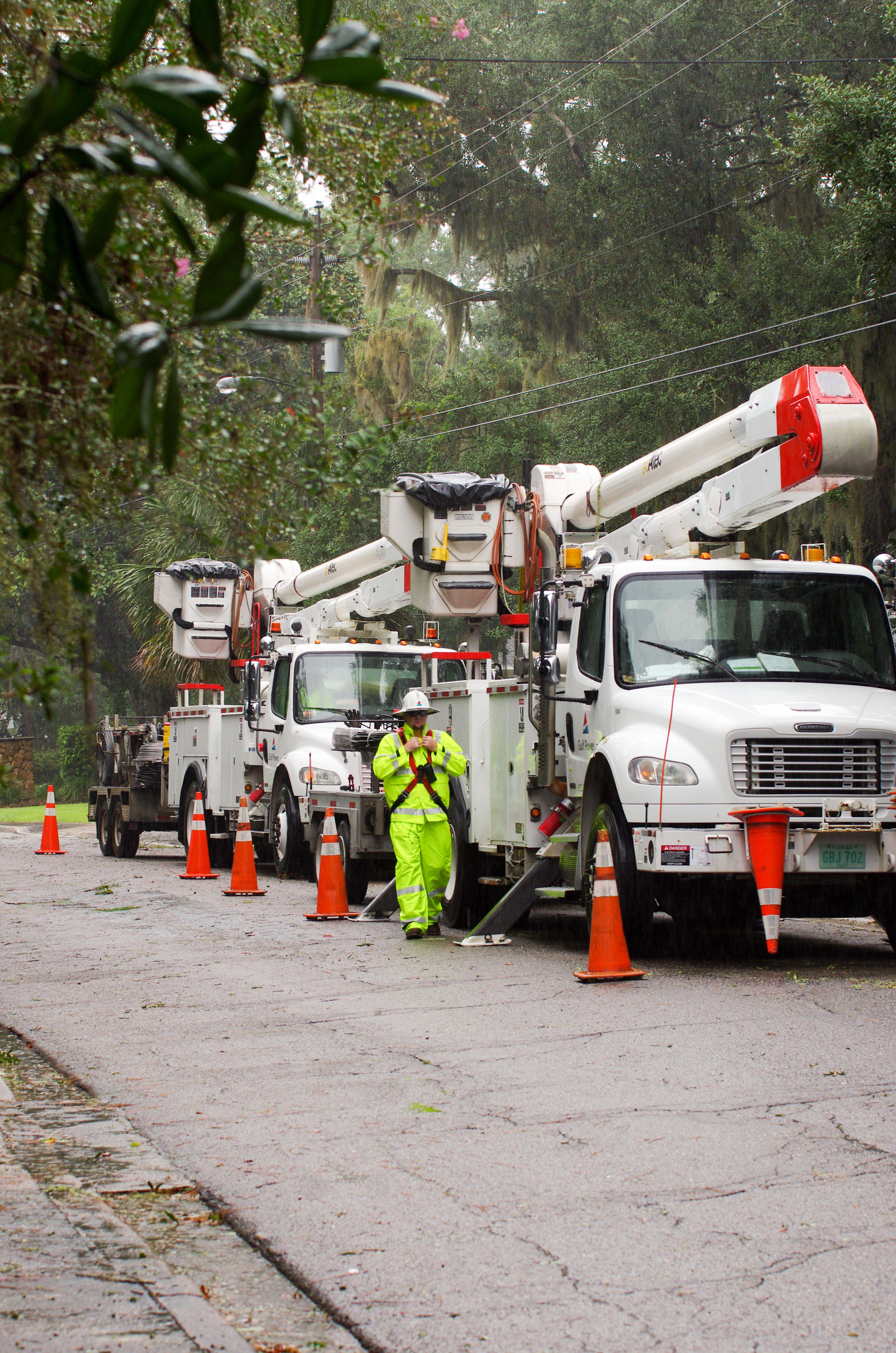 Utility company Gulf Power said Tuesday that it had gotten the lights back on for more than 70,000 customers, more than half the number who lost power when Hurricane Michael tore through the Panhandle last week.
"We've added even more boots on the ground, and we're concentrating our efforts in our hardest hit areas," said Adrianne Collins, vice president of power delivery. "We're focused on our mission, and we'll continue to work aggressively and safely on behalf of the families and communities in these devastated areas."
In the wake of the Category 4 hurricane, Gulf Power's nearly 1,200 employees and 300 contractors were been joined by a platoon of out-of-state linemen and electrical professionals. On Tuesday, the total number of power pros and support personnel working on the restoration effort hit 6,700.
Before Hurricane Michael made landfall near Mexico Beach last week, Gulf Power told its customers that it expected to have to rebuild much of its infrastructure as it worked on restoring service. The process was projected to take weeks, but the company said it was still on track with the get power restored to more than 95 percent of affected customers by midnight on Oct. 24.
The company announced that timetable Sunday.
As of Tuesday at 8 a.m. CDT, Gulf Power reported that there were still 52,510 customers without power in Bay County, which includes many of the cities hit hardest by the Category 4 storm.
Earlier this week, the company started ramping up progress in the area and has since restored power to more than 95 percent of its Panama City customers living west of Highway 79 as well as those living on the east side of the highway up to Hathaway Bridge.
The remaining Bay County customers — those living in Downtown Panama City, Callaway, Parker, Lynn Haven, Youngstown and the surrounding area — should have their power restored by midnight, Oct. 24.
Also on the waiting list are 2,082 customers Washington County, 23 customers in Holmes County and 10 customers in Jackson County. The company said 95 percent of those customers residing north of I-10 can expect to have their power restored by midnight on Oct. 17, while those south of I-10 are scheduled to be back online 24 hours later.
Gulf Power has completed restoration efforts in Escambia, Okaloosa, Santa Rosa and Walton counties.
Customers can stay up to date with Gulf Power's progress company via its Facebook, Twitter and Instagram feeds as well as its outage map.