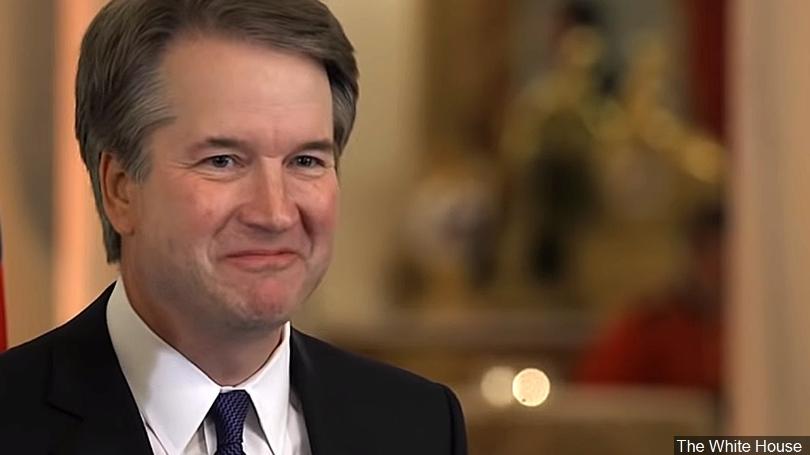 A new nationwide ad from the Congressional Leadership Fund (CLF) is attempting to scare voters away from Democrats by going on the attack regarding the sexual assault allegations against Justice Brett Kavanaugh.
The minute-long radio spot, titled "Liberal Mob," will target Democrats in 10 different congressional districts across the country. CLF is a group linked to GOP leadership in the U.S. House which aims to elect more Republicans to that body.
The group released a version of the new ad set to be run against Lizze Fletcher, the Democratic candidate in Texas' 7th Congressional District. In it, the organization tries to frames Democrats as an extremist, lying, liberal mob.
"They will stop at nothing," the ad's narrator warns.
"The liberal mob: pushing their extreme views, trying to hijack our democracy and steal seats on the United States Supreme Court. Despicable lies. Disgusting character assassination. A new low, even for them, falsely accusing an innocent person of being a sexual predator.
"Brett Kavanaugh is a faithful husband, loving father and proven public servant and the liberal mob set out to destroy him, and his family, because of their own extreme political agenda. Now if Nancy Pelosi is put back in charge, they are threatening to impeach President [Donald] Trump and Justice Kavanaugh. And Lizzie Fletcher is on their team. The stakes couldn't be higher. The choice couldn't be clearer. On November 6th, vote to defeat the liberal mob. Vote against Lizzie Fletcher."
In alternate versions of the ad to be run in other districts, Fletcher's name will be replaced with the respective Democratic candidates. The ad will also target:
Brendan Kelly in Illinois' 12th Congressional District
Paul Davis in Kansas' 2nd Congressional District
Amy McGrath in Kentucky's 6th Congressional District
Dan Feehan in Minnesota's 1st Congressional District
Joe Radinovich in Minnesota's 8th Congressional District
Dan McCready in North Carolina's 9th Congressional District
Kara Eastman in Nebraska's 2nd Congressional District
Anthony Brindisi in New York's 22nd Congressional District
Abigail Spanberger in Virginia's 7th Congressional District
In calling the allegations against Kavanaugh "despicable lies" and "disgusting character assassination," CLF does not distinguish between different allegations. While accuser Julie Swetnick, who was represented by attorney Michael Avenatti, eventually backtracked on some of her precise claims against Kavanaugh, the CLF appears to be describing allegations made by Christine Blasey Ford in the same terms.
The group also claims that Democrats, behind potential House Leader Nancy Pelosi, are threatening to impeach President Trump. That's an assertion repeated by CLF Communications Director Courtney Alexander in a statement on the ad's release.
"Democrats have been very clear that if they win back the House, Speaker Pelosi's first order of business would be to impeach President Trump and Justice Kavanaugh," Alexander said.
"The stakes couldn't be higher, and Republicans must turn out to vote to stop Pelosi's liberal agenda."
But Pelosi has made clear, repeatedly, that she does not think it wise to impeach the President. On Kavanaugh, she has said proof that he lied to the U.S. Senate during his confirmation hearings would make him "not fit" for the Supreme Court. However, she later said she does not plan on impeaching him.
Have some Democratic lawmakers pushed for impeaching Trump? Yes. And could Pelosi be lying? Sure. But it is not accurate to say as a statement of fact that "Speaker Pelosi's first order of business would be to impeach President Trump and Justice Kavanaugh."
This is a debate Democrats are having, with some pushing for the President and Kavanaugh's ouster. But thus far, Pelosi has not concurred with those calls.
It could be just the assertion, along with the group's clear-cut framing of the allegations against Kavanaugh as "despicable," will be enough to rile up the GOP base. Perhaps the CLF is counting on one angry mob to counter another.