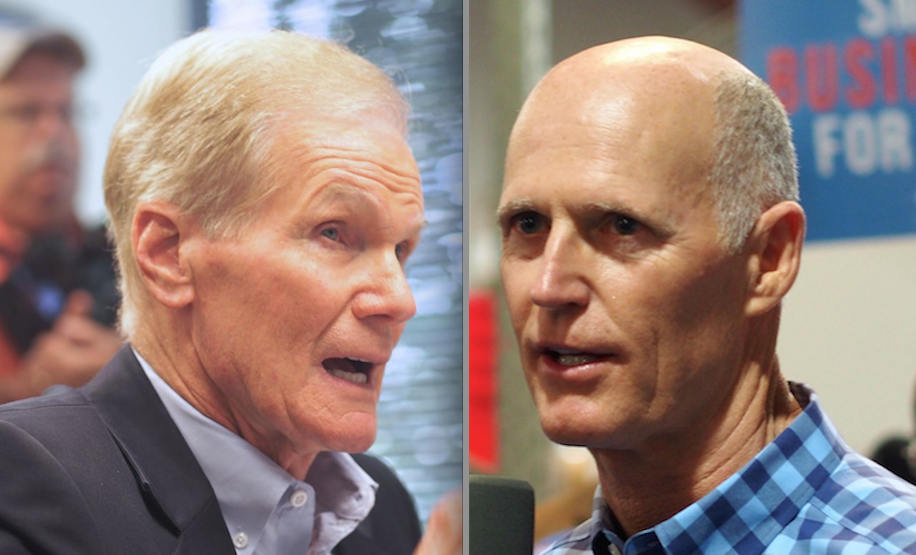 As if an outside spending figure of $53 million through last Tuesday was not impressive enough, national groups have flooded Florida with another $13 million in campaign advertising just in the three days since trying to sway voters in the U.S. Senate contest between Bill Nelson and Rick Scott.
As has been the case throughout 2018, the latest money is mostly in support of the re-election of Democratic U.S. Sen. Nelson, though the political action committee that Republican Gov. Scott set up to support his campaign also spent big this week.
Through Friday, reports of independent expenditures posted by the Federal Election Commission shows outside groups have spent $66.3 million on Florida's Senate contest this year. That amount now has sunk the old record of $54 million spent in the 2016 U.S. Senate election in Florida, with seven filing days yet to go.
That's why televisions throughout Florida are now drowning with attack ads, which are the specialty of outside groups, against Scott and Nelson.
About $10 million of the new money since Tuesday is to support Nelson or oppose Scott. Only about $3 million of it is to support Scott or oppose Nelson.
That accelerates a trend that has been ongoing all year. It means overall Democratic outside groups led by the Senate Majority Political Action Committee have spent twice as much money to get Nelson re-elected as Republican groups such as New Republican Political Action Committee have spent to get Scott elected. The score through Friday: pro-Nelson, $44.3 million; pro-Scott, $22 million.
Just this week, and only since Tuesday, SMP Action has spent $4.6 million, while New Republican has spent $2.9 million.
Almost all of the pro-Scott or anti-Nelson campaigning has been done by New Republican, which Scott set up for that purpose and then left independent. It has spent $19.8 million in total through Friday, the most of any outside group weighing in on Florida's race.
Leading the Democrats' effort to date is SMP Action, which has spent $16.6 million in Florida. The difference is: SMP Action has plenty of help. The Democratic committee Priorities USA Action has spent $9.4 million in Florida's U.S. Senate race this year; Majority Forward, $4.5 million; VoteVets, $3.9 million, For Our Future, $1.9 million and LCV Victory Fund (the political arm of the League of Conservation voters), $1.5 million. Several other Democratic committees have spent many hundreds of thousands of dollars apiece.
By contrast, the only Republican help for Scott, outside New Republican PAC, has come from Americans for Prosperity Action and several related PACs, which have combined to spend about $1.4 million on the race this year; and the Susan B. Anthony List, $105,000.
The only state where more national money is being spent is Missouri, where outside groups have now spent $67 million the U.S. Senate race there.