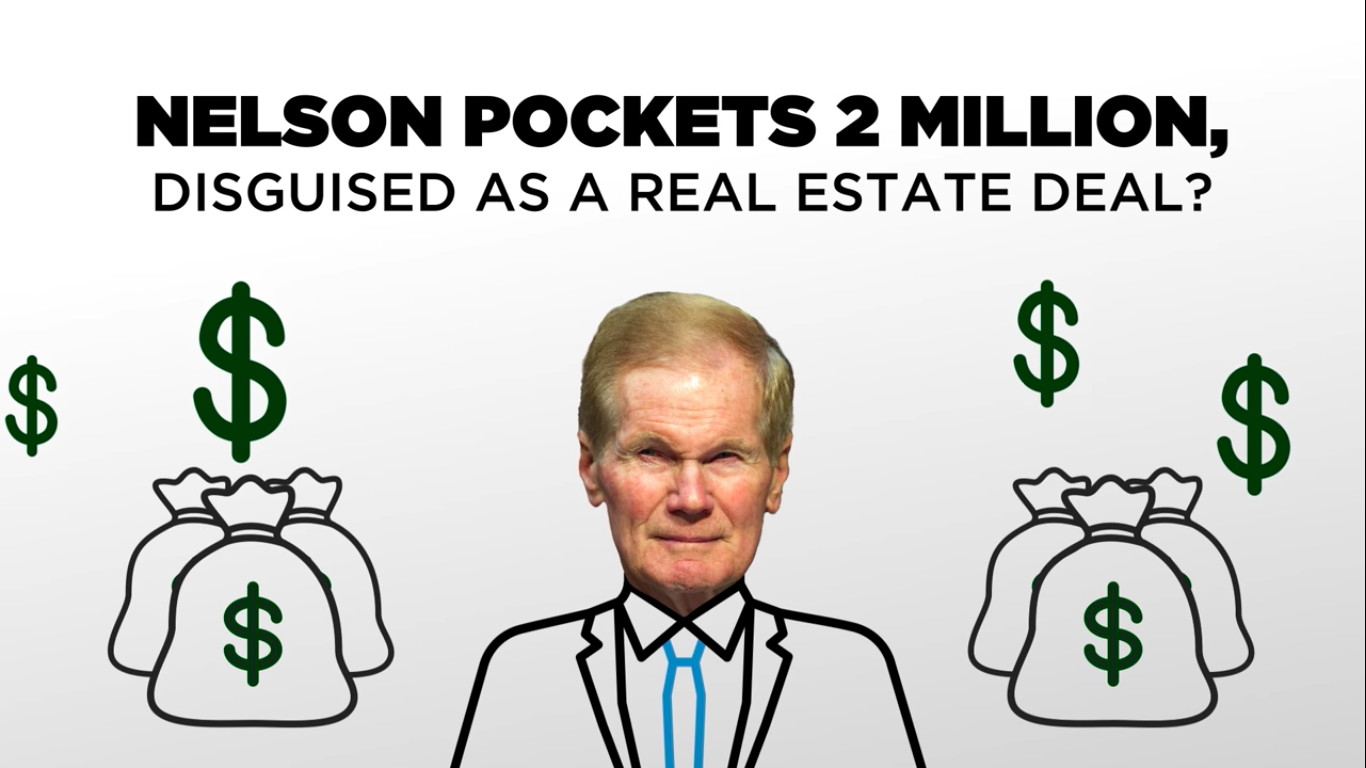 A new ad from Republican U.S. Senate candidate Rick Scott attacks incumbent Democratic Sen. Bill Nelson over a 1989 real estate deal with a Middle East politician.
The ad, which is being broadcast on TV statewide and across digital media, describes details of the transaction as "Corruption: Washington Style" and questions whether Nelson used unlawful techniques to fund an unsuccessful run for Governor.
"Senator Nelson built a Washington mansion for $1.2 million bucks," a narrator describes, "then sold it to a corrupt Middle East tycoon for $3.4 million … $2 million more than its assessed value."
The deal at question involved property Nelson purchased in McLean, Virginia, in 1983, while he served in the U.S. House. Nelson bought the land for $145,000 and built a $1 million home in the Washington suburb.
Nelson first ran for the House in 1978 and won re-election subsequently in the next five elections. Then in 1990, he instead ran for Governor, losing the Democratic nomination to Lawton Chiles.
But Nelson in September 1989 sold the property to a company belonging to Middle East businessman Rafik Hariri,  then an adviser to Saudi Arabia. The home sold for $3.4 million, nearly $2 million above its appraised value. Nelson's financial disclosures show a $1.8-million profit from the sale.
While appraised prices often differ from market value, Hariri's company in 2000 sold the property for just $1.9 million.
The new Scott ad infers an explanation for Hariri's poor investment strategy.
"Nelson pockets $2 million," the narrator outlines. "The corrupt tycoon later offloads it for just $1.9 million, a huge loss … Nelson pockets $2 million. Was it an illegal campaign contribution disguised as a real estate deal?"
It doesn't help that Hariri's name later became synonymous with the word "corruption." He later served as prime minister of Lebanon from 1992 until 1998 before resigning amid widespread government corruption.
Hariri served as prime minister again from 2000 to 2004, then in 2005 was assassinated in an explosion that also killed 22 others.
Republicans say the real estate deal between Nelson and Hariri looked suspicion at a time when Nelson needed more personal funds to finance his first statewide campaign.
"From selling his over-priced mansion to a corrupt tycoon to essentially using those profits as a campaign donation for his failed run for Governor, Senator Nelson clearly owes Floridians a thorough and long-overdue explanation on what appears to be an illegal campaign contribution disguised as a real estate deal," said Chris Hartline, a Scott spokesman.
"After 40 years as a professional politician, Bill Nelson seems to think there are only two ways to be successful: take millions of dollars in tax-payer funded salary or resort to Washington corruption to fund his political campaign."