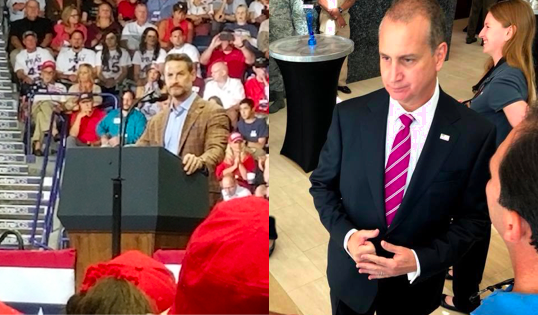 When President Donald Trump held a rally days before the midterms, it drew a number of prominent Republican leaders to Fort Myers.
But it failed to draw a few others.
U.S. Rep. Francis Rooney and Congressional hopeful Greg Steube both gave speeches from the stage promoting the president's agenda. And from the stage, Trump praised other officials who traveled to Southwest Florida, including U.S. Reps. Gus Bilirakis and Matt Gaetz, as well as Chief Financial Officer Jimmy Patronis.
But U.S. Reps. Mario Diaz-Balart and Vern Buchanan were nowhere to be found, despite running in nearby districts.
Steube, running in Florida's 17th Congressional District, tied himself directly to Trump's agenda and said the President will need reinforcements in the U.S. House.
"Send me to the front lines, Southwest Florida, and I'll fight for you in Congress," said Steube.
He's favored to win his race against Democrat Allen Ellison, but wasn't giving up a chance to rally an arena full of voters at a nearby venue.
Rooney, meanwhile, promoted Trump's recent approval of the $1.6-billion Everglades Agricultural Area Reservoir. That funding exceeds the total spent on helping the region with its environmental issues during eight years under President Barack Obama, Rooney said.
"He [Trump] promised to help the Everglades," Rooney said, "and he did."
Rooney noted he faces opposition in Florida's 19th Congressional District without mentioning Democrat David Holden by name. But he said the primary focus was on helping President Trump and delivering Southwest Florida votes for statewide races like the election of Rick Scott to U.S. Senate.
"What we really need is to run up the score, just like we did in 2016," Rooney said.
And of course, Trump held the rally primarily to boost the chances for Scott against Democratic incumbent Sen. Bill Nelson and to lift gubernatorial candidate Ron DeSantis over Democrat Andrew Gillum. 
And both Scott and DeSantis jumped at the opportunity to share the stage. In fact, news of the rally prompted Scott to announce his own return to the campaign trail after weeks overseeing storm recovery in Florida's Panhandle.
But some candidates in close contests apparently saw no benefit in attending the rally.
Most notably, Diaz-Balart could not be found in Hertz Arena, despite facing an increasingly potent challenge from Democrat Mary Barzee Flores in Florida's 25th Congressional District. Democrats bought a barrage of ads airing right now in the Fort Myers-Naples market.
While the rally took place in Rooney's district, about a third of Mario Diaz-Balart's district is in the TV market. Moreover, the Collier County slice of voters remains one of the most reliably conservative areas of the state, much less of the 25th District.
Another notable absence, Buchanan. The Sarasota Republican also faces a significant challenge by Democrat David Shapiro in Florida's 16th Congressional District. But Buchanan in his race has stressed his moderate positions on the environment, stressing points of opposition with the president on offshore oil exploration.
Miami Republican Maria Elvira Salazar, one of the election cycle's surprising strong candidates, didn't make the 90-minute drive to Fort Myers, despite a likelihood many Republicans in Florida's 27th Congressional District may well have felt the pull. Salazar faces Democrat Donna Shalala.
And Agriculture Commissioner candidate Matt Caldwell, a North Fort Myers Republican, posted no rally pictures on his feed, despite posting evidence he campaigned in nearby Immokalee the same day as the event.