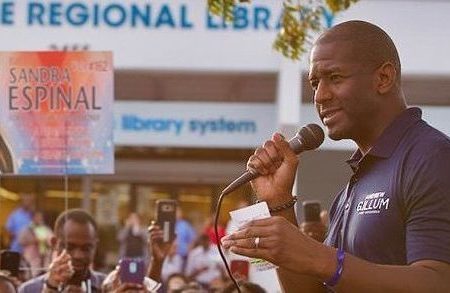 Another pollster is showing a lead for Democratic candidate Andrew Gillum in the race for Florida Governor.
Gillum is competing against Republican candidate Ron DeSantis. The latest survey from Vox Populi has Gillum earning 47 percent support to DeSantis' 44 percent, with 9 percent of voters undecided.
Big grain of salt here: The sample is made up of 42 percent Democrats, 36 percent Republicans, and 22 percent independents or "other" voters.
That +6 Democratic lean would be an incredible outlier among midterm elections in the past 40 years.
DeSantis campaign manager Brad Herold quickly lambasted the poll for its sizable Democratic lean on Twitter.
https://twitter.com/bradherold/status/1058359316439359490
The undecideds are breaking Gillum's way, according to the results. When that group is forced to select between the two, Gillum's lead increases to 53 percent to 47 percent.
Vox Populi says it surveyed 696 "active" voters Oct. 27-30. The poll has a margin of error of 3.7 percentage points.
Vox Populi does earn a "B" rating from FiveThirtyEight. And its results are within the range of recent polling of the race, which has shown everything from a 6 point lead for Gillum to a 1 point lead for DeSantis.
The survey also found each candidate just barely above water in terms of favorability. Gillum earned a 41 percent favorable rating and 40 percent unfavorable. For DeSantis, 38 percent rated him favorably with 37 percent unfavorable.