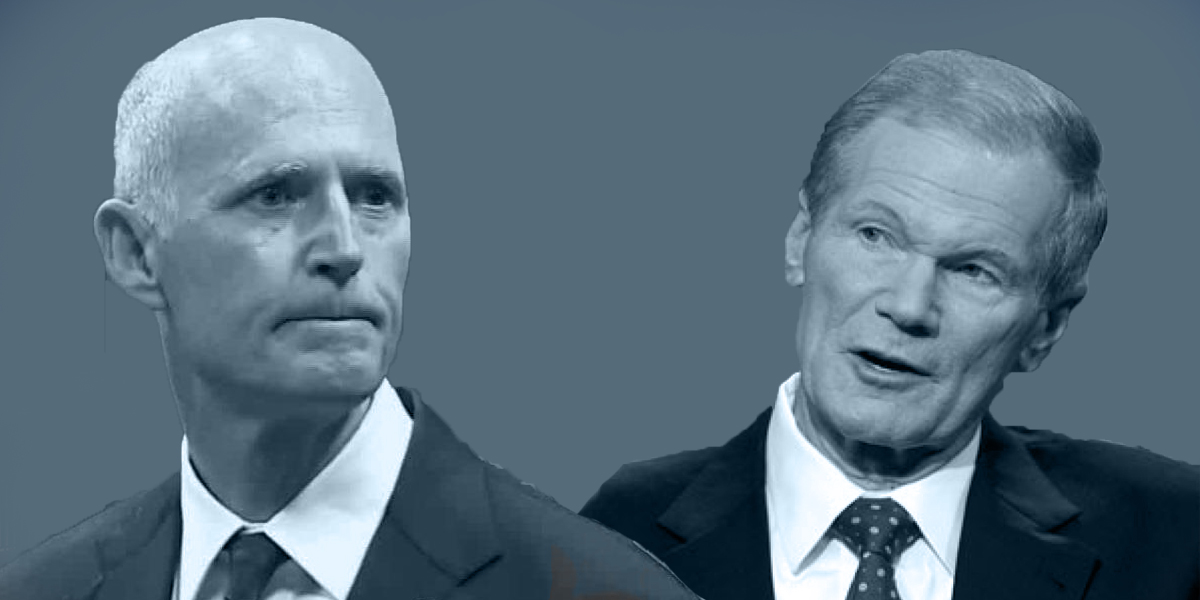 The latest poll of the U.S. Senate race isn't affording confidence to either candidate.
Term-limited Republican Gov. Rick Scott leads 49-48 in his race against Democratic incumbent U.S. Sen. Bill Nelson, according to a poll released Saturday by St. Pete Polls.
The lead is within the survey's 2 percent margin of error, meaning the two candidates are in dead heat as early voting closes around most of the state on Saturday.
The poll, completed just days away from the Nov. 6 election, surveyed 2,733 likely registered voters or voters who plan to cast a ballot next Tuesday. Interviews were conducted via an automated telephone polling system.
Notably, more respondents (57 percent) indicated they'd already voted than those who said they plan to vote (43 percent). Roughly 40 percent of the sample is registered Republican, 39 percent Democrat and 22 percent non-party affiliates.
Nelson led among those sampled who said they already voted, 51-47. But Scott led by a much-larger margin among those who said they plan to cast a ballot, 52-43.
Scott led among white voters sampled 56-41, while Nelson captured nearly 78 percent of the vote from black voters in the poll.
Among Hispanics, a bloc to which both candidates have fought to appeal, Scott led Nelson by more than a point.
Party faithfuls backed their candidates almost evenly, with Scott leading among Republicans 80-18 and Nelson taking Democrats 78-18.
Across non-party affiliates, the fastest-growing group of voters in the state, Scott picked up more of the slack, leading by about half a point. The poll, which also surveyed the Governor's race, showed those same NPAs broke for Democratic candidate Andrew Gillum 47-45 over Republican Ron DeSantis.
In that poll, Gillum led by a margin only slightly larger than Scott's lead, suggesting that a split-ticket scenario could unfold on Election Day.
When Scott entered the Senatorial race in April, it set the stage for what was thought to be the marquee matchup of Florida's midterm election. But a closely contested Governor's race that's drawn to Florida several high-profile politicians from across the country has since arguably overshadowed Scott and Nelson's bids.
Still, the senatorial hopefuls have deployed extraordinary amounts of capital behind their candidacies.
Scott's campaign has spent $66.5 million, $51 million of it from Scott's personal fortune, seeking to win Florida's U.S. Senate seat. That's only through Oct. 17, the latest date for which candidates' campaigns have reported their expenditures.
Nelson's campaign has spent $24.5 million through Oct. 17.
Nationally, the race is viewed by Republicans as a chance to shift the GOP-controlled upper chamber's leaning more in their favor. For Democrats, Nelson is one of many incumbents facing formidable opposition.
Outside interests have responded accordingly.  
The New Republican Political Action Committee that Scott established to back his campaign with outside money, and the Democrats' Senate Majority PAC, backing Nelson, have combined to spend more than $86.1 million on Florida's U.S. Senate contest. Those reports are nearly current, into at least early filings on Friday.
—
Florida Politics Orlando correspondent Scott Powers contributed reporting.