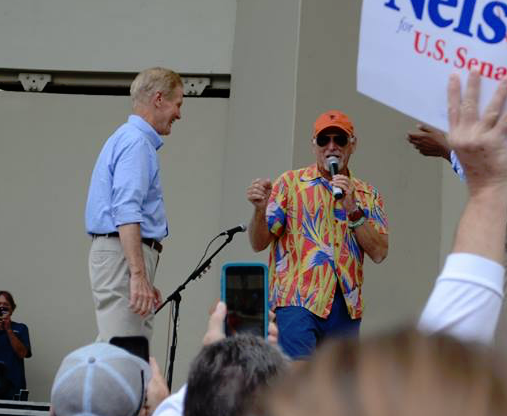 Singer-songwriter Jimmy Buffett tweaked the lyrics to his most famous hit to take a shot at Gov. Rick Scott today.
"Some people say that there's a ride tide to blame/ but I know, it's Rick Scott's fault," belted Buffett during a politically charged set.
The "Margaritaville" singer performed in West Palm Beach in support of Democratic Sen. Bill Nelson, who also joined the singer onstage.
"You are here today because you know what is at stake," Nelson told the crowd.
More than 1,000 people gathered at the Meyer Amphitheatre in West Palm Beach to hear the Key West singer strum his guitar.
Nelson, who refers to Buffett as the "Manatee Man" for founding the Adopt-A-Manatee program in 1984, has called on him in the past to excite voters.
"Bless you for your enthusiasm, your commitment, and your vote," he said.
Nelson faces the toughest re-election challenge of his Senate career from Scott, who rallied this evening with President Donald Trump to a larger crowd in Pensacola.
A survey released today by St. Pete Polls shows the candidates in a statistical tie with Scott leading Nelson 49 percent to 48 percent.
This year, Buffett also urged the crowd to come out for Democratic gubernatorial nominee Andrew Gillum as well.
Of course, Republicans greeted news of the Buffett-Nelson political alliance with dismissal.
"Bill Nelson and Andrew Gillum are true career politicians who haven't accomplished anything to make Florida a parrot head paradise," said Republican National Committee spokeswoman Taryn Fenske. "No amount of time 'wasted away again in Margaritaville,' can erase that."
And Fenske offered her own altered chorus to a Buffett song to undercut the Democrats, with hers a take-off of "Changes in Latitudes, Changes in Attitudes."
"With all of Gillum's running from the FBI and all of Bill trying to be cunning, if we couldn't laugh, we'd all go insane," she said.