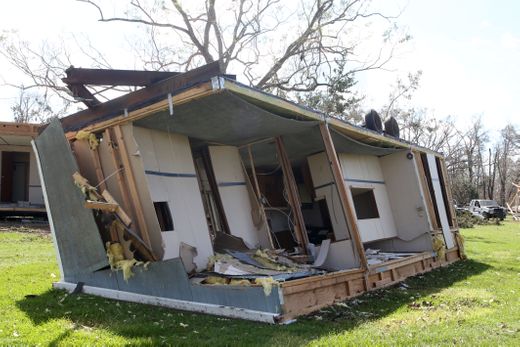 Early voting will continue up to the day before Election Day in six counties still recovering from Hurricane Michael.
Polling locations remain open in Bay, Calhoun, Franklin, Gadsden, Gulf, and Jackson counties, all of which sustained major damage. The state extended the early-voting deadline in those counties.
Secretary of State Ken Detzner, Florida's chief elections officer, on Oct. 18 announced the state would bend voting rules in storm-struck portions of Florida's Panhandle. Gov. Rick Scott signed an executive order granting authority to extend early voting to certain counties.
"The Department shares the Governor's commitment to ensuring that all registered voters from counties devastated by Hurricane Michael are able to exercise their right to vote safely and securely in the upcoming General Election," Detzner said.
"With the input from local Supervisors of Elections, we put forth recommendations to Gov. Scott and we greatly appreciate (his) support of our requests."
Scott's executive order allowed elections supervisors in Bay, Calhoun, Franklin, Gadsden, Gulf, Jackson, Liberty, and Washington counties further leeway in several areas.
That included the ability to open more early voting polling locations, allowing for early voting as early as Oct. 22 and as late as Nov. 6, and easing rules on forwarding vote-by-mail ballots to addresses other than a voters' residence.
The Department of State dismissed other suggestions for voter convenience such as allowing voters to cast ballots by fax or email, based on security issues faced by other states with those voting methods, Detzner said.
The counties in question are in the Panhandle and Big Bend area, a rich area for Republicans in state races, though voter registration shows a closer balance.
Combined, the six counties serve as home to 88,317 Republicans, 80,127 Democrats, 34,808 votes with no party affiliation and 1,550 registered with a minor political party.
And elections supervisors in Michael-struck areas are telling voters who plan to vote on Tuesday to make sure they know where to go: Many of the previously used buildings were destroyed or damaged.