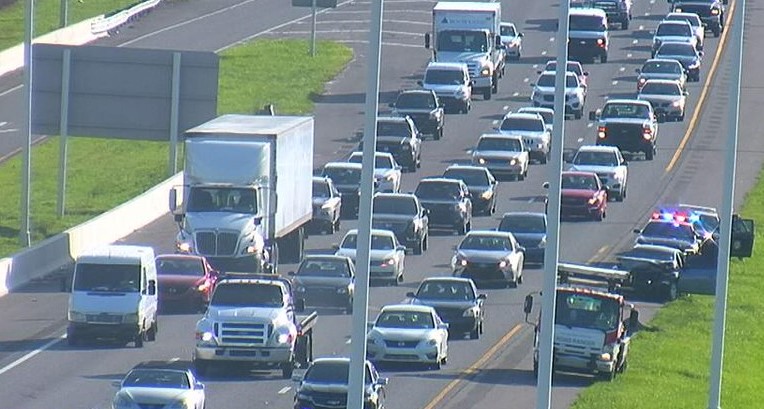 Hillsborough County voters approved a 1 percent sales tax to fund transportation and transit improvements throughout the county.
But there's a lot of work to be done before solutions start rolling in.
County residents and visitors won't see the increase on their shopping bills until January 1; plans for the estimated $280 million in annual revenue aren't due until the end of September.
The next step in the All For Transportation process is creating an oversight committee, sure to be a long and potentially arduous process.
Making up the committee are 16 nonelected officials appointed from a wide variety of boards and positions.
Hillsborough County Commissioners will appoint four members to the committee, including two with expertise in transportation, planning, sustainability, engineering or construction.
Mayors from each Hillsborough County municipality — Tampa, Temple Terrace and Plant City — will appoint one member. The councils or commissions of those cities will get one appointee each, with Tampa getting two since its population is over 200,000.
The Hillsborough Area Regional Transit Authority's Board of Directors will appoint two members. The Hillsborough County Clerk of Courts, Tax Collector and Property Appraiser will each pick one member for the board including an attorney, certified public accountant and land use or real estate expert, respectively.
"We think the composition of the committee should look like Hillsborough County — every age, experience, and location should be represented," said All For Transportation campaign chair, Tyler Hudson.
While the campaign is encouraging appointing officials to consider diversity in its appointment decisions, the approved charter amendment does not contain requirements for age or demographic. But because the boards and offices selecting those members are all unique in their compositions, that end goal will likely be achieved.
For example, the Hillsborough County Commission for the first time in 14 years will have a Democratic majority. Commissioner Pat Kemp and Commissioner-elect Kimberly Overman are longtime transit activists who are likely to put up suggested appointees who understand the county's transit needs, while the remaining conservatives on that board will likely push for members who will see to the county's attractiveness for economic development activities.
The oversight committee members cannot be elected officials. Also, they cannot have a vested interest (either through employment or financial benefit) to projects possibly selected under the charter amendment.
The committee does not cede authority from local elected bodies.
Of the projected revenue, 45 percent will go to HART for transit enhancements. Fifty-four percent would go to Hillsborough County, Tampa, Temple Terrace and Plant City. Each of those boards will develop project plans, which they submit to an oversight committee for final approval.
The oversight committee merely audits the plans, ensuring they are consistent with the voter-approved transportation funding charter amendment.
Those provisions require 20 percent of the money to the county and Tampa must go toward road maintenance. Twenty-seven percent goes to transportation safety improvements; 12 percent for transportation network improvements including bicycle and pedestrian infrastructure.
Temple Terrace and Plant City are exempt from those guidelines. The reason is that based on population, they would receive less than five percent each of the total general purpose funds. State law governs that allocation based on the distribution of sales tax revenue.
Individual transportation plans would also have to abide by some statutory limitations including prohibitions on added lane capacity unless it pertains to intersection capacity improvement that reduces traffic bottlenecks. Funding also cannot go for new roads or streets, additional highway capacity or construction of a new sports facility or any other not related to transportation.
Oversight committee members will serve three-year terms without compensation. Overseeing the proceeds of the tax is the Hillsborough County Clerk of the Court. The clerk will hold the money in a trust fund before allocation.
"We're calling on every appointing authority to proceed as quickly as it can with whatever procedure they think is necessary," Hudson said.
While the campaign is over, Hudson said the All For Transportation committee would not go away. The group will continue advocating for the charter amendment through public outreach and engagement. That ensures they address community projects most in need.
There is a $9 billion backlog of transportation projects in the county, the same amount the tax expects to raise over its 30-year life.
"We know where the projects are. We know where the needs are," Hudson said. "We just didn't have the funds, and that's where the excuse was. The voters took that excuse away on Tuesday."