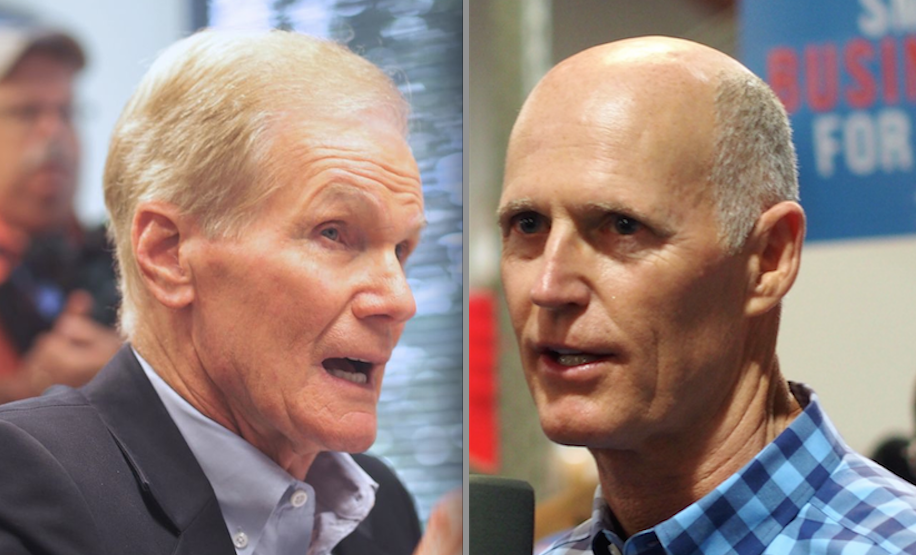 As Florida's U.S. Senate election heads toward likely recount the legal counsel hired by Democratic Sen. Bill Nelson's campaign is predicting it will be a hand recount and says several trends convince him that Nelson will ultimately defeat Republican Gov. Rick Scott, who leads.
"Looking at historical data, Democrats tend to gain recounts, tend to gain more votes in hand recounts than in machine recounts, but tend to gain votes in machine recounts," Marc Elias said in a press call Thursday morning.
"So I'm confident that Sen. Nelson and the Democrats are going to do well in terms of vote share in the days that come because when at the end of the day all eligible votes have their votes counted and counted accurately, the fundamental truth we are going to learn is more voters voted for Sen. Nelson than voted for Gov. Scott."
As of the latest count from the Florida Division of Elections, Scott holds a 21,888 vote lead out of about 8.5 million votes cast, a difference of 0.27 percent. That's well under the 0.5 percent margin that automatically triggers a machine-driven recount in Florida, and just over the 0.25 percent margin that would trigger a hand recount, in which vote canvassers actually examining every ballot. That margin has shrunk from a 57,000-vote lead Scott held at the end of Election Day.
Scott's campaign responded Thursday by denigrating Elias, a well-known and well-traveled Democratic elections lawyer, as a hired gun hired to "steal" the Florida U.S. Senate election.
"It is sad and embarrassing that Bill Nelson would resort to these low tactics after the voters have clearly spoken. Maybe next, he'll start ranting that Russians stole the election from him," Scott's campaign declared in a press release.
Elias, political law practice chair at the Washington D.C. law firm of Perkins Coie, has decades of experience challenging election outcomes and states' elections practices, and overseeing vote recounts on behalf of Democratic candidates.
Elias brushed aside assertions that he can influence the outcome, saying that the election is heading into the hands of the counties' canvassing boards; and while both sides will be watching and mobilizing what they can, those boards will be in position to determine the final counts.
"There isn't anything that I'm going to be able to do about that. There isn't anything that Gov. Scott and his millions of dollars are going to be able to do about that, or Secretary of State [Ken] Detzner is going to be able to do about that," Elias said. "I think you're going to see the will of the voters is going to come out in Florida. And Sen. Nelson will be sworn in for another term to the United States Senate."
Florida's 67 county Supervisors of Election's canvassing boards have all begun canvassing ballots and will do so through Saturday morning, reviewing provisional ballots and others for acceptance and certifying the machine counts.
On Saturday afternoon the Florida Secretary of State's office will make determinations of whether and what kinds of recounts would be necessary. Those would start Monday at the supervisors' offices.
While Democrats, including Elias, and others are urging people who voted on provisional ballots to return to the supervisors' offices to present identification and advocate for their votes, Elias said in many cases the votes will be "self-cured" when they're examined by the canvassing boards.
If a machine recount is ordered, that is to be completed by next Thursday. If a hand-recount is ordered, that is to be completed by Nov. 18.
"I think you are going to see the race tighten from the provisionals as well," he said, referring to the canvassing board activites now underway, adding that by Saturday the race should be very tight. "I would say it's a jump ball. We may be up by 5,000 votes. We may be down by 5,000 votes."
Any margin close to that would trigger a hand recount.
On Thursday Elias pointed to several factors he said are likely to provide more votes, and contended that history shows those more votes would break Nelson's way.
— In Palm Beach County, 10,000 ballots still need to be counted by the canvassing board because they had stray marks or other anomalies that prevented machines from counting them. In Palm Beach County Nelson got 58 percent of the vote.
— An unknown number of ballots still need to be counted in Broward County, where Nelson got 69 percent of the vote.
— Provisional ballots, he said, historically break Democrats' way, even in Republican-dominated areas.
— And he pointed to what he said was a highly-unusual anomaly in Broward County: the U.S. Senate race actually drew fewer votes than the state cabinet races, not just for the governor's office, but including for Attorney General, Chief Financial Officer, and Agriculture Commissioner.
He said a comparison with the U.S. House races in Broward also showed that there were many ballots counted in which people appeared to vote in the congressional races but not in the Seante race.
Elias speculated that scanners might not have been calibrated correctly and might not have always picked up the votes at the top of the ballot. If so, those would be caught in a hand recount, if not in a machine recount using a better calibrated machine, he said.
"What is unusual is to see undervote at the top of the ticket. Not only is it unusual, I can't think of a single instance where you had fewer votes for the Senate than for the down-ballot," Elias said.