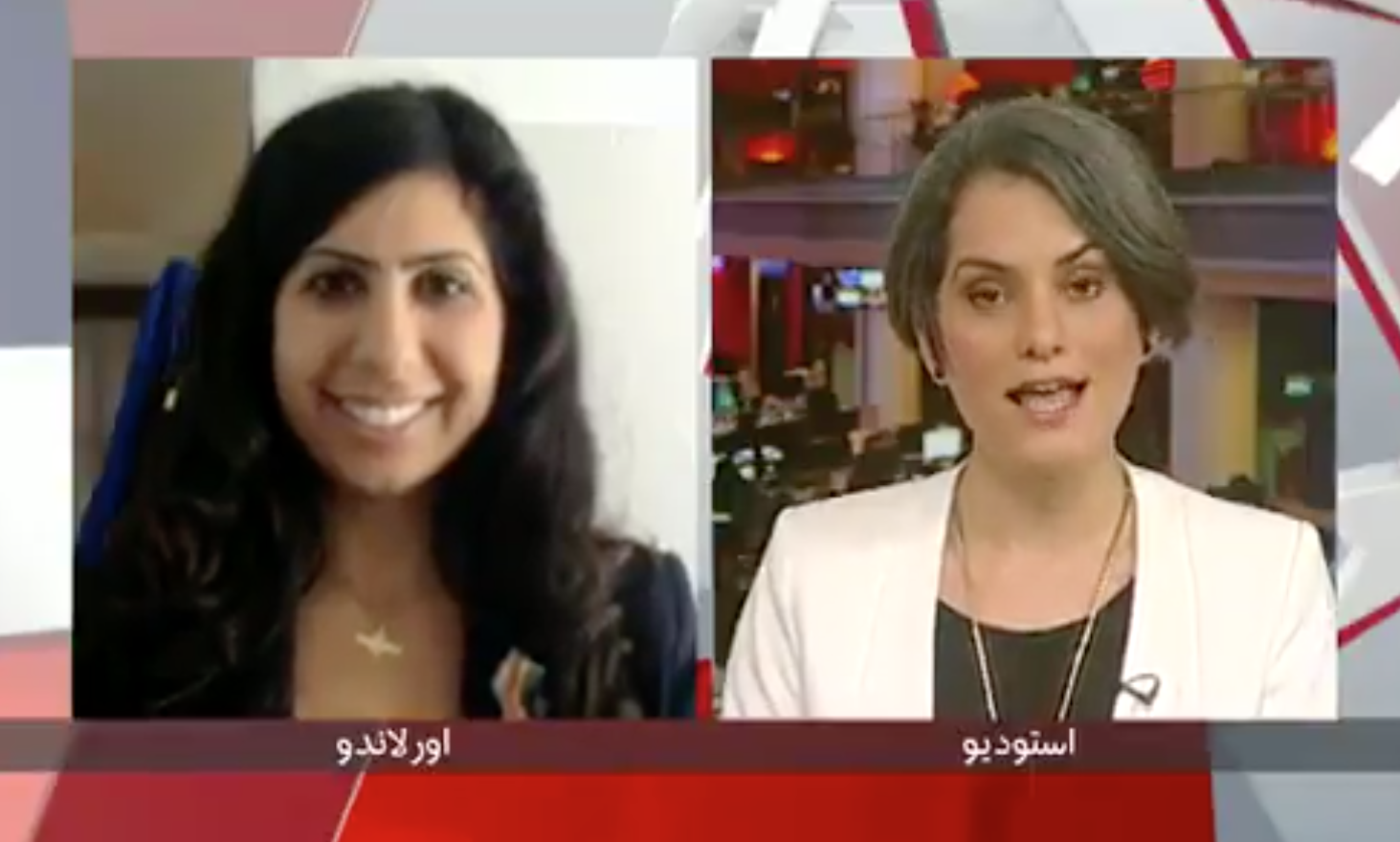 Democratic state Rep.-elect Anna Eskamani has been no stranger to national media coverage throughout her campaign, and now her election in House District 47 Tuesday also is drawing attention of Iranian media and international media broadcasting into Iran.
Eskamani, of Orlando, had been open throughout her campaign about her Iranian-American heritage, even working it into a campaign TV commercial, paying tribute to her Iranian-immigrant parents. Once elected, she pointed with pride to becoming the first Iranian-American elected official in Florida, and one of only a small handful across the United States.
Now she's become a hot get for Iranian media, starting Tuesday night while she was still celebrating her victory over Republican Stockton Reeves. She's done a half-dozen or so interviews since with Iranian media plus a live interview Wednesday on BBC News Persian, and another Thursday with Public Radio International, both broadcast into Iran and to Iranians living worldwide.
It seems people in Iran want to know, as she said one Iranian news medium headlined its story: "Who is this Persian girl, Anna Eskamani?"
"The love and support from the Iranian people has been incredible," she said. "Actually, our website yesterday afternoon, I was told we received thousands of website visits, over 500 specifically from Iran. I think that for whatever reason the people of Iran have really been inspired by our story. … They see me as a fighter for rights here in Florida."
Eskamani speaks and understands Farsi, but not well enough to be comfortable talking about politics, so she's been giving her interviews in English.
A common line of inquiry from Iranian media, she said, comes from surprise that an American politician would be open about her Iranian roots, as many in Iran assume that would be a huge handicap in front of American voters, especially in a district that doesn't have any significant Iranian-American population. That became an issue only briefly when a push-pollster started asking voters in September if they could vote for Eskamani if they knew she was Iranian. Reeves denied any connection to the poll and disavowed it, and it quickly went away as anyone's issue.
Eskamani said she's telling Iranian media that she's turned her Iranian heritage into a more universal message about being the daughter of hard-working immigrants seeking to make better lives in America for their children, a message she said plays well with women back in Iran.
Eskamani is very conscious of the fights for human rights inside Iran, particularly by women, and has written graduate-level college research papers on it.
If there is a respect and admiration, it is mutual.
One interviewer asked her, "What message do you send to Iranian women and girls who find you to be an inspiration?"
"I told them that, 'You inspire me, with your struggle, and the environment you have to navigate. It reminds me not to take anything for granted,'" she said.
"In my veins there are women who are fighting across this world for their rights, and so this reminds me I have to stay strong and continue to advocate for those issues that affect women and girls here in Florida, and knowing I'm not alone in those efforts," she said. "There are women on the other side of the world who are doing the same under different circumstances."
She recognizes that some of the things she's said for broadcast or publication in Iran could have cost her. Eskamani has family in Iran, whom she and her sister and brother sometimes go to visit.
"I know there are Iranians my age who never want to get involved in politics because if they do they can never go back to Iran. To some degree I might have put myself in that place already," Eskamani said. "But for me, I think it's worth it to be an advocate on these issues, because people need an advocate."
Photo is a screen shot from BBC News Persian
Last updated on November 8, 2018