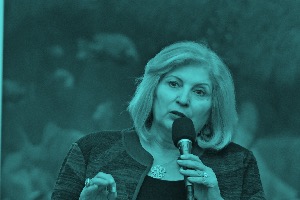 Democrat Janet Cruz holds a 376-vote lead over Republican state Sen. Dana Young with all votes counted in Florida Senate District 18.
The recount for the race was ordered by the Department of State on Saturday.
Florida law calls for a machine recount if the difference between vote totals for candidates falls with 0.5 percent. If the margin there remains within 0.25 percent, a manual recount must take place.
The margin in District 18 comes in 0.18 percent.
The Hillsborough County Supervisor of Elections Office report a total 91,955 votes cast in the state Senate race. That's with all provisional, early, vote-by-mail and precinct ballots counted.

The county could receive more overseas vote-by-mail ballots that arrive at the office within 10 days of Nov. 6 election, so long as the votes were sent before the conclusion of the election.
Cruz's lead has grown since Election Day, when the Democrat held a lead of just under 300 votes.
She declared victory on Thursday after elections officials reviewed 653 additional ballots and added the majority of those to totals, which expanded Cruz's lead.
But every vote cast in the election will be double-checked.
Supervisor of Elections Craig Latimer says he expects to begin the recount process on Sunday, with orders to recount coming in Saturday.
Recounts are currently also underway for the U.S. Senate race, Governor's election and Agriculture Commissioner contest.
Those races hinge on still uncounted votes in Broward and Palm Beach counties, but the Hillsborough race shows what degree of wiggle room exists with the numbers.
For example, Hillsborough elections officials accepted all 248 Election Day provisional ballots and 42 out 118 early voting provisional ballots.
The Cruz-Young race turned out to be the closest state Senate contest in Florida this year.