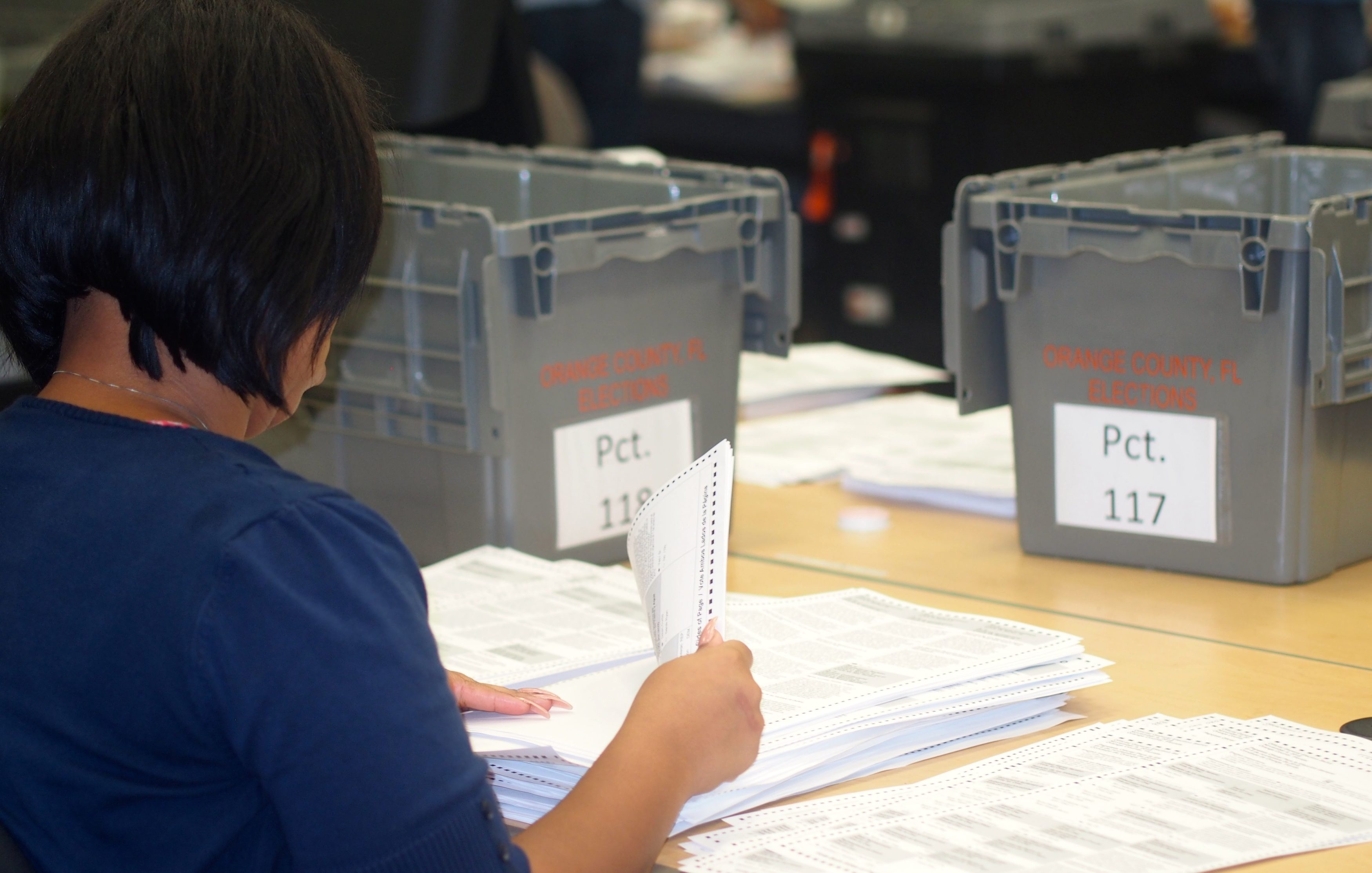 Florida's 67 counties should not have to sweat it out to meet Thursday's and Sunday's deadlines to recount last week's contested statewide elections and instead should be allowed more time if they need it, argues a new federal lawsuit filed Tuesdeay by the U.S. Senate campaign of Democratic U.S. Sen. Bill Nelson.
The suit, filed in U.S. District Court for the Northern District of Florida, continues a theme Nelson's campaign began Monday, arguing that the recount deadlines could become difficult for county canvassing boards, and they would rather have the boards have the time to do it right than cut corners or miss deadlines.
Earlier Tuesday Republican Gov. Rick Scott's election team argued the opposite, that the election and the recount must proceed according to the law that everyone agreed to, and that any efforts to short-circuit that law, even through federal lawsuits, "is incredibly partisan and irresponsible."
The new lawsuit from Nelson's campaign suggests it's likely that some counties may not be able to make the deadlines.
"What we are saying is all counties should be committed, understanding that they need to work expeditiously and they need to work under the statutory regime as it exists; but paramount to that is that they assure accuracy and completion in the work," Nelson's lead recount lawyer Marc Elias said in a news conference Tuesday evening. "And if that means they need to have some additional time they ought to be able to have that time to assure that everyone's vote is treated equally and with equal dignity."
In the final first-round count of the ballots, Scott lead Nelson by just ove 15000 votes. Nelson's people are claiming that Scott's team is fighting against Nelson's efforts to get every ballot counted because Scott's campaign fears Nelson will win if all votes are counted.
Elias argued Tuesday night that Nelson's team just wants to give counties enough extra time to be careful, not some big, indefinate period. The matter, he argued, is for the canvassing boards to not feel pressured, which could lead some to get sloppy in vote counting, just because of what he called an "arbitrary deadline" set in Florida law, which he said has no practical affect on whether the winners will be able to take office in time.
Earlier, Elias had suggested that it should be no problems for counties to meet the deadlines provided they brought in enough equipment and people to recount.
On the other hand, if counties do not meet the recounts in time for the election, then the previous count must be counted. In that prevoius count, Scott wins.
The new lawsuit also argues that means that votes would be counted one way in some counties, and another way in others, making the process inherently unfair to some voters, "based on the accident of where they reside."
"It doesn't today look like any counties are very far behind the pace they need to be on. So it looks like it's a matter of days versus weeks," Elias said.
"I don't think of this in terms of extensions," he added. "I think of this in terms of giving counties the time they need to do their statutory obligations of counting the votes and counting it accurately."
Machine recounts are underway now to recount all the votes in the U.S. Senate election, the Governor election, and the Agriculture Commissioner election. The counties recounts of their shares of the 8.2 million ballots in Florida must be finished by 3 p.m. Thursday. If any of those elections remains with a difference of less than 0.25 percent – and the lawsuit calls that prospect "an inevitability" in the U.S. Senate race – then the hand recount of ballots, checking to see if the machines got the voters' intent right, must be done by noon Sunday.
The latest lawsuit is one of four Nelson's team has filed in federal court. The others ask judges to invalidate Florida's signature-comparison rules; to extend the period in which mail-in ballots could be counted, provided they are postmarked prior to the election; and to invalidate Florida's rules on "voter's intent" to allow for the counting of ballots that have different kinds of marks.
"We should all agree here, whether you are a Republican or Democrat, is have a complete and accurate count of all lawful ballots," Elias said.