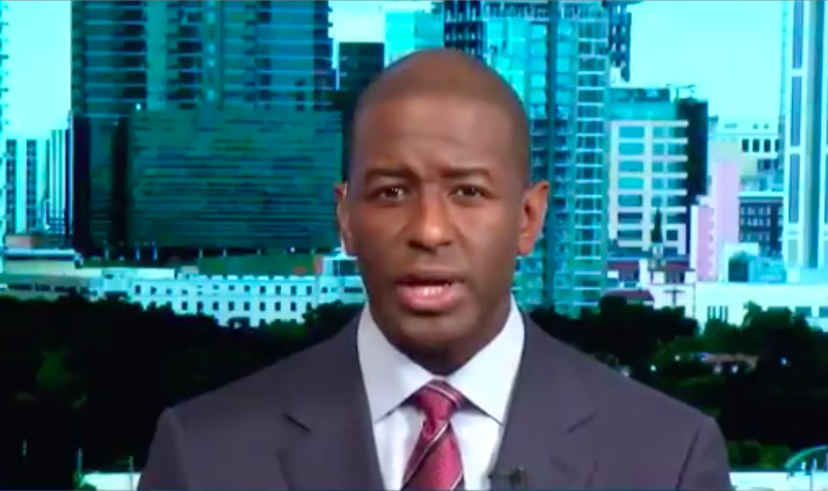 A day after conceding Florida's gubernatorial contest, Democrat Andrew Gillum offered advice to victor Ron DeSantis as he names an administration.
"Very quickly," Gillum said, "bring in a diverse set of people."
In an interview today with AM Joy on MSNBC, host Joy Reid asked what DeSantis should do after an election in which racial divides played a huge role, from DeSantis' post-primary "Monkey This Up" moment to Gillum's debate assertion that "racists believe he's a racist."
Gillum said he remains concerned whether DeSantis has done enough to distance himself from fringe elements of the party.
"I was really disappointed to see him appoint Matt Gaetz to the transition team," Gillum said.
Specifically, he called out Gaetz, a Panhandle Republican, for inviting Holocaust denier Chuck Johnson to the 2018 State of the Union.
"I don't know if he is a known neo-Nazi," Gillum said of Johnson, but he was "someone whose values are inconsistent, I would suggest, with a majority of people in my state."
DeSantis invited Gillum for a summit to speak about the state's future.
And as rhetoric escalated post-election about the U.S. Senate recount, The New York Times reports DeSantis actively sought to tone things down in the now-complete Governor's race recount.
That may have prompted President Donald Trump yesterday to offer praise to Gillum on Twitter, calling him a "strong Democrat warrior."

Gillum told Reid he would be fine meeting with DeSantis so long as it wasn't merely a post-election "photo op" and provided "more of a sincere opportunity to have diverse voices at the table."
"Mr. DeSantis, I would hope, would take this as an opportunity to acknowledge that half the people in this state voted differently, and they wanted a different outcome," Gillum said.
"If he really means to be governor for all the people of the state of Florida and not just those that voted for him, that means he's going to have to make some outreaches."
And after a historically close election, one DeSantis won by 33,683 votes out of more than 8.2 million cast, Gillum said he wants election reform in Florida.
Gillum said in his opinion, one of the biggest problems with the election this year wasn't during the recount but the fact that in Florida's most dense (and Democratic) counties, early voting remains more limited. He called that "intentional voter suppression."
"We need a statewide overhaul," Gillum said, "that takes into account the fact that many of these counties, many of those counties in South Florida where you've got high Democratic participation, are not resourced in a way where they are able to have 21st century technology to count the votes and quite frankly to ensure that those who want to vote early have access to it."
Gillum's surprise primary win this year elevated his national profile, and Reid asked Gillum if he planned to run for President. Gillum laughed off the suggestion.
"I want to stay married," he said, stating he and wife, R. Jai, planned a post-election vacation, and he would like to return to father duties attending his children's soccer games.
He does plan to stay involved in state politics, and referenced passage of Amendment 4, which will automatically restore voting rights for 1.4 million ex-felons who already completed restitution to the state.
"We have 1.4 million people re-entering society who want a chance to be heard in this process," he said.
He also discussed promoting a Medicaid expansion in Florida and fighting for better teacher pay.
"My eyes are going to be right here on Florida," Gillum said.