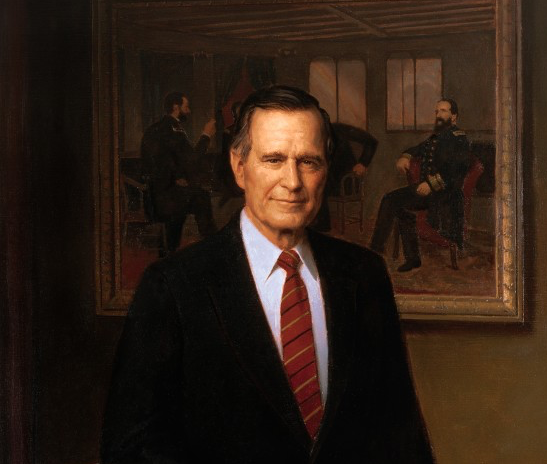 George H. W. Bush, the 41st president of the United States, has died.
In addition to his leadership in the final days of the Cold War, Bush and his family held strong ties to Florida. Bush's son Jeb Bush served as Florida's 43rd governor, his older son George W. Bush won the White House after successfully securing Florida's electoral votes, and he regularly vacationed in Boca Grande with late wife Barbara.
President George W. Bush confirmed the death on behalf of the Bush family.
"Jeb, Neil, Marvin, Doro and I are saddened to announce that after 94 remarkable years, our dear Dad has died," the younger President Bush said.
"George H. W. Bush was a man of the highest character and the best dad a son or daughter could ask for. The entire Bush family is deeply grateful for 41's life and love, for the compassion of those who cared and prayed for Dad, and for the condolences of our friends and fellow citizens."
President Donald Trump early Saturday released a statement celebrating the president's life.
"Through his essential authenticity, disarming wit, and unwavering commitment to faith, family, and country, President Bush inspired generations of his fellow Americans to public service—to be, in his words 'a thousand points of light' illuminating the greatness, hope, and opportunity of America to the world," Trump said in a statement of behalf of himself and First Lady Melania Trump.
He closed the statement: "Along with his full life of service, we will always remember President Bush for his devotion to family—especially the love of his life, Barbara. His example lives on, and will continue to stir future Americans to pursue a greater cause. Our hearts ache with his loss, and we, with the American people, send our prayers to the entire Bush family, as we honoe the life and legacy of 41."
Jeb's son George P. Bush, Texas Land Commissioner,separately issued a statement.
"My grandfather was the greatest man I ever knew," said George P. Bush.
"His life spanned the American Century—he fought in World War II … took part in the Texas oil boom … served out a distinguished career in public service including serving as president during the final days of the Cold War.
"Along the way, he married the love of his life and was a father to six, including a president and two governors. But to me, he will always be Gampy. The man who taught me to fish in Maine, to throw a horseshoe and to swing a baseball bat lefty."
George H. H. Bush served as vice president to Ronald Reagan for eight years, then won the White House himself in 1998.