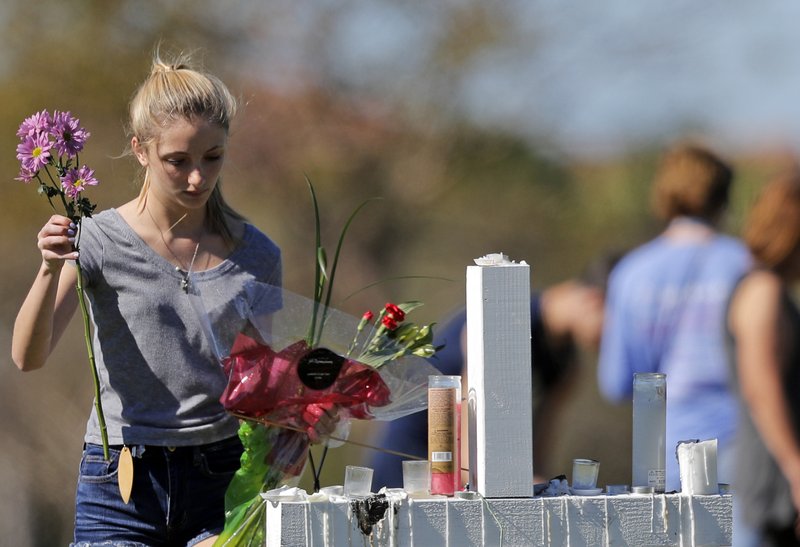 Several parents who lost their children in February's shooting at Stoneman Douglas High School had an opportunity Tuesday to confront members of the Broward School Board, venting their frustration over what the parents say were failures that led to their children's tragic loss.
Board members were on hand at the Broward County Governmental Center, meeting with the Broward delegation of the state Legislature.
The nearly two-hour meeting touched on efforts to beef up school security after the February shooting. But things got more personal toward the end when the public, namely parents whose children had been killed, addressed the panel.
The parents did not hold back in criticizing the Board's actions before and after the shooting. And they addressed Superintendent Robert Runcie, also in attendance.
Ultimately, the parents called for nearby legislators to push for a victims' compensation fund in Tallahassee, in order to spare parents from future court expenditures.
"My family is of the belief that multiple failures caused innocent lives to be taken despite sufficient notice to the Broward School Board and Broward County Sheriff's Office regarding the shooter," said Mitch Dworet. His son, Nick, was killed in the shooting.
"Now that I look for justice, accountability, and restitution, we have lost our precious first-born, Nick, through murder on your watch. Your first and most important responsibility to your students is safety and security. Due to the Broward County School Board's negligence, you failed my family."
Members faced harsh criticism for the way they handled the troubled shooter before he was ultimately expelled. The Board, however, has defended its actions.
Debbie Hixon also spoke of the loss of her husband, Chris, who was the school's athletic director.
"On February 14, he ran into a building at Marjory Stoneman Douglas, saw the shooter, and didn't turn around," Hixon said of her husband.
"He ran toward him in an effort to stop him, without any regard for his own life."
She too, blamed those overseeing Broward's public education.
"He shouldn't have had to do that. This was a completely preventable situation," she said.
Tony Montalto, whose daughter, Gina, was murdered, also recalled learning about the tragedy.
"I still find it difficult to believe that my beautiful, bubbly, 14-year-old daughter did not come home from her school that day," Montalto said.
"There were serious and widespread failures that created the occasion for this type of tragedy to occur. One of the most glaring is that the shooter was able to gain access to the campus during school hours."
And while much has been focused on the 17 lives lost, those who spoke Tuesday wanted everyone in attendance to remember the broader impact of the shooting in the months, and eventually years, afterward.
Dworet detailed to Board members how his other son, Alex, who was also shot that day, still suffers pain in his left arm due to a shrapnel wound to his skull. Dworet said the family is still going through therapy for PTSD after Alex witnessed three of his classmates being murdered.
"He is a changed boy through what he witnessed, his injury and the loss of his brother, Nick," Dworet noted.
"My holidays are now marked by absence. An empty chair is our constant reminder. The holidays only magnify our loss."
And Hixon said her son is still scarred by the loss of his father. Hixon said he is "mentally and physically disabled" and is "in grief counseling."
Hixon said her son is "scared."
"He wasn't sad, he was scared because he thinks that I'm not going to come home, just like his dad didn't," Hixon added. "This is our new reality."
She then commented on how the tragedy still sticks with her and other victims.
"When you lose someone so violently and in such a public event, at first there is an overwhelming outpouring of support," Hixon said.
"But as time goes on, it fades. The world moves on, and you don't."
Parents recalled grief, but also threatened continued legal action against the Board and other government entities.
"We are now prepared to utilize a legal process to assist the Broward School Board in making and implementing changes to protect future generations of students," Dworet said.
Hixon and Montalto also mentioned pursuing claims in civil court.
But Hixon added that having to relive the tragedy throughout those proceedings would be incredibly stressful, so she and others called for a compromise.
"I'm hopeful that with your help, we can find a legislative solution to create a process which will bring accountability as well as recompense the families for our devastating losses by creating a victims' compensation fund that will allow us to seek a recovery in a more expedited manner," Hixon said.
Dworet seconded those calls: "We would like to resolve our claims without fighting you in court."
Following the parents' remarks, Board Chair Heather Brinkworth of District 3 was the first to react.
"I just want to say that there is nothing that we can say," she said, before a long pause to regain her composure while fighting back tears, "or do, that will undo the horrific acts on Feb. 14."
That's when state Sen. Gary Farmer stepped in, laying out what lies ahead for the families absent some sort of legislative compromise.
Farmer detailed the fact that the Board, school, and sheriff's office are protected by sovereign immunity. That's essentially a way to shield government actors and agencies from being sued for actions taken in their official capacity.
"We have a statute that limits the damages recoverable against a state sovereign. That cap is $300,000 and it applies per incident," Farmer noted.
Given that the Stoneman Douglas shooting was a single incident, that $300,000 would have to be shared by all victims and their families.
Farmer described the normal process by which these families could potentially recover money in excess of that cap. It would require each party to go through a full civil case and win a verdict and judgment eclipsing their share under the sovereign immunity statute.
The families would then go to the Legislature to obtain a claims bill, which would permit a larger payout.
"Our claims bill process is wrought with problems, it's antiquated," Farmer said of the mechanism.
"As of right now, it's a very arduous process," the Fort Lauderdale Democrat added. "It would force all of these family members to relive this tragedy one at a time in a courtroom."
Farmer said it's likely the families would succeed, but it would be an emotional and lengthy process.
"It would, again, subject these families to all that pain and anguish over and over and over again. For what reason? We recognize their loss. We recognize that we cannot bring back the lives that were lost. We cannot undo the suffering that continues for those who were injured or otherwise victimized on that day. But we can help bring some closure."
Farmer says initial discussions have been had to pass a bill setting up a claims fund to attempt to compensate those families outside the legal system, and that perhaps a measure could be passed in the upcoming Legislative Session.
"Each time you relive this it's, I can only imagine, another dagger to the heart," Farmer said to the families.
"We can work together, again, to hopefully bring some resolution and maybe help, just a little bit, move families toward closure."