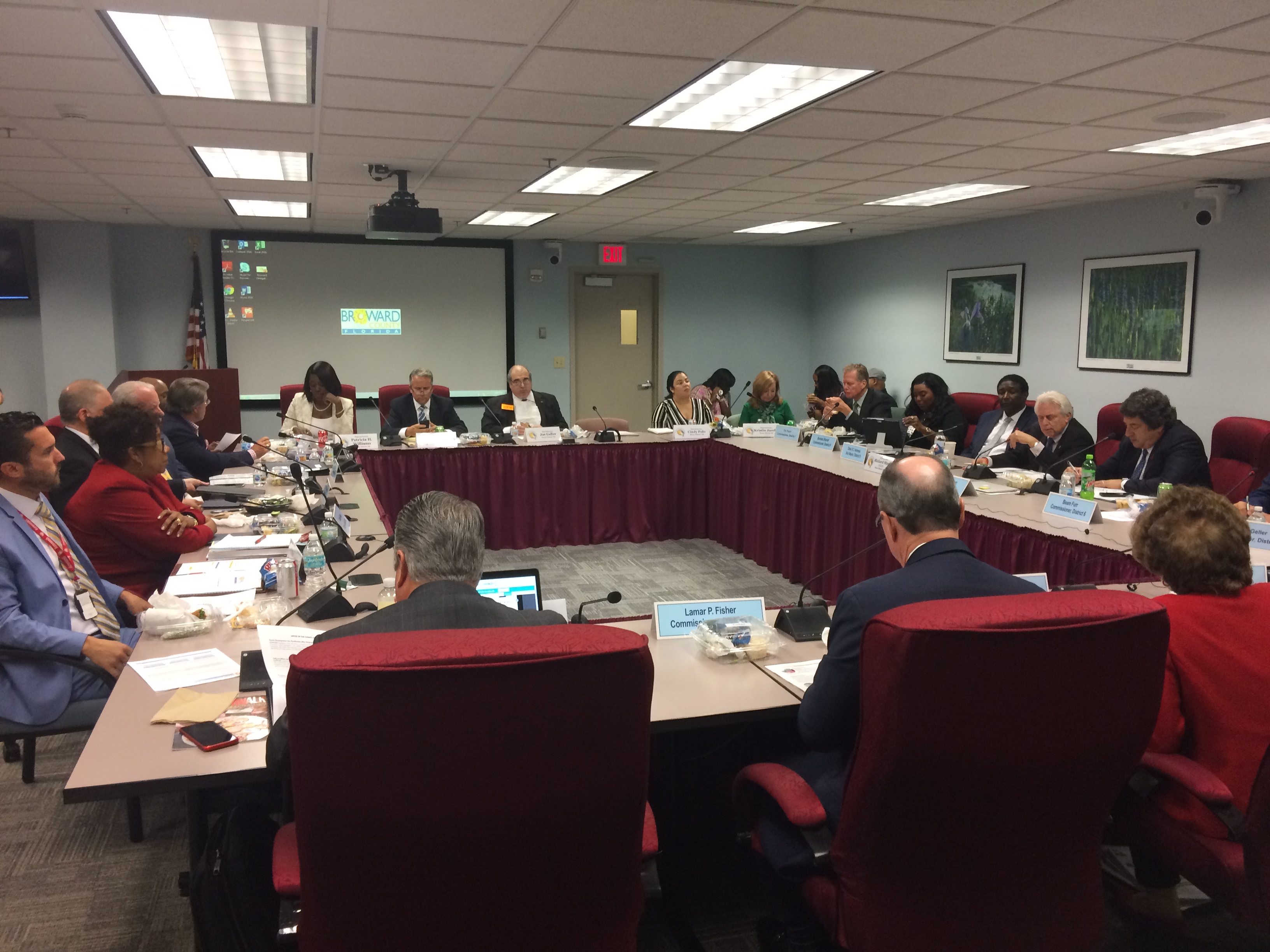 Broward County Commission members outlined their top requests from the Legislature for the upcoming 2019 Session.
The commissioners met Tuesday with several members of the Broward County legislative delegation at the Broward County Governmental Center in Fort Lauderdale.
Broward County Mayor Mark Bogen led the discussion. Bogen said the county's main priorities are substance abuse and mental health funding, affordable housing, criminal justice reform and a state beach management program.
"We support state funding and resources to address the significant unmet behavioral health needs in Broward County," Bogen said, lobbying the legislators for additional money on the issue,
Commissioner-elect Lamar Fisher of District 4 also called for legislation "to allow Broward County and municipalities to be able to provide stricter regulation for" sober homes.
Those homes function as a way to give temporary housing to those who are dealing with addiction.
But some of those facilities have seen to be lacking oversight, with several people suffering overdoses while in the care of those homes. That's prompted U.S. Sen. Marco Rubio to call for federal help in monitoring the centers.
State Rep. Kristin Jacobs of House District 96 said the state legislature will look for solutions in the upcoming session. Jacobs herself she plans to file a sober homes bill.
On affordable housing, Bogen said, "The county supports SB 70, which exempts the affordable housing trust funds from being swept to the general revenue."
In the past, outgoing Gov. Rick Scott has diverted that money to other priorities. That's a practice Broward County is seeking to put a stop to.
And a recent study from Harvard pegged Broward County as "the most cost-burdened area in the country," according to a report from NPR.
Bogen also said the county is looking for a new bill on criminal justice reform. "We support legislation that keeps juveniles out of the adult criminal justice system, mandatory civil citations for juveniles and adults for certain crimes and funding for deescalation and crisis intervention training," Bogen said.
And on the state's beach management program, Bogen pushed for "a revised criteria in ranking beach re-nourishment projects, especially consideration of a project's economic and environmental importance."
He also added a call for $50 million in recurring annual funds
State Rep. Chip LaMarca of House District 93 says he plans to file a bill in the House that would work in concert with SB 174.
That bill was filed by the late Dorothy Hukill last year and would satisfy the commission's requests.
"Hopefully we can get this thing done and put to be so we can worry about other things," LaMarca said.
Jacobs also said she would push for more protections for Florida's coral reef. The reef has been disappearing in recent years due to a plethora of issues.
Jacobs called that reality "a scary thing when you consider the work that a healthy reef does in protecting us from storm surge and the economy associated with the marine industry." She added that efforts to protect the reef will remain at the top of her priority list.
Commissioner Tim Ryan of District 7 also proposed a plan to make sure the county's requests are followed up upon in Tallahassee, noting the avalanche of bills the representatives will be facing.
"We would be able to have certain representatives and senators that would be a point person on an issue so that nobody gets overwhelmed."