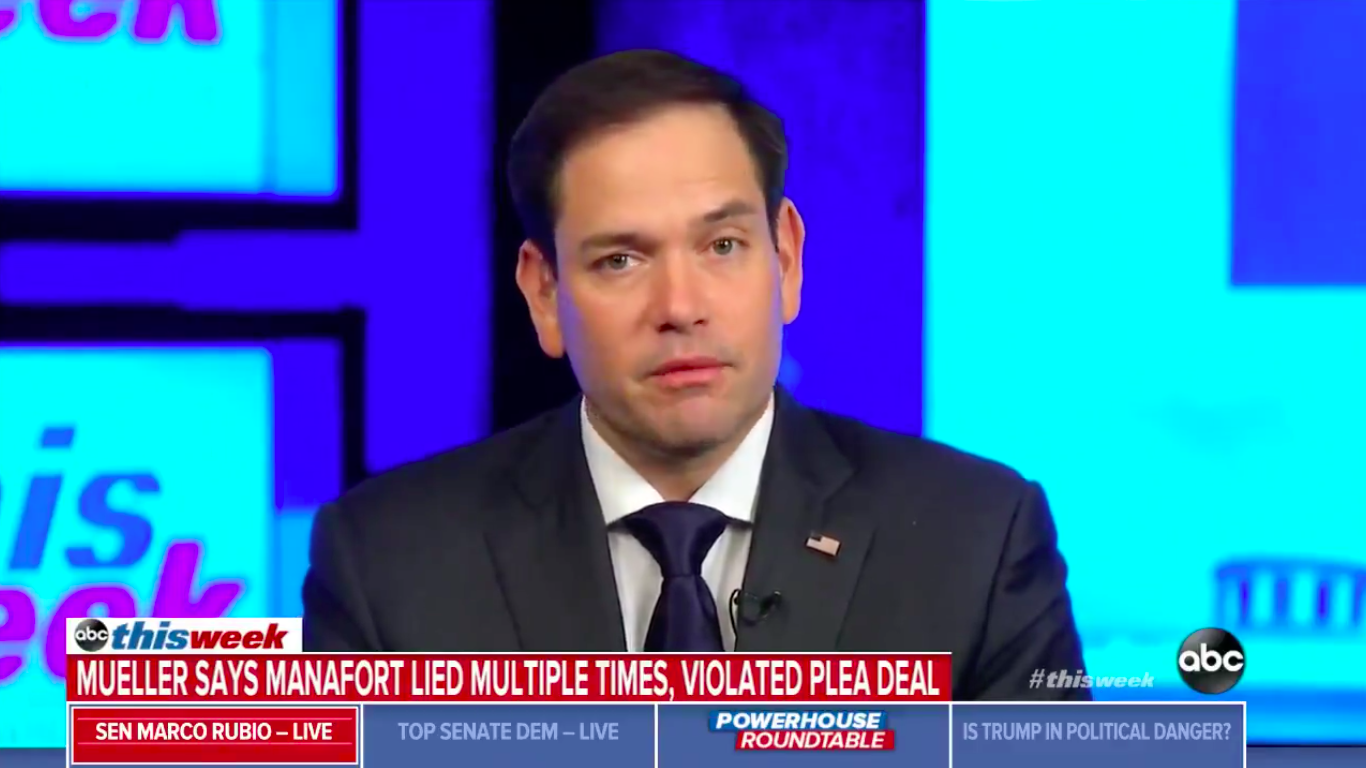 Should President Donald Trump pardon Paul Manafort in the midst of a Russian collusion investigation it could trigger a debate over the use of pardons altogether, according to Sen. Marco Rubio.
The Republican Senator strongly advised against such a pardon during an interview on ABC News's This Week. The entirety of the discussion focused on the ongoing investigations of Trump.
Host Martha Raddatz asked Rubio specifically how a pardon of Manafort, who served for some time as campaign manager for Trump's presidential campaign, might play out in Congress. A pardon is something Trump has not ruled out.
"It would be a terrible mistake," Rubio said. "Pardons should be used judiciously. They are used for cases with extraordinary circumstances."
Rubio questioned whether Trump's administration members have considered issuing a pardon. But he again stressed doing that in these circumstances, as Manafort speaks to the special counsel about an investigation involving the president, would call into question the entire process.
"I don't believe any pardon should be used in relation to these cases frankly," Rubio said.
"Not only does it not pass the smell test, it undermines the reason we have presidential pardons in the first place. I think in fact if something like that were to happen, it could trigger a debate [about] whether the pardon powers should be amended."
The rest of the interview focused on Rubio's thoughts, not only on the collusion investigation led by Special Counsel Robert Mueller but on an investigation by federal prosecutors into potential hush money payments to Stormy Daniels and Karen McDougal.
Rubio reiterated his support for the Mueller investigation to continue but said he wants everything to come into public view before making any judgments.
"What we want for this country is all the facts and all the truth," he said.
"I've always supported the Mueller investigation and continue to do so because I think that's in the best interest of everyone involved — including by the way the President on many of these issues."
Rubio also stressed that the Senate Intelligence Committee, on which he serves, has its own investigation going on, and that he's proud of the bipartisan work there.
Of course, it's worth noting as investigations continue into Trump's conduct during the presidential campaign that Rubio ran against Trump during the Republican primary, exiting that race after Trump beat him in Florida.
But when it comes time for Congress to decide what appropriate action to take based on any investigation outcomes, Rubio made clear he wants to hear back from the public on that.
"Once the American people have before them all the facts and all the information, then we can go and make the political judgments," he said.