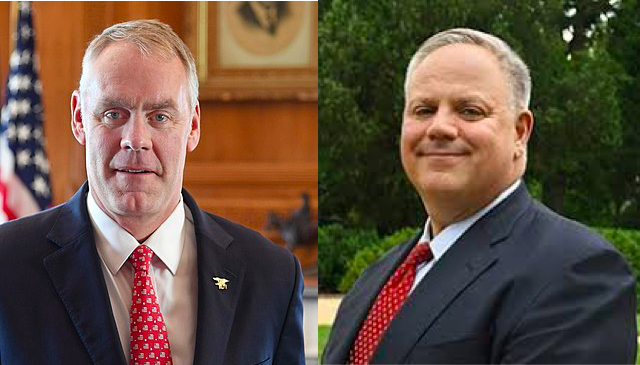 Interior Secretary Ryan Zinke will soon leave his Cabinet position, President Donald Trump announced on Saturday.
It's unclear what impact this could have on a deal cut between Zinke and Gov. Rick Scott to leave the state "off the table" regarding an expansion of offshore drilling in the Gulf of Mexico. But Zinke's departure will leave a former oil lobbyist in charge of the department until a permanent replacement gets named.
Zinke's decision came amid numerous federal investigations of the former Montana Congressman for travel spending and conflicts of interest, according to Bloomberg News.
"Secretary of the Interior @RyanZinke will be leaving the Administration at the end of the year after having served for a period of almost two years. Ryan has accomplished much during his tenure and I want to thank him for his service to our Nation," Trump announced on Twitter.
"The Trump Administration will be announcing the new Secretary of the Interior next week."
In the immediate future, the New York Times reports Deputy Interior Secretary David Bernhardt, a former oil lobbyist, will step in as acting secretary.
From 1998 to 2001, Bernhardt worked for lobbying firm Brownstein, Hyatt and Farber, where he lobbied Congress on an expansion of offshore drilling on behalf of Delta Petroleum Corp., according to the watchdog site Department of Influence.
The Times report notes that after the resignation of Environmental Protection Agency Secretary Scott Pruitt amid similar spending scandals, Trump put coal lobbyist Andrew Wheeler in charge of that agency.
While no specific reason for the departure has been cited, a troubled relationship between Zinke and Arizona Congressman Raul Grijalva, the ranking Democrat and incoming chairman for the House Natural Resources Committee.
Last month, Zinke took to Twitter to call Grijalva a corrupt alcoholic.
"It's hard for him to think straight from the bottom of the bottle," Zinke wrote. "This is coming from a man who used nearly $50,000 in tax dollars as hush money to cover up his drunken and hostile behavior."