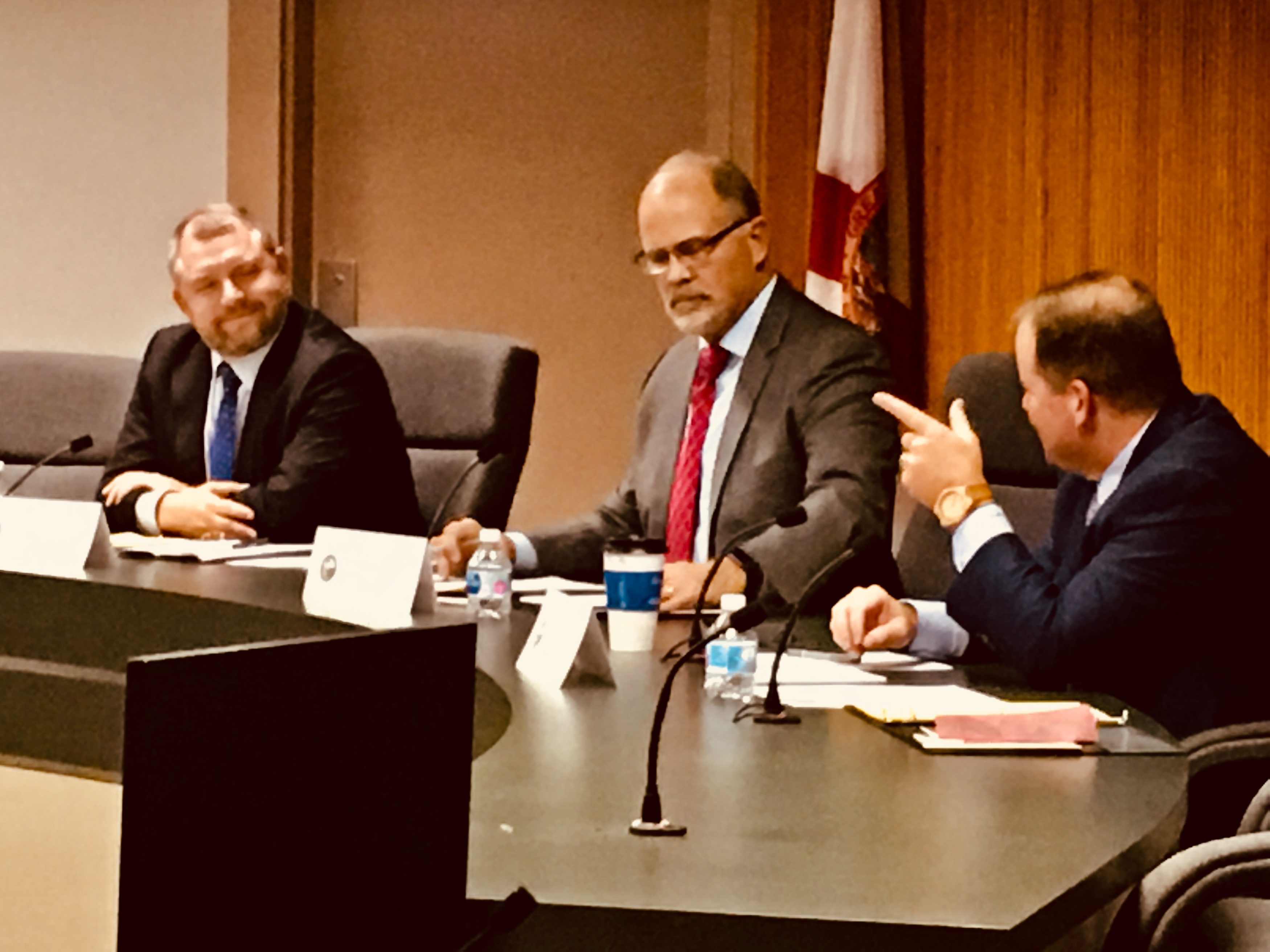 Sen. Rob Bradley and Rep. Travis Cummings both represent Clay County. Both also hold the gavels for their respective chamber's appropriations committees.
The concentration of budget power in Clay, a Northeast Florida county bordering Jacksonville, is unprecedented.
Bradley himself described it as a "window of opportunity."
And opportunity draws a crowd.
Thursday's Clay County Delegation meeting put them in position to hear demands and requests, many of them long-standing.
They've already done some heavy lifting. In the last couple of years, they've worked to bring more Amendment 1 dollars to the region, including a project to bring back the Keystone Lakes via moving water from flood-prone Black Creek.
Cummings offered notes of caution earlier this month for those expecting large scale regional largesse.
"Northeast Florida has been treated very fairly these last couple years, so we cannot forget that result. Providing that resources are available after any critical statewide needs are met, Northeast Florida priorities will be considered," Cummings said.
Bradley has already spotlighted the need for healthy reserves and conservative budgeting, noting the impacts posed by Hurricane Michael's swath through the Big Bend and the Panhandle.
All that being said, if any year was to be Clay's, it would be this one. Especially given that both budget chairs were pre-primary endorsers of Governor-elect Ron DeSantis.
Another sign of the county's increased pull: county manager Stephanie Kopelousos will be moving on to direct legislative affairs in the DeSantis administration.
Bradley and Cummings both extolled her at length, with Bradley describing her as a friend without peer, "just a good person."
Mike Cella, representing the Clay County Commission, produced "Santa's list," which includes widening projects and new frontage lanes on state roads in the growing county,  $7.5 million for a new animal shelter (the old one was built on a flood plain) and $13 million for a new health department building.
As well, Cella remarked that of $10 million of requested reimbursement after Irma, the county has drawn just a couple hundred thousand dollars.
A representative of the Clay County Sheriff's Office, meanwhile, noted that the office supported making texting while driving a primary offense.
This was not a bill that Bradley, a constitutionalist conservative, backed last Session. It died in his committee.
Clay County School Superintendent Addison Davis had his asks also.
Among them: school hardening money. The district's security budget has doubled already, but he'd like more resources.
Davis noted that the county continues to grow, and that "school choice" can be among the "new, attractive programming" in the district, including early childhood and enrichment programs for today's students.
"There's a lot of choice opportunities in the school system," Cummings added.
Bradley described himself as a "big fan" of Davis' superintendency's "clear vision," suggesting that these priorities will be carried during this "window of opportunity in Tallahassee."
Cities had their asks also.
Green Cove Springs would like a new police boat, said Mayor Connie Butler, an investment in "the safety of residents and visitors" drawn by revived rivers.
Orange Park, meanwhile, wanted state money for "stormwater improvement and resiliency" and traffic safety improvement (a function, said the town manager, of people commuting through the city).
FEMA reimbursements for Orange Park: also an issue, with "zero reimbursements" from Irma on the third point of contact.
Keystone Heights, whose representative lauded the legislators for "bringing home the bacon" on the lake restoration project, pushed for water and sewer improvements and a National Guard armory at the "hidden gem" of its airport.
The airport's regional presence was touted heavily in what was an extended presentation. Bradley wanted to "get more comfortable with whether the General and the Governor had signed on in support" of what would be a heavy lift.