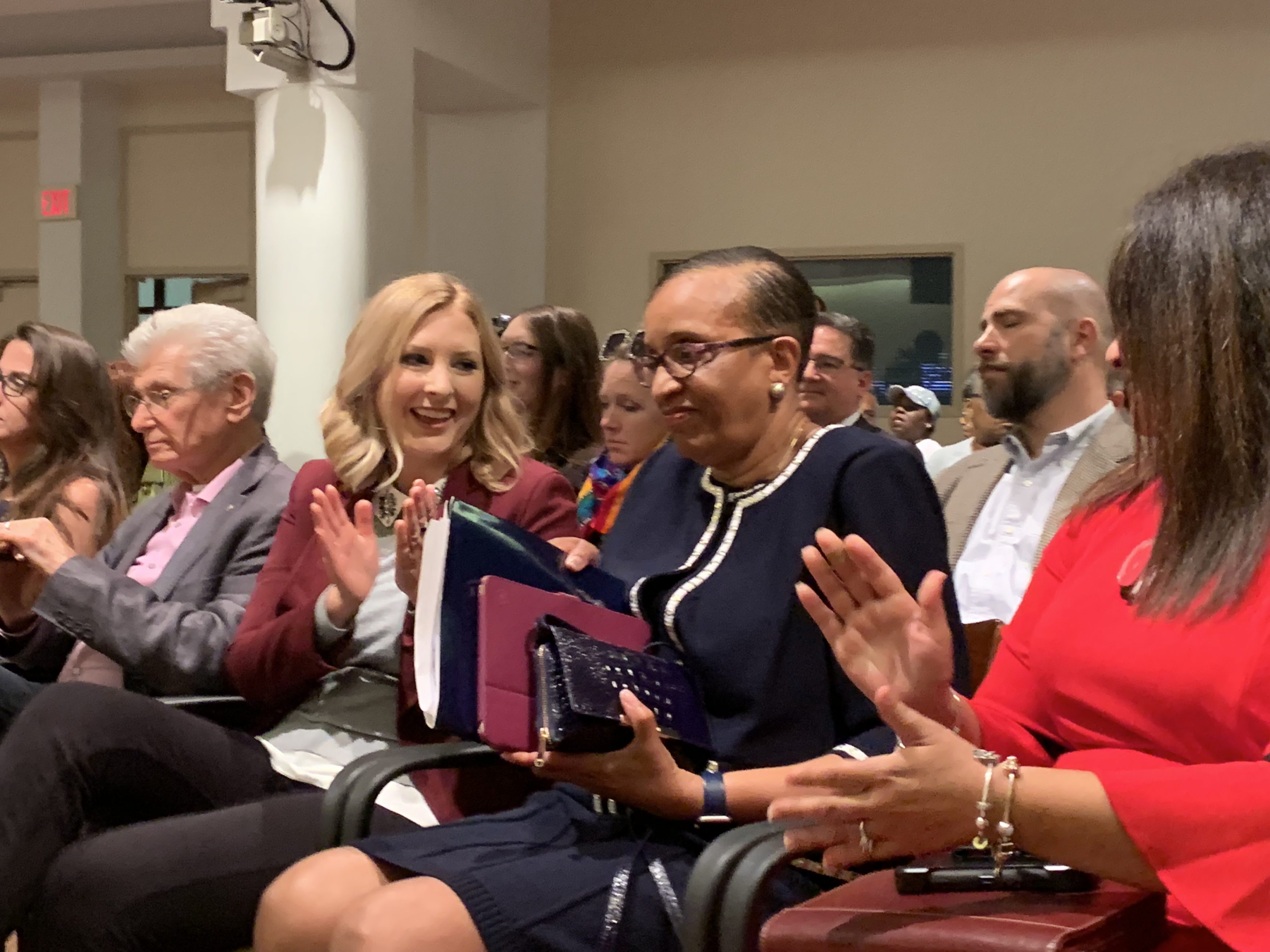 The Tallahassee City Commission has appointed Elaine Bryant to serve as a temporary member of the panel.
The Commission met Monday evening to consider nine finalists seeking to replace suspended Commissioner Scott Maddox, who was indicted earlier this month on public corruption charges and is awaiting trial. Gov. Rick Scott suspended Maddox shortly after the release of the indictment.
News of Maddox's alleged criminal activity is the first culmination of a years-long FBI investigation into public corruption in the capital city. It loomed over the Commission's New Year's Eve meeting.
"The best is yet to come," said Bryant, the owner of a Tallahassee-based consulting and training firm, after taking oath.
"We're in a place now where we can do nothing but move forward," Bryant added later.
After reaching the three-vote threshold, Bryant was unanimously backed by a ceremonial vote.
Commissioner Dianne Williams–Cox nominated Bryant, and was the only member to include Bryant on their shortlist.
Williams-Cox said Bryant had an "impeccable" work history, with hefty experience in the public and private sectors.
According to her resume, Bryant has worked in administrative staffing and hiring roles for the Florida Department of Law Enforcement and the Department of Financial Services, where she served as a human resources director. Bryant holds a PhD in educational leadership.
"When you Google her name, there's no scandal associated with it, there's no negative associated with it," Williams-Cox said of Bryant.
Bryant said success for a local governing panel isn't unlike accomplishing things in the private sector; it's a matter of organizing a mission statement, vision and values. To that end, she discussed with commissioners the challenges facing the city, from economic vitality to housing an aging population while also welcoming millennials and Generation Z.
"We are thankful for our past, we are immersed and engaged in our present, and we're excited about our future," Bryant said.
Bryant won despite another applicant, Tabitha Frazier, receiving the most shortlist support from commissioners. Commissioners Curtis Richardson, Jeremy Matlow and Williams-Cox all last week named Frazier among their top picks, suggesting that the former elected official and nonprofit founder was an early favorite. 
But things changed over the weekend.
Earlier on Monday, a source familiar with the City Commission told Florida Politics there had been a last-minute push for other finalists, like Bryant.
The Leon County Republican Party also waded into the appointment process last week, releasing opposition fodder targeting Frazier.
After each finalist delivered a five-minute closing to the Commission, members put forth their nominations. None picked Frazier.
Dailey said the Commission likely shifted its favorites after hearing lengthy public testimony in support or against the finalists.
The new Mayor, who ultimately nominated Gallop Franklin II, an assistant professor of pharmacy at Florida A&M University, credited the somewhat-surprising outcome to the strength of the appointment process. 
"I was very proud of how the process played itself out," Dailey said after the meeting.
According to Dailey, the vote likely is the most significant action City Hall will take in the next two years.
"Filling that vacancy was very important to make sure we have the right person and can work together so that we can in fact move this city forward," Dailey said.
Members had to appoint a new Commissioner by midnight, otherwise the Governor would have made the appointment.
Bryant is permitted to remain as the Seat 1 occupant on the Commission through November 16, 2020. Before then, it's possible that Maddox, who has pleaded not guilty to all charges in the federal indictment, can be cleared of any wrongdoing and return to his seat.
Each member had the chance to nominate a finalist. Richardson picked Saralyn Grass, who co-founded Grasslands Brewing Company. Matlow picked Bruce Strouble, who competed against Maddox for Seat 1 in 2016. Neither of these nominations received more than two votes. Dailey's pick, Franklin, did not get a final a vote because procedural rules prevented further candidate consideration after Bryant reached the majority threshold.
A total of 93 applicants sought to fill the Seat 1 vacancy.
Other finalists who made the cut for consideration: Byron Greene, a longtime administrator of FAMU's Florida Georgia Louis Stokes Alliance for Minority Participation; Lila Jaber, a lobbyist at the Gunster firm and a former Public Service Commissioner; Howard Kessler, an orthopedic surgeon and longtime former member of the Wakulla County Commission; and Will Messer, president and CEO of Messer Insurance Group.