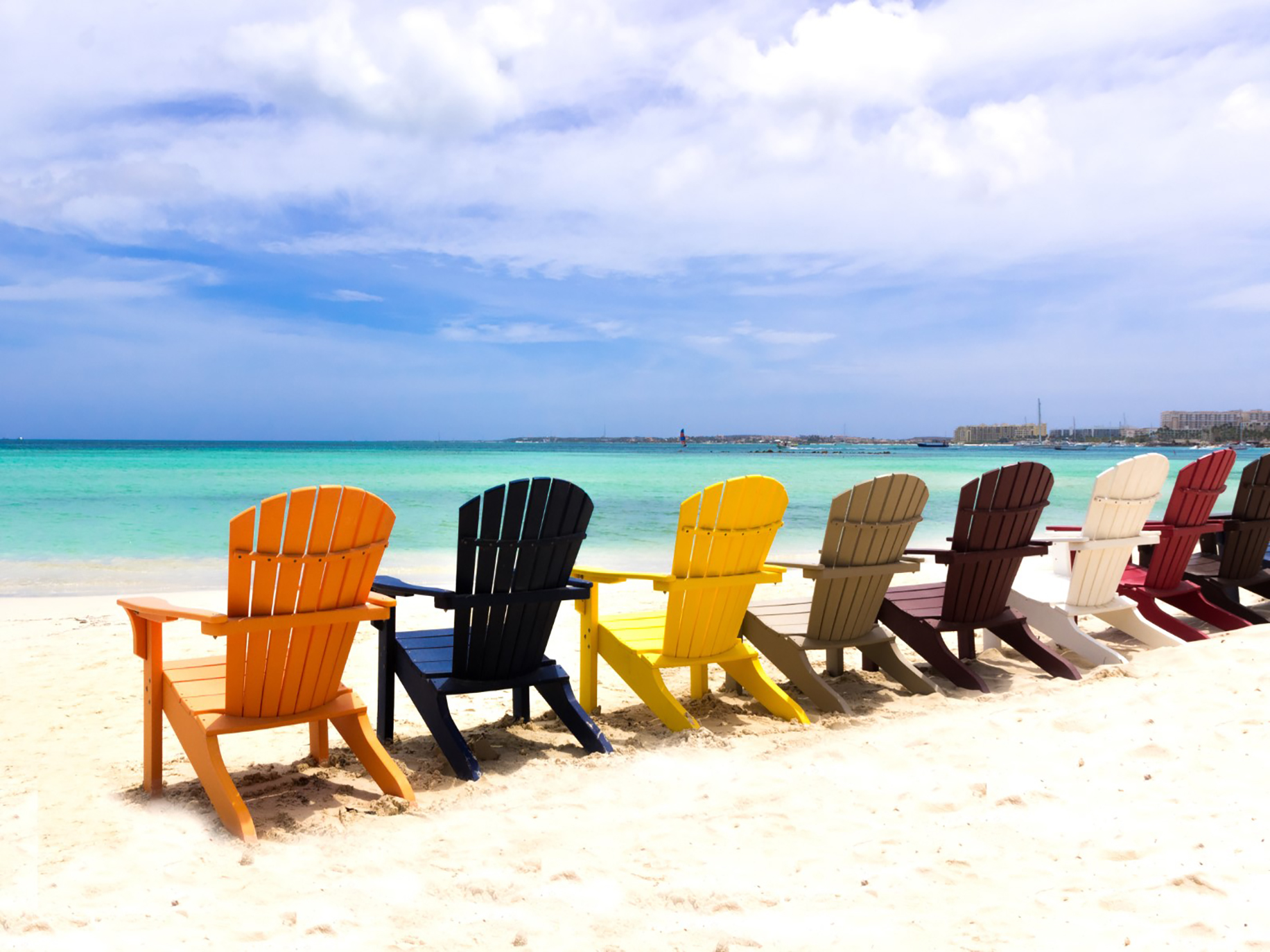 Sunburn — The morning read of what's hot in Florida politics.
By Peter Schorsch, Phil Ammann, Daniel McAuliffe, Jim Rosica, and Drew Wilson.
Look today for Gov. Ron DeSantis to name Barbara Lagoa as his first pick to the Supreme Court. If picked, she would become the first Cuban-American female justice to serve on the Court.
—
My buddy Alan Suskey once remarked, "I don't judge my friends on what they get me for my birthday; I judge them on what they get my kid for his birthday."
Even though it's not Ella Joyce's birthday, it's in that spirit — of parents helping other parents — that I ask my readers for help with her first drive to sell Girl Scout Cookies.
Ella has set a goal of selling ONLY 10,000 boxes, so, please for the love of all that's good and holy, help me get this done. (There's no way she's going to sell 10K, but I may declare victory after she sells 1,000.)

Please click on this link to order some Samoas, Tagalongs, Thin Mints, or whatever delicious treat that you eating will undoubtedly crush your New Year's resolution. The cookies can be shipped directly to your home.
Help me out, and I promise to look out for you when you need a helpful Tweet (or whatnot).
Thanks so much in advance.
P.S. Michelle tells me you can also choose to donate cookies to our troops if you don't want any for yourself. Just choose in-person delivery and then purchase "Gift of Caring" donation cookies. Those go to service members overseas.
P.P.S. When you are done buying cookies, check out my two latest hot takes: "Turns out Baxter Troutman is a turd after all" and "There are no winners at end of the Florida Senate sexual harassment case."
P.P.P.S. I am really late in doing this, but both of these gentlemen deserved the top-of-Sunburn treatment on their birthdays … so, please join me in wishing Ron Pierce of RSA Consulting and Chris Spencer, the new policy director for Gov. Ron DeSantis, a belated happy birthday. Both of these very good men have been dear friends to me for a long time. Ron is the definition of a class act, while Chris could not be a more loyal friend and staffer. Here's to them both.
— SITUATIONAL AWARENESS —
—@MikeVasilinda: @RonDeSantisFL is the 10th Governor I've seen sworn in. My how time flies and I'm still having too much fun!
—@SContorno: Rick Scott joined a body defined by its traditions and collaborative spirit on a day of his choosing and by himself. It was a telling if not symbolic message: Scott will yield to no one, not even one of the world's greatest deliberative bodies.
—@HillHulse: One of Sen Scott's GOP predecessors, Paula Hawkins, also got off on wrong foot in DC in 1981. She served steak and strawberries at an event to announce a legislative food stamp crackdown. Became famous as the "Steak and Jail" luncheon. (Steak and Ale franchises big at the time.)
—@Fineout: Remember when @NR_Florida Super PAC distanced itself from @ScottforFlorida when he was running for office? Well, guess what? Scott's image is now all over the New Republican website again. Almost looks like a template for a run for future office … hmmm
—@JoePClements: From the attire I see, I think Men's Warehouse and @RenttheRunway are the real winners of this inaugural night.
—@SkylerSwisher: Interesting difference in how election supervisors in South Florida are marking Amendment 4. Palm Beach County elections head Susan Bucher called it a "historic" day. Broward's head Pete Antonacci — appointed by Rick Scott — said it's a "regular day" at the supervisor's office.
— DAYS UNTIL —
Office of Insurance Regulation's OIR Summit begins — 9; MLK Day — 12; State of the Union address — 20; Super Bowl LIII — 25; Scott Maddox trial begins — 33; 'Hamilton' comes to the Straz Center — 34; Pitchers and catchers begin reporting for MLB Spring Training — 34; Valentine's Day — 36; 2019 Legislative Session starts — 55; Tampa mayoral election — 55; 'Captain Marvel' release — 58; St. Patrick's Day — 67; 2019 Major League Baseball season begins — 70; Easter — 102; 2019 Legislative Session ends (maybe) — 114; 2020 Democratic presidential primary debates begin — 149; Iowa Caucuses — 387; 2020 General Election — 664.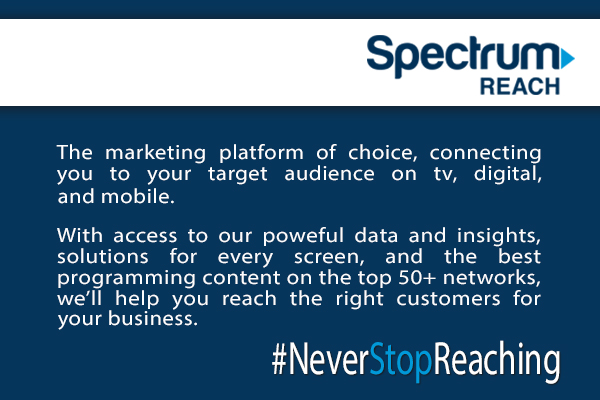 — TOP STORY —
"Ron DeSantis sworn in as Florida's new Governor" via Brendan Farrington and Gary Fineout of The Associated Press — DeSantis took his oath in front of Florida's historic Old Capitol. His predecessor, Republican Gov. Scott attended, along with former Republican Govs. Jeb Bush and Bob Martinez and former Democratic Gov. Bob Graham. Scott left the ceremony early to fly to Washington, where he was to be sworn in as a U.S. Senator. DeSantis will work with a firm Republican majority in both branches of the Legislature. "Let's promote a virtuous cycle whereby low taxes, a reasonable regulatory climate, a sensible legal system and a healthy environment attract jobs, businesses and investment," he said. He also said the environment would be a high priority, citing the need to eliminate toxic algae that grow from Lake Okeechobee pollutants and to address red tide off the state's coast. He also touched on illegal immigration, saying he won't allow "sanctuary cities" in Florida.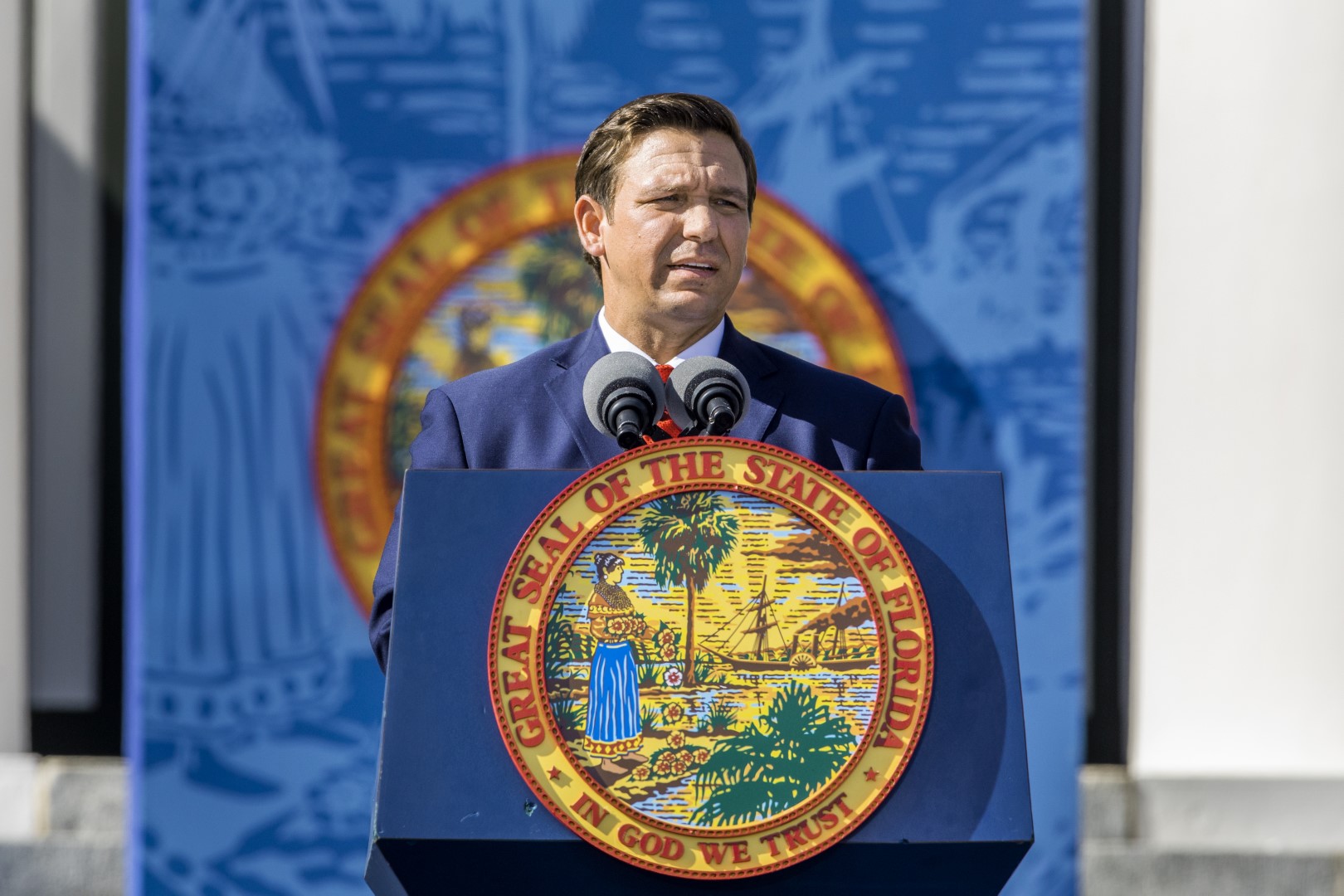 "DeSantis pledges to work for environment in inauguration speech" via John Kennedy of the GateHouse Capitol Bureau — "If we meet the challenges that lie before us," DeSantis said. "If we overcome the tribalism that has dominated our politics. If we set the interests of hardworking taxpayers as our true north, then I have no doubt that the state of Florida will cruise to bright new horizons." DeSantis said tackling the state's environmental woes will be a priority of the new administration. "For Florida, the quality of our water and environmental surroundings are foundational to our prosperity as a state — it doesn't just drive tourism, it affects property values, anchors many local economies and is central to our quality of life." Although he provided no specifics, the new Governor pledged to protect a Florida environment battered by red tide and blue-green algae.
—" DeSantis' inaugural speech as prepared for delivery" via the Orlando Sentinel
"The real reason DeSantis didn't want an inaugural parade" via Jim Rosica of Florida Politics — Gov. DeSantis and wife Casey DeSantis held a baptism ceremony for son Mason in the Governor's Mansion, he told an audience at a pre-inaugural prayer breakfast. That's why he did not want a traditional parade after his 11 a.m. inauguration, DeSantis said at the event, held on the campus of Florida A&M University in Tallahassee. Mason, born last March, will be baptized with water taken from the Sea of Galilee in Israel, added DeSantis, a Roman Catholic. The couple also has a daughter, Madison, born in 2016.
"Here's to the winners." DeSantis, political insiders celebrate win at Inaugural Ball" via Emily Mahoney of the Times/Herald — Around 1,600 lawmakers, lobbyists and other political insiders mingled and drank complimentary cocktails in the dimly lit Donald L. Tucker Civic Center at Florida State University. Meanwhile, in the VIP area, an electric violinist twirled on a stage while carving away at his violin with an electric blue light-up bow. … Earlier in the night, about 150 people lined up to take photos with Gov. Ron DeSantis and Casey, the First Lady. … Just before 9 p.m., the first couple emerged onstage for their first dance, along with Lt. Gov. Nuñez, AG Moody, Ag Commissioner Fried and their dates. Also invited onstage was Brian Ballard, the chair of the inauguration and Nick Iarossi, who led fundraising efforts, with their wives.
Tweet, tweet:
In order to leave the @GovRonDeSantis ball, media is being roped off from the rest of the crowd and escorted in a group to exit through the loading dock.

This is truly something else. pic.twitter.com/piHl4s7ZJK

— Samantha J. Gross (@samanthajgross) January 9, 2019
"Tallahassee street sign swap: It's Ron DeSantis Way, for one day" via James Call of the Tallahassee Democrat — Tallahassee has observed a one-day tradition of renaming the streets for the inauguration of the Governor, Lt. Governor, Attorney General, CFO and Agriculture Commissioner since 2011. "It's kind of neat thing," said Ron Sachs, who had served as communications director for former Gov. Lawton Chiles. "A way to show there's a new administration."
"New members sworn into Florida's Cabinet" via WTXL — New Attorney General Ashley Moody, new Agriculture Commissioner Nikki Fried, and returning Chief Financial Officer Jimmy Patronis will start four-year terms on the state Cabinet.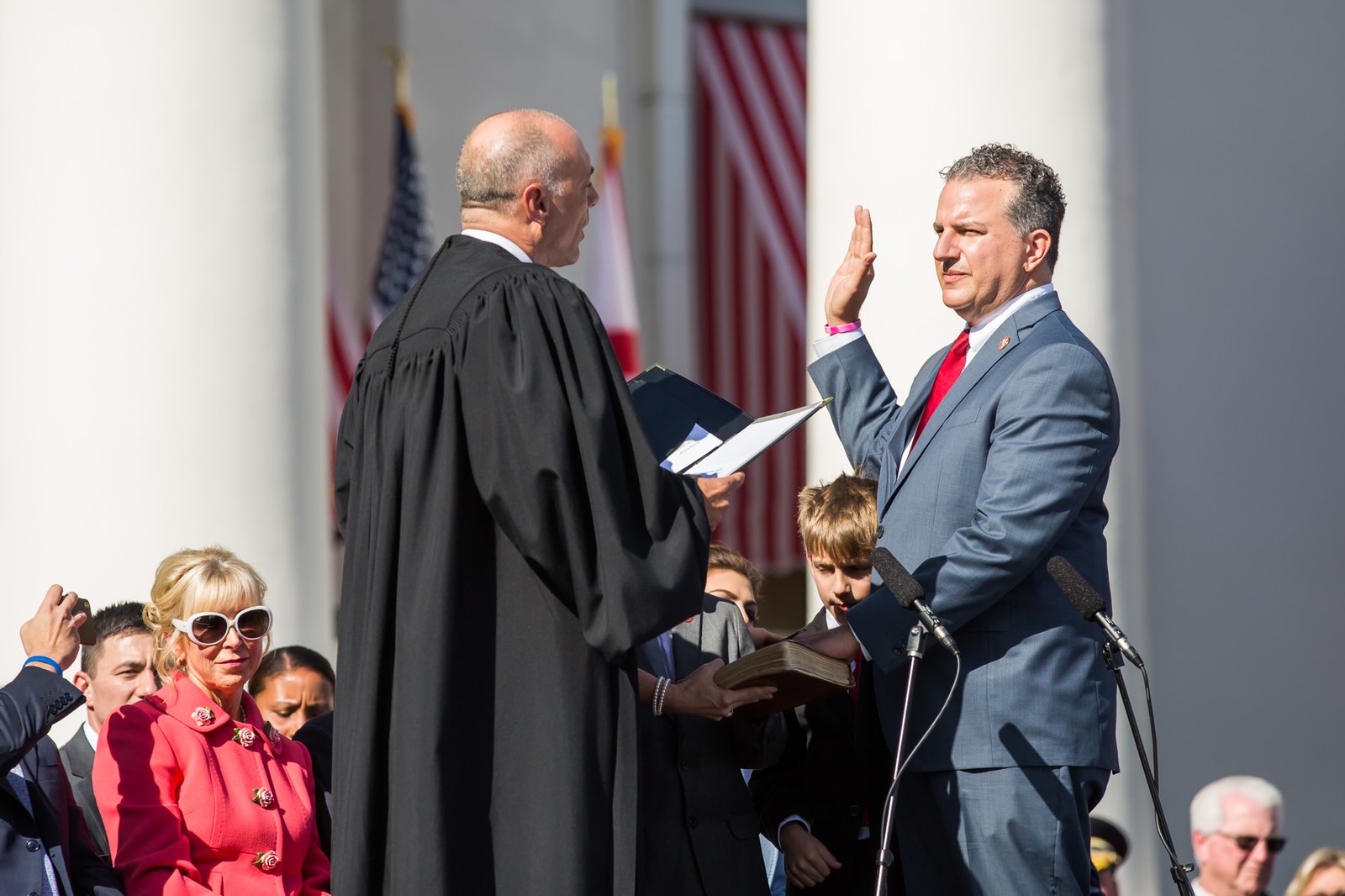 — NEW DAY —
"DeSantis to lawmakers: 'I respect the power of the legislative branch'" via Samantha Gross of the Miami Herald — After DeSantis and the rest of the Cabinet were sworn in, lawmakers gathered on the fourth floor of the capitol for a luncheon in celebration. Addressing the group of legislators, the former congressman said his main frustration with Congress was how weak the legislature was there, and how "they do not exercise the authority that was granted to them in the constitution." "The average member did not have much of a voice," he said. DeSantis, who canceled his inaugural parade to "get right to work" said the first order of business is to baptize his son, "knock that out," and then hit the ground running.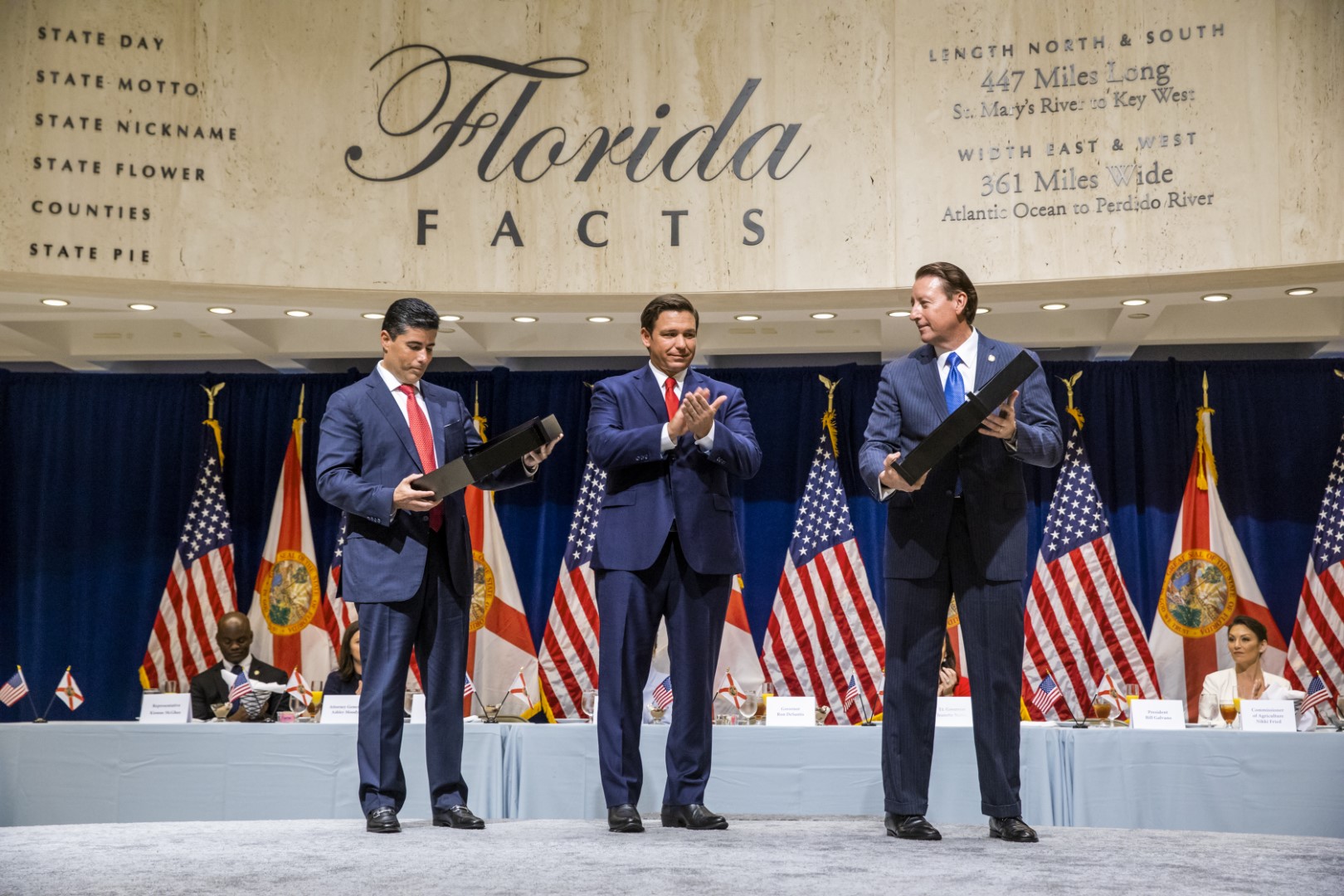 "DeSantis set to make first state Supreme Court pick" via Jim Rosica of Florida Politics — DeSantis' office said the new governor "will make an important announcement regarding the Florida Supreme Court." The announcement is set for 10 a.m. Wednesday at the Freedom Tower in Miami. DeSantis has three seats to fill; Justices Barbara Pariente, R. Fred Lewis, and Peggy A. Quince all faced mandatory age-related retirement Tuesday. The next justices will likely determine the ideological balance of the state's highest court: Pariente, Lewis, and Quince have been regarded as the liberal-leaning contingent; Chief Justice Charles Canady and Justices Ricky Polston and Alan Lawson are the conservatives.
>>>Look for DeSantis to name Barbara Lagoa as his first pick to the Supreme Court. If picked, she would become the first Cuban-American female justice to serve on the Court.
Assignment editors — Gov. DeSantis will visit communities impacted by Hurricane Michael and meet with local leaders to discuss the ongoing recovery efforts, 1:30 p.m. Central Standard Time, Mexico Beach City Hall, 201 Paradise Path, Mexico Beach.
>>>You might be asking how DeSantis will be able to get from Tallahassee to South Florida to Mexico Beach in such a short period of time. Certainly he will using a plane, right? Yes. A senior source close to the governor confirms DeSantis, as an FDLE protectee, will be traveling on one of the department's King Air 350 multi-engine aircraft.
"Leon lawmakers willing to give DeSantis' call for bipartisanship a chance" via James Call of the Tallahassee Democrat — In his more than 50 years in Tallahassee, veteran Sen. Bill Montford has watched quite a few Florida Governors deliver their inaugural address. Montford sat with other Senate Democrats on the Old Capitol front lawn while DeSantis took the oath of office and laid out what Montford called a bold vision that he thinks will keep the Legislature busy with "a lot of initiatives." "Clearly, he is here to get things done," said Montford, a Democrat from Tallahassee. "He's got some ideas that will cause heartburn for some people, but that's government. There is no doubt in my mind that he's got a clear agenda and that he will work hard to make sure it comes to fruition."
Two executive steps forward — DeSantis issued two executive orders on Tuesday, his first day in office. One "reaffirms" the executive branch's previous policy on employment. An email explaining the first order reads, "It is the policy of the DeSantis Administration to prohibit discrimination in employment based on age, sex, race, color, religion, national origin, marital status, or disability and to ensure equal opportunity for all individuals currently employed and/or seeking employment in the DeSantis Administration." The other order "re-establishes the Governor's Office of Open Government" and affirms DeSantis' commitment to Florida's public records law. The order also readopts a previous order that seeks to prevent sexual harassment is state offices. "It directs all state agencies headed by an official serving at the pleasure of the Governor to review its policies and procedures regarding sexual harassment and misconduct."
"Former FDOT official named in billboard scheme applies to lead agency" via Matt Dixon of POLITICO Florida — Kevin Thibault served in a number of agency leadership roles under former FDOT Secretary Stephanie Kopelousos, who was recently hired to serve as DeSantis' legislative affairs director, and is now among six people who have formally submitted their applications for the post. In 2011, a grand jury found that Kopelousos made Thibault the leader of a plan to give 110 billboard permits to Salter Advertising, a panhandle company with strong ties to the region's political leaders. The firm obtained the permits with the help of the late Greg Evers, who was a Republican House member representing the area. A grand jury impaneled to investigate the issue said the permits were greenlit without Salter Advertising paying the state about $4 million in fees.
"Sheriff tells staff he'll be removed from office but vows to fight" via Bob Norman of the Miami New Times — Broward Sheriff Scott Israel has informed numerous high-ranking BSO members that he expects to be removed from his position and will fight to get his job back. As DeSantis is sworn in as Florida's governor, sources say Israel has been bracing for his removal and has told underlings he will appeal it, a move that will likely lead to a trial in the Florida Senate. DeSantis has said the issue would be among his first orders of business. He hinted during a news conference he is considering replacements for Israel.
Tweet, tweet:
I'm not dissing the reporters. Everyone gets it wrong at least once. But if you're out-of-state media and you're reporting Florida stories, be careful about your sources for a Tallahassee story. And if you get it wrong, own up and move on.

— Marc Caputo (@MarcACaputo) January 9, 2019
"Nikki Fried to push 'Groveland Four' pardons" via Jim Turner of the News Service of Florida — DeSantis and the three Cabinet members are expected to have a discussion Friday about the "Groveland Four" when they meet as the state clemency board, according to an agenda posted online. But while the agenda refers to a "discussion," Agriculture Commissioner Fried said she would call for pardons of four African-American men accused in 1949 of raping a white woman in Lake County. "We have conflicting conversations from the governor's office," said Fried. "From (DeSantis') opinion, we're just going to have a discussion. I'm going to be pushing that we actually have an action item on Friday. I'm going to be pushing for the pardon to come through and to actually go forth with what we've been promising the family for a long time."
Rough start:
.@AshleyMoodyFL was just sworn in as Florida's next Attorney General. In the last week, she has not:

-released the names of her inaugural committee
-released the names of her inaugural donors
-released a schedule of her events

And she hasn't made herself available to press.

— Lawrence Mower (@lmower3) January 8, 2019
— ROAD TO SESSION —
"State economist warns lawmakers of looming recession" via Lawrence Mower of the Tampa Bay Times — "We're in the middle of a very fluid, very volatile time," Amy Baker told the House budget committee. "We need to be aware that there will be a recession again." Baker, director of the state's Office of Economic and Demographic Research, said there had been a "definite slowing of growth" globally that mostly had "nothing" to do with Florida. Instead, the slowing is in part from "fading stimulus from the tax cuts and the spending increases that were done in Congress," along with "some accumulating impact" from tariffs, Baker said. Her warning of a looming recession is in line with national predictions. Moody's Analytics, which state economists rely on, is predicting between a 12 percent and 43 percent chance of a recession happening within the next 12 months.
Tweet, tweet:
Fly in the ointment: Amy Baker, coordinator for the Legislature's Office of Economic and Demographic Research, telling House Appropriations this AM that the chances of a recession next year aren't slim pic.twitter.com/eC5YsvLTTJ

— David Smiley (@NewsbySmiley) January 8, 2019
"Senate lays groundwork for 'tweaks' to school security law" via Jeffrey Solochek of the Tampa Bay Times — Several aspects of Florida's new public school safety act (SB 7026) are up for review during the upcoming Legislative Session, with a stated goal of making the laws more manageable and clear. The changes are likely to focus on ideas such as putting more "teeth" into requiring annual security assessments, setting needs-based priorities for school hardening funds, and clarifying the frequency of required active-shooter drills. "We do foresee there's going to be the need for some legislation to tweak the current law," Senate Education Committee chairman Manny Diaz told his panel during the first of two scheduled hearings on the subject. So far, no one has proposed a requirement that teachers carry weapons, only that they may volunteer to do so. SB 7026 specifically exempted teachers from the armed guard program.
"The four Hurricane Michael disasters: storm, long-term flooding, fire threat, pine beetle" via Scott Powers of Florida Politics — Florida's foresters, land managers and storm recovery crews have more than just the obvious devastation left behind by Hurricane Michael. Now, they must prepare for the potential of massive wildfires, floodplains flooding, and the prospect of devastation by pine beetles. That was part of the sobering message to the Florida Senate Environment and Natural Resources Committee from the state's forester and other state experts who outlined not just the human tragedy of Michael, but the ramifications of more than 2.8 million acres of felled or damaged forests: fuel for fires, clogged waterways, and food for waves of insect pestilence. They also talked of a long, arduous, costly recovery that would never reach full recovery, and would require efforts beyond what state and federal experience and resources are prepared to define yet, let alone tackle fully.
"A veggie tale: Personal garden bill clears first hurdle" via Danny McAuliffe of Florida Politics — A bill that would prevent local governments from banning vegetable gardens on residential properties is beginning to take root in the Legislature. The Senate Community Affairs Committee unanimously backed the measure (SB 82) on Tuesday. The push is sponsored by Rob Bradley, who told the panel the bill is a personal one; it's not backed by any outside interests, just something he feels "strongly" about. "I think when one thinks about the idea of a code-enforcement officer going onto a property that you own and requiring you — under threat of fine — to tear up a garden that you have prepared to grow your own food, that to me is not consistent with the fundamental rights that we have in our Constitution," Bradley told the panel.
Assignment editors — A news conference will be held on legislative attempts to repeal what Equality Florida is calling "the state's outdated and unconstitutional statute limiting marriage to opposite-sex couples and prohibiting equal treatment of same-sex married couples." The news conference, featuring Reps. Anna Eskamani and Adam Hattersley and Sens. Gary Farmer and Jose Javier Rodriguez, will be held at 12:15 p.m. Wednesday in the 4th-floor rotunda of The Capitol.
— A HISTORIC DAY —
"Florida ex-felons reclaim their voting rights, ready to become 'like every other American citizen'" via Lori Rozsa of The Washington Post — "I feel validated, I feel like it's redemption. I know I now have a voice," said Desmond Meade, president of the Florida Rights Restoration Coalition. "It's something I've wanted for so long. It's almost overwhelming, the feeling." He fought back tears, then gave up and let them roll. "In the civil rights era, fathers would take their sons with them to register," said Meade, 47, who was convicted on drug and firearms charges. "I've never been able to do that until today." "Thousands of people registered to vote today. It's an overwhelming expansion of democracy, and we're seeing it firsthand," said Neil Volz, the coalition's political director.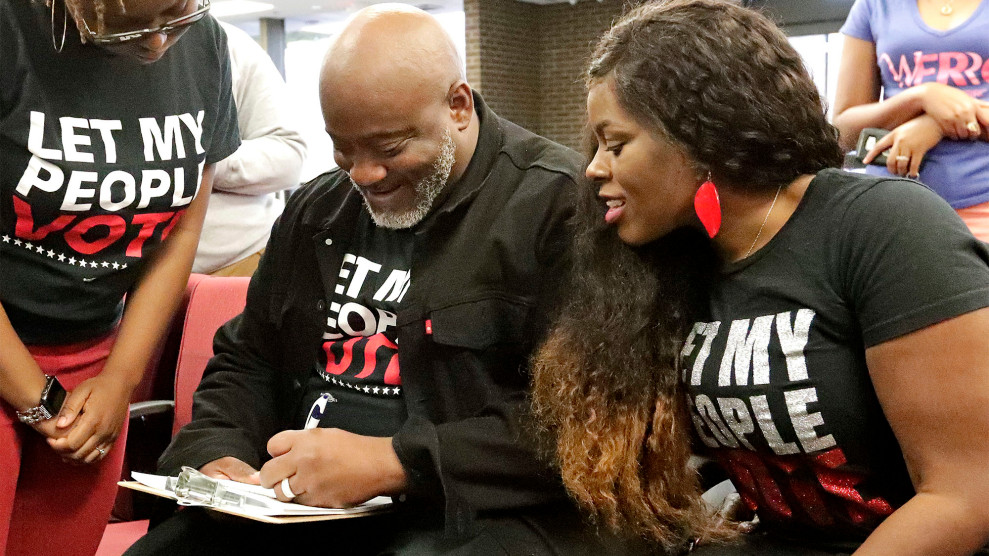 "Amendment 4: 'A day of celebration' in Florida as 1.4 million ex-felons have voting rights restored" via Steven Lemongello and Skyler Swisher of the Orlando Sentinel — County supervisors across the state, including Bill Cowles in Orange County, Mary Jane Arrington in Osceola, Walt Hays in Lake and Mike Ertel in Seminole, who will soon be in charge of implementing elections laws as DeSantis's secretary of state, had said they would begin registering people immediately. After that, Cowles said, it is up to the state to confirm that a former felon has completed all parole and probation and paid all fines and restitution. Those convicted of murder or sex crimes are still barred from having their rights restored. "If you believe you have completed all requirements, then complete the form," Cowles said. As of Tuesday afternoon, the ACLU of Florida said there had not been any issues reported with registering former felons.
Tweet, tweet:
Orange-Osceola State Attorney Aramis Ayala walked hand in hand with her husband David into the elections office in Orlando as he registers to vote thanks to Amendment 4 pic.twitter.com/pIaCkmvz3D

— Steven Lemongello (@SteveLemongello) January 8, 2019
"After decades of waiting, felony convictions won't stop Jacksonville's newest voters" via Andrew Pantazi of the Florida Times-Union — Elections Supervisor Mike Hogan said he'd have many new applications at the end of the day. But Tuesday morning, there was a steady stream once the office opened at 8 a.m. Some people came in groups, like Lisa Banks, Dana Miller, Craig Aiken, Charles Tolbert and Loutricia Gibbs-Tolbert. They walked into the office together to register. Miller, after first trying and failing to get his rights restored by clemency for the 2008 election of Barack Obama, had actually finally gotten his rights restored in time for last November's election. But he walked in with them. Each of them had served years in prison or on probation for felony convictions, and each of them had been waiting for the day they could again vote. Miller told them what it was like for him. He got a letter before the election letting him know he was registered. He said he didn't believe it, so he asked a friend to look online for him. He went to vote. He filled out his ballot, and as the machine accepted it as valid, he started to cry. "Oh," he said. "It's a feeling. We no longer can be ignored."
"Mary McCarty, other ex-lawmakers register to vote" via Lulu Ramadan of the Palm Beach Post — Former Palm Beach County Commissioner McCarty, who served two years for abusing public office, was first in line at the Delray Beach elections office on the first day Florida felons reclaimed the right to vote. Seven years after leaving prison, where she served two years for abusing public office, McCarty took what she called her last step toward "getting everything back together in my life." "As a former elected official, I know how important it is to vote," she said. "I felt shut out."
"'This is history to me:' Felons in Tampa register to vote on first day of Amendment 4" via Langston Taylor of the Tampa Bay Times — John Young slapped the sticker on his chest with pride. The retired postal service worker, 25 years after a drug conviction, had just registered to vote at the Supervisor of Elections on N Falkenburg Road, just a block from the county jail. "I been waiting to tell this story for 25 years," he said. "Almost 25 years and I couldn't vote, what kinda junk is that," Young asked. It was ridiculous to him that he could work a government job for years, even get a medical marijuana card, and not vote. He said he used to be a Republican but registered Tuesday as a Democrat, believing his old party turned his back on him. "Ron DeSantis better get ready. Donald Trump better get ready. Republicans better get ready. And a lot of Democrats better get ready," Young said. He plans to vote for Jane Castor in Tampa's mayoral election in March.
"Charlie Crist to Tallahassee: Don't stand in the way of ex-offender voting rights" via Adam Smith of the Tampa Bay Times —" It is our job as elected officials to listen to the will of the people, not to subvert it," Crist said at a news conference on the steps of St. Petersburg City Hall. " Let me be clear: With the passage of this constitutional amendment, nothing — not any Florida statute or executive action, nothing — should keep convicted former felons who have paid their debt to society from legally registering to vote." Crist restored the voting rights of about 155,000 Floridians during his four years as Governor — about 40 times more than outgoing Gov. Scott did over eight years. St. Petersburg Mayor Rick Kriseman spoke at the news conference and warned that the overwhelming vote in favor of Amendment 4 does not end the story. "This fight continues," Kriseman said.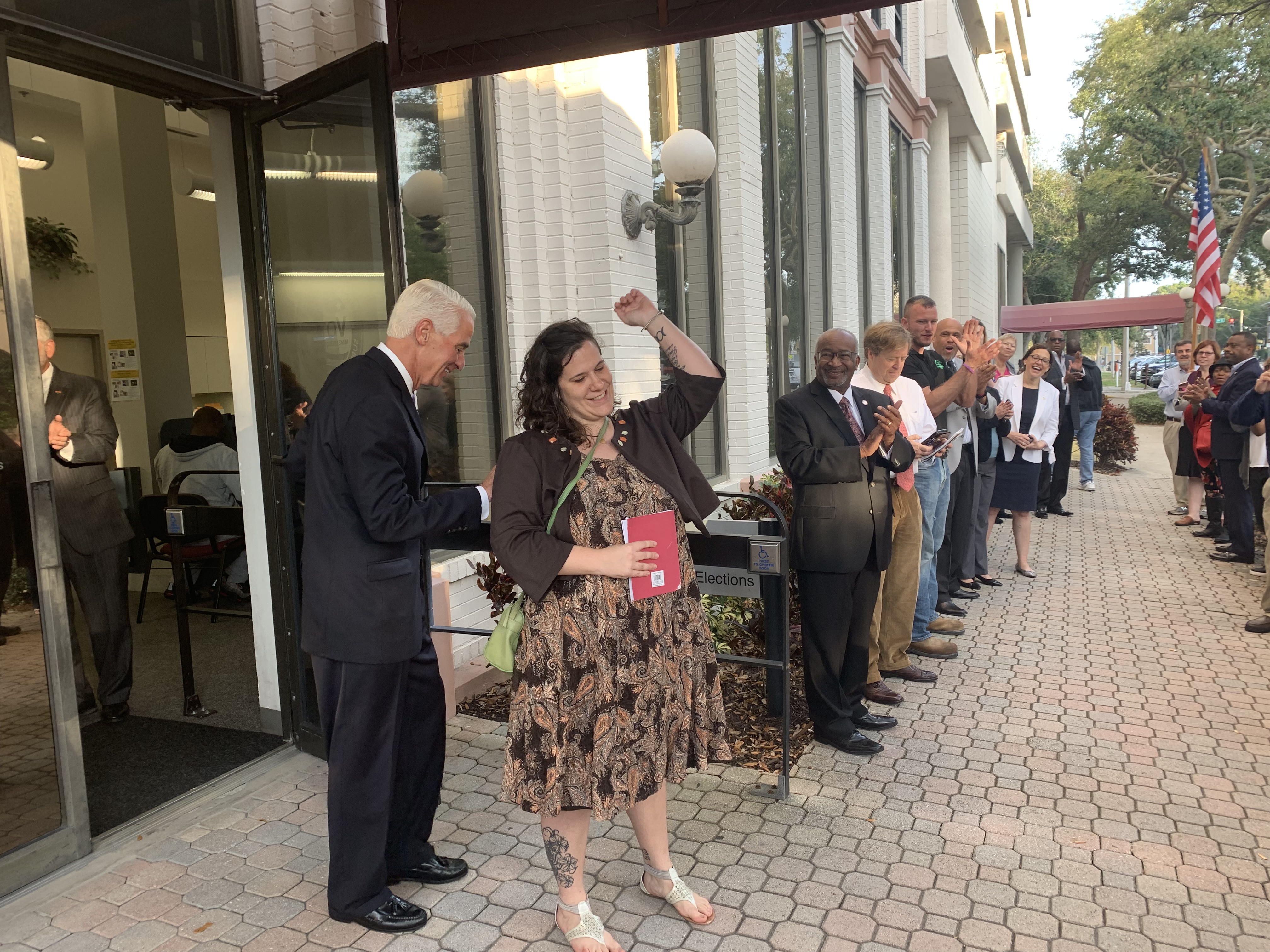 — STATEWIDE —
"Prosecutors want trial date in Parkland school shooting" via Curt Anderson of The Associated Press — Prosecutors pushed a judge to set a trial date this fall for Nikolas Cruz in the 2018 Valentine's Day Florida school massacre. At a hearing, Assistant State Attorney Jeff Marcus said the case is fairly uncomplicated despite its notoriety and magnitude. He asked Circuit Judge Elizabeth Scherer to schedule the death penalty trial for Cruz in September. "We are coming up on the anniversary of this incident. Justice requires that this case be resolved as quickly as it can," Marcus said. "It's a pretty straightforward case that does not require years and years to prepare for." Judge Scherer, however, said she is reluctant to move that quickly, with Cruz's lawyers contending they still have large amounts of evidence to review and dozens of witnesses to interview. Scherer instead set another status hearing for Feb. 21 and urged both sides to work as quickly as possible.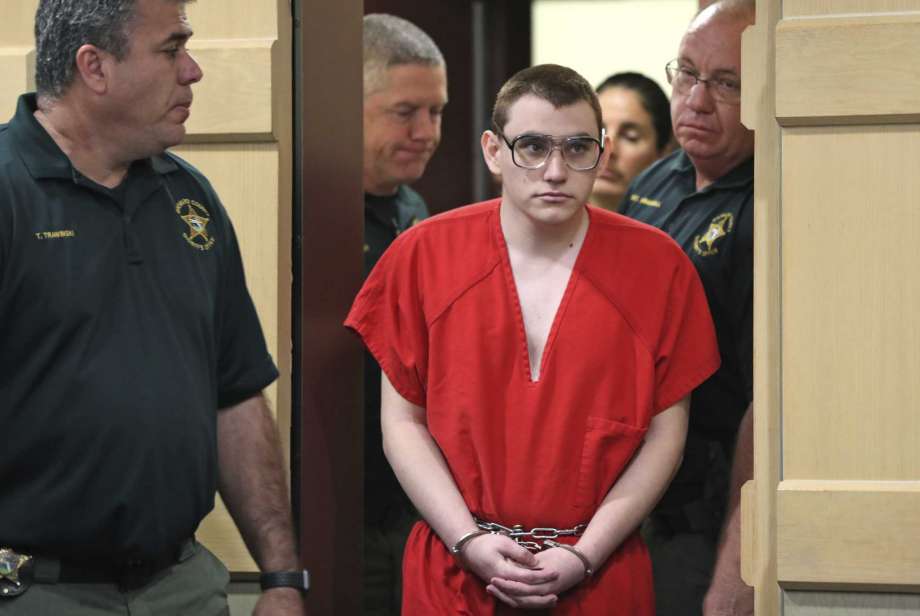 "Court digs into marijuana smoking ban" via Dara Kam of the News Service of Florida — Arguments at the 1st District Court of Appeal were the latest twist in a challenge to a 2017 law aimed at implementing a constitutional amendment that broadly legalized medical marijuana. Architects of the amendment, including Orlando trial lawyer John Morgan, filed the challenge because they said the prohibition on smokable marijuana runs afoul of the Constitution. Leon County Circuit Judge Karen Gievers in May agreed with the plaintiffs and struck down the ban, but her decision has been on hold after the state appealed. Attorneys representing the Department of Health continued to defend the 2017 law, saying the constitutional amendment gives health officials the power to issue regulations and that the Legislature was right to ban smoking because of its ill effects. "The amendment does not in any instance guarantee immunity for smoking marijuana," Deputy Solicitor General Jordan Pratt said. But appeals-court Judge Timothy Osterhaus questioned the Legislature's authority to override the requirements of the amendment, which does not specifically authorize smoking.
"Payments frozen for some autism providers" via the News Service of Florida — Beth Kidder, a deputy secretary of the state Agency for Health Care Administration, told members of the Senate Health Policy Committee that the state has frozen payments to behavioral analysis providers until they can verify that they meet new certification requirements that went into effect Jan. 1. The requirements are part of the state's efforts to crack down on suspected Medicaid fraud in the behavioral analysis program. In addition to the new requirements, the state implemented a six-month moratorium on the enrollment of new behavioral analysis providers in Miami-Dade and Broward counties. There are four different levels of behavioral analysis providers in Florida: billing group, lead analyst, associate analyst and registered technician. Sen. Debbie Mayfield, a Rockledge Republican who serves on the Senate Health Policy Committee, told Kidder that her office is being "bombarded" by complaints by behavioral analysis providers who have been caught up in the agency's attempts to snuff out fraud.
— LOCAL —
"Qualifying week starts for Jacksonville spring elections" via Steve Patterson of the Florida Times-Union — About 80 people had already filed some paperwork to begin taking contributions to run for offices ranging from mayor and sheriff to the 19 council seats and less-visible offices like property appraiser, elections supervisor and tax collector. A handful had even withdrawn. But filing as a candidate doesn't lock in a place on the March 19 ballot until the candidate completes all the required forms and writes a check based on the job's salary. A council candidate pays a $2,949 qualifying fee; a mayoral candidate pays $11,677. Cost-cutting candidates can avoid the fees by bringing in signed petitions from registered voters (the minimum number ranges from 338 signatures needed in the smallest council district to 5,522 for countrywide posts.) Property Appraiser Jerry Holland and his challenger, Kurt Kraft, both qualified Monday, as did Tax Collector Jim Overton and would-be sheriff Tony Cummings. Neither Mayor Lenny Curry nor any of the seven people who've filed papers to challenge him qualified Monday, but they have until noon Friday when qualifying ends.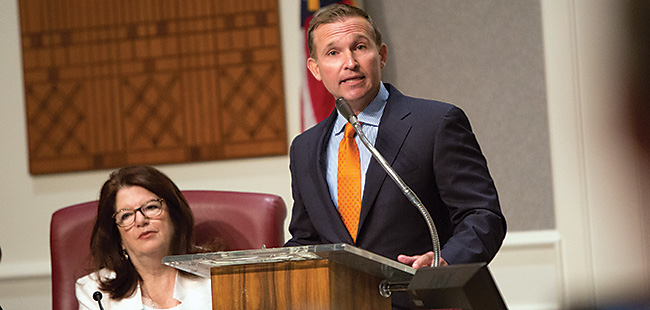 "Tampa mayoral candidates in televised debate Wednesday night" via Scott Harrell of Creative Loafing Tampa Bay — Seven candidates aiming to replace termed-out Tampa Mayor Bob Buckhorn — Castor, Ed Turanchik, David Straz Jr., Harry Cohen, Topher Morrison, Lavaughn King and Mike Suarez — will face one another March 5 in a second pre-election debate at 7 p.m. The event is hosted by Spectrum Bay News 9 at the Hillsborough Community College Ybor City Campus's Mainstage Theater, and will be broadcast live. The debate will last 90 minutes. Bay News 9's Holly Gregory will moderate; no one will be admitted without a ticket — and at this point, it looks like all available tickets have been snapped up — and no one will be admitted at all after 6:45 p.m. (doors open at 6). Topics the field is expected to address include transportation, growth, sustainability, and education, among others.
Hmmm:
Great catching up today with @CLCurbelo and learning about his future plans…….. pic.twitter.com/oxv8keV9Go

— mayor alex penelas (@apenelas) January 8, 2019
— D.C. MATTERS —
"Central Florida begins to feel the sting of the partial federal government shutdown" via Martin Comas and Kate Santich of the Orlando Sentinel — The Homeless Services Network of Central Florida — a local nonprofit that relies heavily on federal funding — isn't getting reimbursed for rent payments and other expenses of housing the homeless as it typically does. So far, that has added up to a loss of nearly $50,000, but the longer the shutdown continues, the worse it will get. Meanwhile, at the nation's parks, both employees and visitors are feeling the shutdown's impact. Canaveral National Seashore, a national park that spans nearly 25 miles of beach on a barrier island between New Smyrna Beach and Titusville and attracts thousands of sunbathers, hikers and campers every year, is shuttered because of the impasse. At the Ocala National Forest in Lake and Marion counties, campers are unable to make new reservations, including the 68 campsites at Alexandria Springs Recreation Area within the forest
"Can Rick Scott adjust to the U.S. Senate after leading Florida the past eight years?" via Steve Contorno of the Tampa Bay Times — "It's exciting to be up here," Scott told reporters just before he took the oath. "This place doesn't seem to be working very well." The unique affair was quintessential Scott. He joined a body defined by its traditions and collaborative spirit on a day of his choosing and by himself. For a man who has flouted political norms and at times his own party, won three elections with his own money and governed like a solitary CEO, it was a telling if not symbolic message: Scott will yield to no one, not even one of the world's greatest deliberative bodies. For the first time in much of his adult life, Scott is not the executive of a company or a state. He is now one of 100. For his part, Scott has said he isn't coming to Washington to make friends or play the political game. He's here to "Make Washington work," as his slogan said. He ran on a menu of populist causes like forcing Congress to accept term limits, an unpopular idea among D.C. leadership.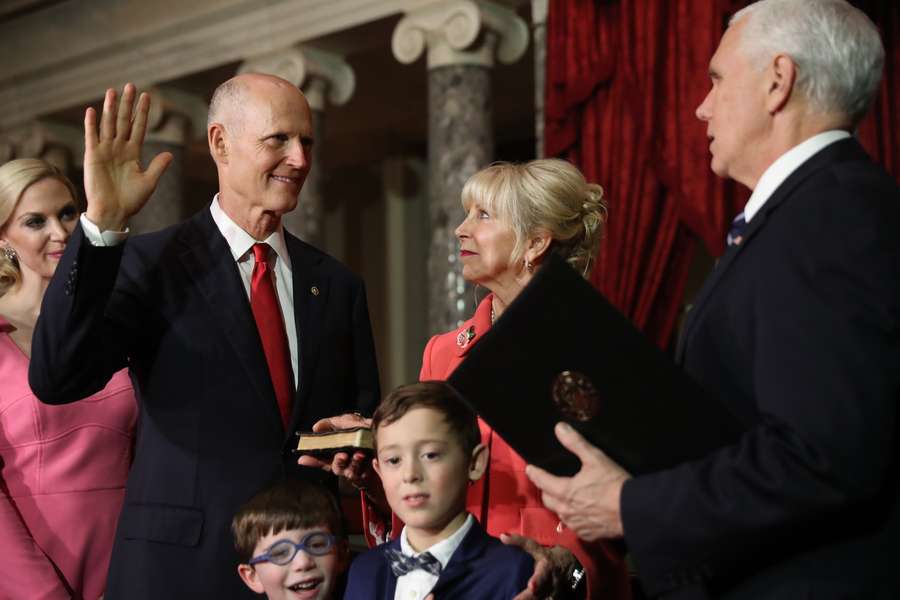 Spotted at the Sunshine Ball at the Andrew W. Mellon Auditorium in Washington D.C. — Debbie and Sebastian Aleksander, Bryan Anderson of HCA, Adam Babington, Jay Beyrouti, U.S. Rep. Vern Buchanan, former Rep. Bob Cortes and his wife Virginia, U.S. Rep. Neal Dunn, Gov. Luis Fortuna, former Sen. Rene Garcia, Alan Hays, Fred and Autumn Karlinsky, Syd Kitson, former U.S. Sen. Mel Martinez, Jesse Panuccio, Chief Financial Officer Jimmy Patronis, Foyt Ralston, Emmett Reed, Wanda Rentas, Bo Rivard, U.S. Sen. Marco Rubio, Bill Rubin, Eric Silagy, Chester and Amanda Spellman, Ambassador Carlos Trujillo.
"Marco Rubio calls on DeSantis to disburse citrus aid" via the News Service of Florida — Rubio implored Florida's new Governor to start spreading disaster-relief money approved nearly a year ago to address massive citrus-industry damage from Hurricane Irma in 2017. Rubio said in a letter to DeSantis that money in a $343 million block grant needs to be disbursed to citrus growers. Rubio said the federal government shutdown had forced the U.S. Department of Agriculture to stop processing applications for what is known as the Wildfire and Hurricane Indemnity Program, or WHIP, and all disaster assistance payments. "This is incredibly unfortunate for the many family farms throughout our state who are still struggling to get by after Hurricane Irma roared across the peninsula in September 2017," Rubio said in the letter.
"Bipartisan legislation secures federal funding to combat algae blooms" via Ryan Nicol of Florida Politics — Bipartisan legislation from U.S. Rep. Brian Mast and former U.S. Sen. Bill Nelson that secures federal funding to combat harmful algal blooms has been signed into law by President Trump. The new law reauthorizes the Harmful Algal Bloom and Hypoxia Research and Control Amendments Act of 2013. The newest version was included as part of an act reauthorizing the National Integrated Drought Information System. In it, the federal government is authorized to make funding available for harmful algae blooms deemed "of national significance." According to the act, a bloom of national significance means "hypoxia or harmful algal bloom event that has had or will likely have a significant detrimental environmental, economic, subsistence use, or public health impact on an affected State."
"Debbie Wasserman Schultz calls for more federal regulation after dirty Ocala water makes news" via Samantha Gross of the Miami Herald — The Weston Democrat expressed her concern through a two-page letter to Acting EPA Administrator Andrew Wheeler and Acting Attorney General Matthew Whitaker, detailing the toxicity of chemicals in flame retardants — and found in the water supply of some unknowing Floridians. A Herald/Times story revealed that it took four months for state health officials to notify residents in the Ocala community about potentially elevated levels of the chemicals in their well water. In August the state's Department of Environmental Protection confirmed that the chemicals had been used at the Florida State Fire College before they were phased out of production in the early 2000s due to health concerns.
"The peaceful transition of government Twitter accounts" via Alexis Madrigal of The Atlantic — The journalist Dave Levitan spotted a wrinkle in this Twitter handover process. For eight years, the Republicans ran the @HouseScience account. During that time, it accumulated a lot of followers (168,000) as Twitter grew into a mainstream service. Meanwhile, the Democrats had their own minority account — @SciCmteDems, which was clearly the Democrats and not an organ of the government — which accumulated almost 150,000 fewer followers. Now, come 2019, what should happen? You might say that the new Democratic majority would take over the @HouseScience page, with all its followers. That's what happened to the @POTUS account during the Obama digital transition. In the House Science committee case, that's not what happened. Only the name @HouseScience went to the Democrats, replacing their old handle, @SciCmteDems, while the House Science Republicans went with @HouseScienceGOP, and kept all the account's followers. As Levitan put it, "How is that fair?"
— OPINIONS —
"Joe Henderson: Ron DeSantis will have to prove he's serious about environment" via Florida Politics — It is heartening to hear Gov. DeSantis often speak about his commitment to Florida's environment. Those were some sweet-sounding words he spoke in his inauguration speech: "Our economic potential will be jeopardized if we do not solve the problems afflicting our environment and water resources." True dat. But words without action is meaningless, and DeSantis is going to have to earn the people's trust on this issue. His voting record while in Congress showed someone who came down on the opposite side of environmental protection almost every time. Here's a good way DeSantis can change his tune. Mouth these words: Climate. Change. C'mon, Governor. You're an educated man — Yale undergrad, Harvard Law School. Put on that Ivy League thinking cap and come down on the side of science.
"Florida law would make lying a crime … except when politicians do it?" via Scott Maxwell of the Orlando Sentinel — "Hallelujah!" I thought when I first heard about South Florida Democrat Lauren Book's proposed "Truth in Government Act." "It's about time!" I actually read the bill — and discovered a loophole the size of the equator. While the bill threatens fines and imprisonment to anyone who lies during a legislative hearing, it exempts the legislators themselves. Yes, this law attempts to crack down on lying in politics … while giving politicians a pass. We might as well launch an anti-burglary campaign that exempts burglars. Book agreed and vowed to fix her bill. "As a legislator seeking to make policy decisions for the State of Florida, I want to know that I'm not being presented with 'alternative facts,'" she said. "However, it's important that everyone in the process is held to the same enforceable standard, and I will be amending the bill to include legislators as well." Consequently, it will have no chance of passing.

— MOVEMENTS —
Personnel note: Anders Croy joins Senate Victory — Croy told reporters in an email he was the new communications director for Senate Victory, the Democratic Party's campaign to elect Democrats to the state Senate. It's headed by Senate Democratic Leader Audrey Gibson of Jacksonville. Croy is a longtime Democratic operative whose background includes several campaigns, a stint as communications director for the House Democratic Caucus, and Florida State Director for the State Innovation Exchange. He also was communications director for former state Rep. Sean Shaw's unsuccessful campaign last year for Attorney General.
— ALOE —
"Starting quarterback Deondre Francois returning to Florida State" via Wayne McGahee III of the Tallahassee Democrat — Francois, a rising redshirt senior, was contemplating leaving the FSU program in December according to coach Willie Taggart. Whether that meant he was contemplating entering his name into the NFL draft or becoming a grad transfer is unknown. "I know he's weighing his options in regard to that," Taggart said at his early signing period news conference in December. "But we're going to support Deondre whatever he decides to do. But that's where we're at with that." Francois has enrolled in classes this semester according to a report by Noles247. He could still elect to grad transfer following the spring semester. Central Florida was considered one of the primary options for the Orlando native.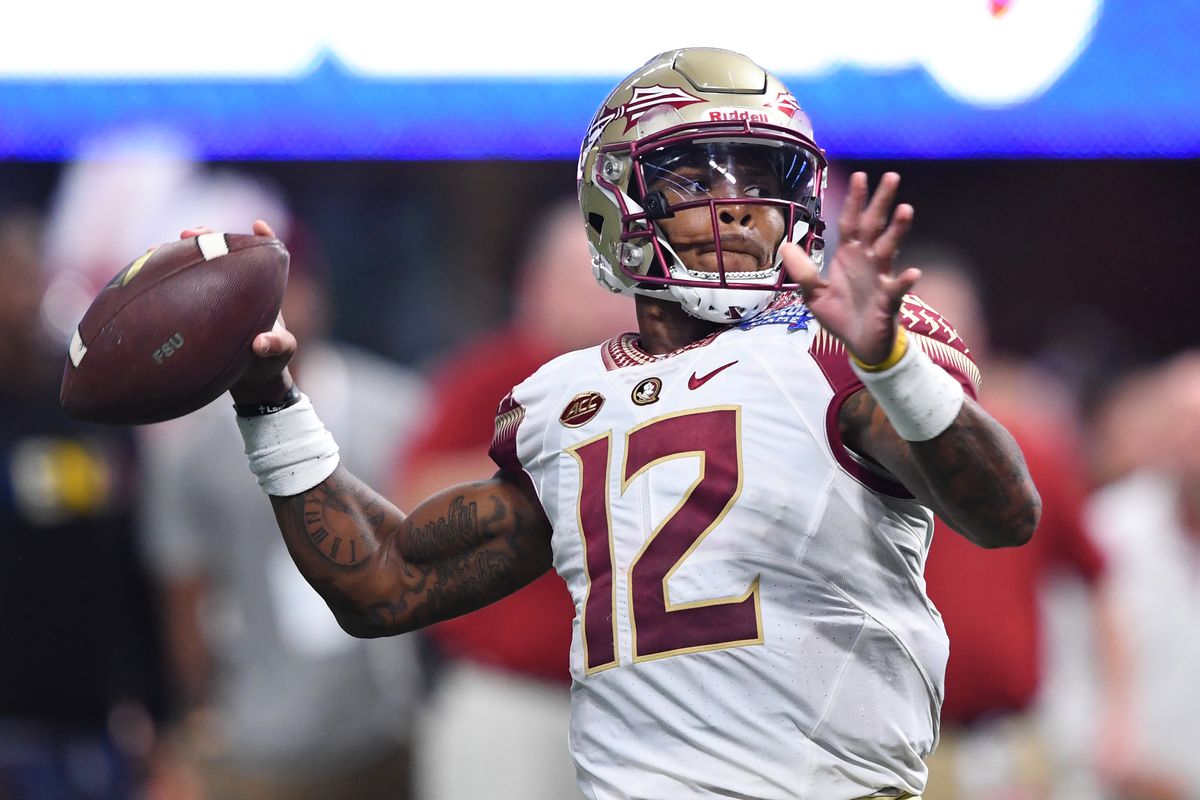 — HAPPY BIRTHDAY —
Warm wishes to Mike Fasano's right-hand man, Greg Giordano.