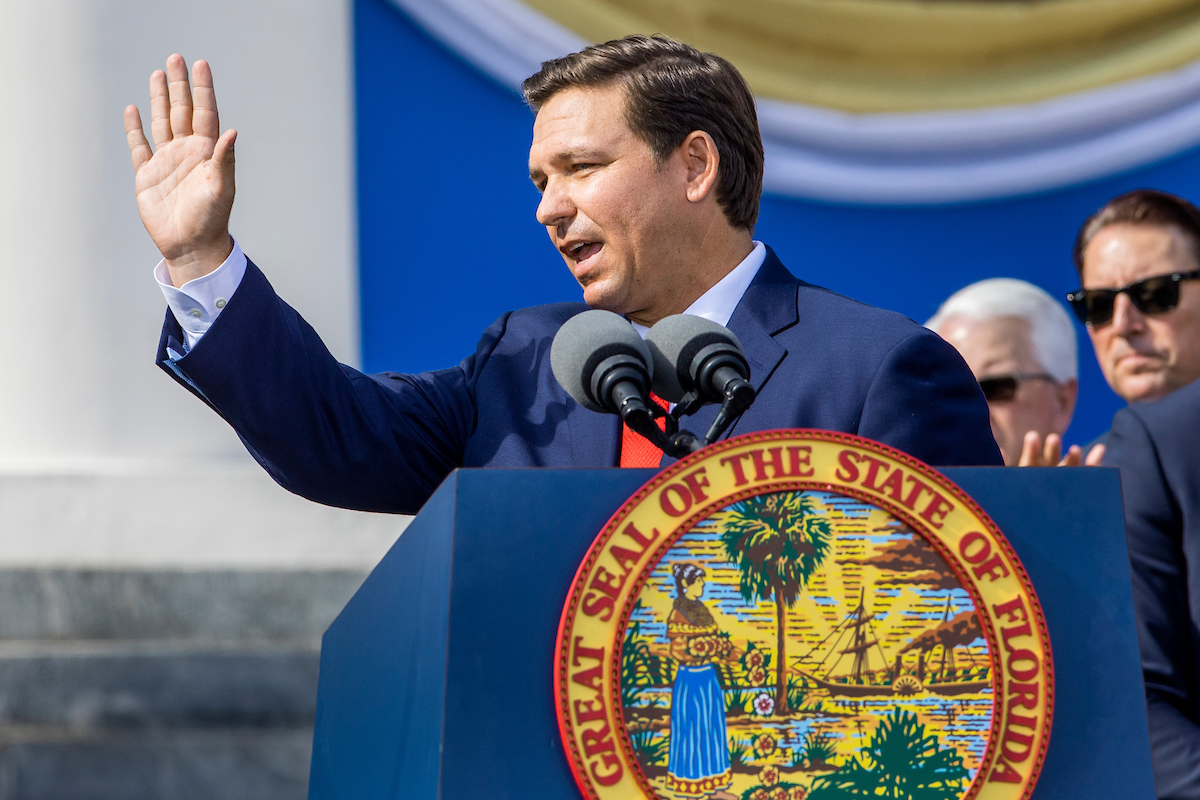 Susan Bucher may put up legal fight over move
Gov. Ron DeSantis on Friday suspended Palm Beach County Supervisor of Elections Susan Bucher, naming attorney Wendy Sartory Link as her replacement.
He also said he would accept the resignation of Broward County elections supervisor Brenda Snipes, "formally terminating her duties."
DeSantis, who made the announcement on the steps of Historical Society of Palm Beach County, further said he was naming Chris Anderson as Seminole County Supervisor of Elections, replacing Mike Ertel, who DeSantis had made Secretary of State, Florida's chief elections officer.
"Today, we turn our attention to the need to restore faith in our elections processes here in Florida," DeSantis said in a statement.
"During the 2018 General Election, Florida had 65 out of 67 counties that ran good elections. Supervisor Bucher demonstrated she was unable to comply with the laws of our state and her duties as the Supervisor of Elections and failed to accurately report information related to the number of ballots that had been cast.
"For these reasons, I am suspending Susan Bucher as Palm Beach County Supervisor of Elections, effective immediately. It is time to turn the page in Palm Beach County to ensure accountability and transparency from our elections officials."
Link is a member of the State University System Board of Governors and an attorney who specializes in commercial real estate and corporate law.
She will not run for the office, but will return to private practice after the next supervisor is elected: "I think that's the best way to go," DeSantis told reporters.
Anderson is an "Afghanistan veteran who served our nation in the U.S. Army," the Governor's Office press release said.
"He has previously served as a deputy sheriff in Seminole and Indian River Counties. He was a deputized U.S. Marshal and most recently served as the Chief Investigations Officer for the Seminole County Tax Collector's office."
Soon after DeSantis' announcement, Florida Democratic Party chair Terrie Rizzo opposed Bucher's removal.
"In the United States, our elections are sacred and our elections supervisors are democratically elected," she said in a statement. "The Governor's recent power grab, removing Democrats from elected positions, including Susan Bucher, should be seen for what it is: A gross overreach and politically motivated move to consolidate power and obstruct the will of the people."
Like her counterpart in Broward County, Bucher faced criticism and even legal action over the county's handling of several mandated recounts following November's election.
Snipes was suspended by DeSantis' predecessor, former Gov. Rick Scott. Snipes challenged that suspension in court, winning the right to a hearing regarding the decision.
Bucher has signaled she may put up a legal fight of her own, saying the Governor "would have to prove I did anything wrong."
Palm Beach's problems were mostly related to the fact that the county relied on older machines which could only conduct one recount at a time. That was an issue given that the county was dealing with four recounts at once — three at the state level along with a recount in House District 89.
Bucher says she set aside $11 million for new voting machines but decided not to purchase them because they would not be viable in 2020.
Palm Beach was one of two Florida counties, along with Broward, which failed to meet the state's recount deadline.
Bucher will be the second major South Florida official suspended by DeSantis after last week's announcement he was removing Broward County Sheriff Scott Israel.
DeSantis also suspended Okaloosa County Superintendent Mary Beth Jackson.
The governor has already announced the Senate would hold a hearing regarding any challenge by Israel to the Governor's suspension. A similar statement regarding Bucher's case could help blunt any potential legal challenge.
The Senate is charged with reviewing suspensions of elected officials by the Governor. That body then determines whether to terminate the official or reinstate them.
U.S. Rep. Matt Gaetz, a DeSantis ally, gave his own reasoning for why Bucher deserved the boot. He did not attend the press conference in West Palm Beach.
"Bucher violated court orders, polluted provisional ballots [with] ballots not approved by the canvassing board, failed [to] maintain equipment & even overheated elections equipment by jamming it [with] a paper clip," Gaetz wrote on Twitter.
"Anyone else tired of being embarrassed by Palm Beach [County] during elections?"
At the end of Friday's news conference, the Governor pledged to be "open and transparent" with the election-related changes, but insisted the state "cannot have another circus."
___
A copy of the recommendation letter from Ertel is here. A copy of Executive Order 19-18 is here. A copy of Executive Order 19-19 is here.
South Florida correspondent Ryan Nicol contributed to this report.
A Periscope video of the press conference by WPEC CBS12 News is here.