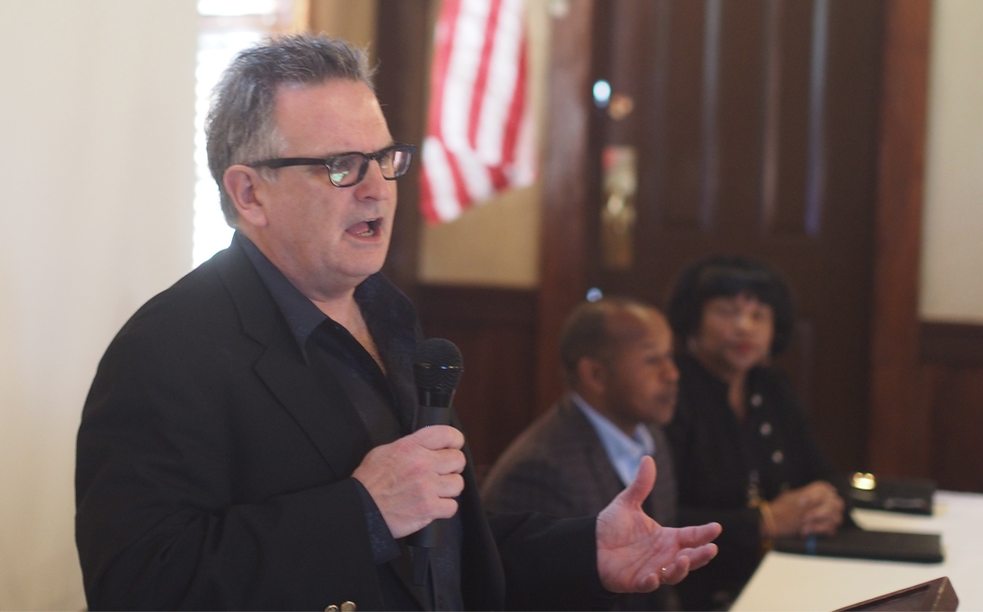 "Brutality and terrorism are the words I would use, legally sanctioned," King said.
A week after Gov. Ron DeSantis and Florida's Cabinet ended the injustice that befell the Groveland Four 70 years after their lives were destroyed by false rape charges, the author who helped make the case an international cause celebre said it reflects America's need to reconcile its racist past.
That, Gilbert King, author of the Pulitzer Prize-winning account of the Groveland Four story, Devil In the Grove, is evident from the fact that the family members of the late Ernest Thomas, Samuel Shepherd, Walter Irvin, and Charles Greenlee, have gone through decades of being "gaslighted" as their stories of what happened in 1949 didn't jibe with the official version written by the white establishment responsible for their perfection, deaths and false imprisonments.
"That was the reputation that hung over them for all of these decades, and to finally get some sort of acknowledgment, whether a pardon, an apology, or an exoneration, no. This was a plain miscarriage of justice, and it needed to be corrected," King told a joint meeting Friday of the Central Florida Urban League and the Tiger Bay Club of Central Florida.
Last Friday DeSantis and the Cabinet, acting as the Florida Executive Clemency Board, granted full pardons to Thomas, Shepherd, Irvin, and Greenlee, exonerating them from the false 1949 charges that the four young black men raped a young white woman in rural Lake County, outside of Groveland. Thomas and Shepherd were killed. Irvin and Greenlee were convicted and sent to prison. Their families' stories of clear innocence based on overwhelming evidence that was not presented in the trials became the basis of King's book of a legislative effort spearheaded by then-state Sen. Geraldine Thompson, and ultimately, two years after the Florida Legislature demanded it, pardons, during DeSantis' first week in office.
But were the pardons enough? King, who has written two other books on the racist history during the Jim Crow era, told the Urban League and Tiger Bay Club there needs to be more.
"In America we really haven't had that truth and reconciliation when it comes to stories about race and the brutality and terrorism that existed for 100 years between the Emancipation Proclamation and the Civil Rights Act," King said. "There is 100 years there that we just sort of gloss over and whitewash in our history."
King, as he did in his book, described a broad conspiracy of racism that had come down upon the Groveland Four, including Lake County Sheriff Willis McCall and his deputies, the state attorney, the judge, the governor and the U.S. Attorney for the Middle District of Florida. "All were complicit," he said.
"We like to look at those photographs of separate water fountains as if that was the worst of what it could be, rude and inconvenient. When I talk about this I say 'rude and inconvenient' are not the words I would use to describe what I find in these filings and FBI reports. Brutality and terrorism are the words I would use, legally sanctioned in most cases," he said.
King called last week's pardons, and the 2017 resolution by the Florida Legislature that recognized the case as "gross injustice," apologized, and called for expedited pardons [which DeSantis finally delivered after Gov. Rick Scott declined to do so for 20 months,] as a "great moment in government.
"It's a moment Americans can be truly proud of, you know, that they came together in this bipartisan way, and they didn't make this about politics, they made it about American values," King said.
King was joined at the forum by Shepherd's cousin Beverly Robinson, and by lawyer Paul Perkins, son of one of the original defense lawyers for the Goveland Four.
They supported King's observations with their own memories, with Robinson pointing out that African Americans of the era were not only afraid for their own lives, but for the lives of their families.
"I want to thank and acknowledge the honorable Gov. Ron DeSantis and the cabinet for their decision," Robinson said.