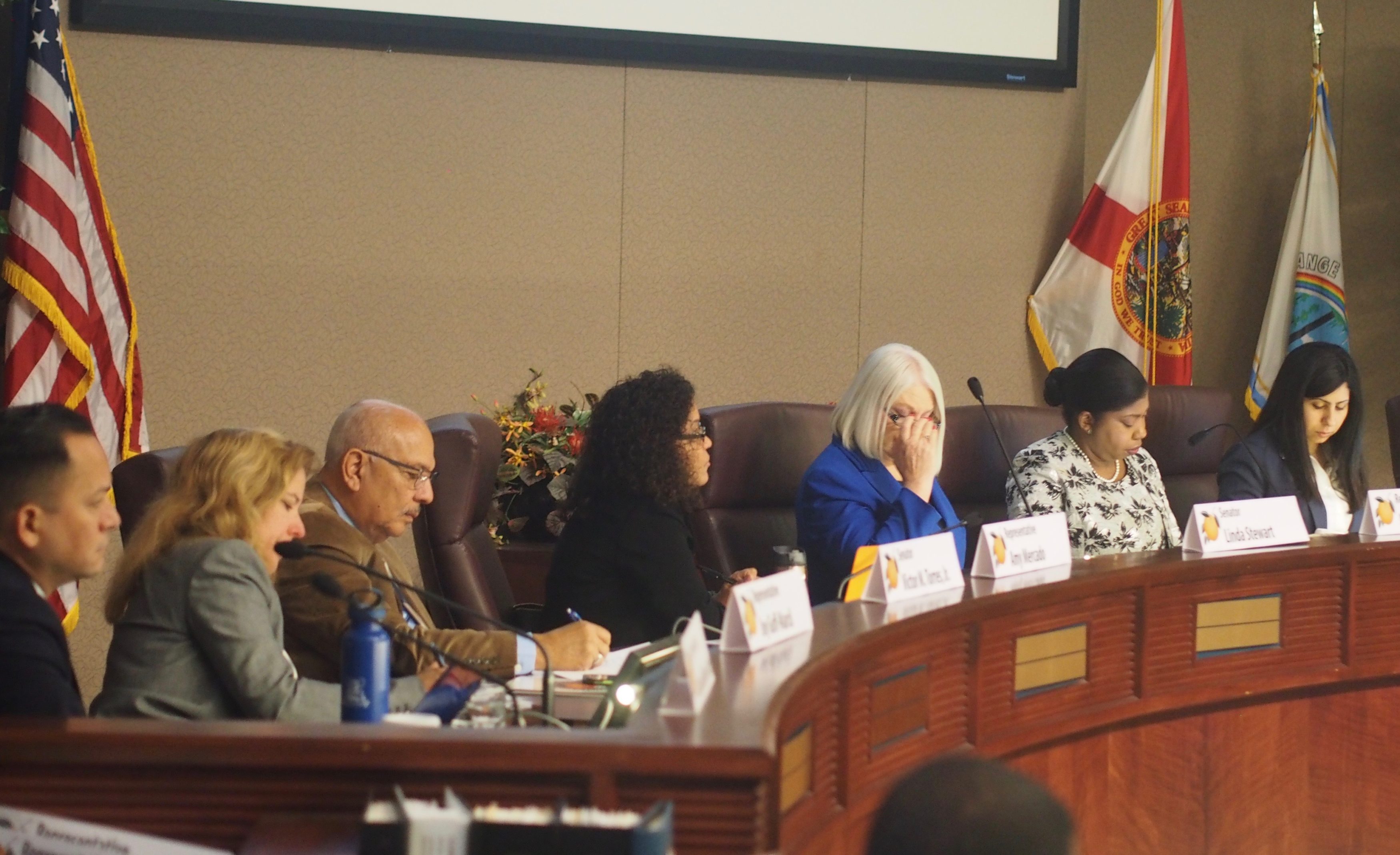 Orange Co. Mayor Jerry Demings urged the delegation to protect housing trust fund dollars.
Democrats who control Orange County's legislative delegation took many requests they'd like to fill Monday but could find tough in Tallahassee including asks for more student funding, money for bus drivers' pay, and more money for certified law enforcement officers to patrol public schools.
"We're here today asking for your help in increasing funding available for us for school security and flexibility in how we use those resources. We're also asking you to fully fund a sworn officer in every school. Make no mistake, Orange County Public Schools is committed to having sworn officers in every school every day, all day," said Orange County School Board Chair Teresa Jacobs.
Jacobs, formerly Orange County's Mayor, also pushed two areas of staffing in public schools, teachers and support personnel, that she said have fallen behind both funding levels of past years, in inflation-adjusted dollars, and, more importantly, market levels in today's private sector.
She also suggested other ways for the Legislature to address teacher shortages: reducing the costs of teacher certification programs, which she said has increased to $480, making recruitment tougher. She also asked for flexibility so that local school boards can decide which advanced degrees can be accepted for additional teacher compensation.
Other staff pay levels are causing other problems. Jacobs said the district is suffering a shortage of bus drivers due at least in part to the fact that Orlando's tourism economy has a robust employment sector for bus drivers, and the private sector, particularly Walt Disney World, is paying much more than the schools are able to pay.
"And of course, our last priority ties into our second priority, and that is increase our funding per student back to the level it would be based on inflation and increases in student population," Jacobs said. "We want to be able compensate our teachers, our staff, our bus drivers, thoroughly, to be able to retain them."
Orange County, she said, has $750 per student less money today than 11 years ago, based on inflation, and the disparities with the marketplace are making recruitment and retention difficult for teachers and for another key employee area, bus drivers.
Jacobs' requests came during a long day in which cities, towns, agencies, non-profits and others approached the eight Florida Legislature members who showed up to hear their 2019 Legislative Session priorities. The meeting was attended by eight of the nine Democrats who have Legislative districts in Orange County, state Sens. Victor Torres and Linda Stewart, and state Reps. Carlos Guillermo Smith, Joy Goff-Marcil, Amy Mercado, Kamia Brown [who chaired the delegation], Anna Eskamani, and Bruce Antone. Democratic state Sen. Randolph Bracy and both Republicans in Orange County, state Reps. Rene Plasencia and Jennifer Sullivan, did not attend the whole meeting, though Sullivan made a brief appearance. [Plasencia missed due to paternity leave as his wife Marucci Sarai Guzman just gave birth to their second daughter a few days ago.]
Among the other requests from about 100 local officials and others who approached the delegation Tuesday:
— Orange County Mayor Jerry Demings urged the delegation to protect the state's affordable housing trust fund, the Sadowski Trust Fund, and to free up money from that fund for affordable housing programs. Demings also urged the delegation to fight against state preemption that reduce local "home rule" government authority. Both of those requests were repeated by numerous others who approached the delegation Monday.
Beyond that, Demings did not have any specific asks, because the Orange County Board of Commissioners is to vote on its legislative priorities Tuesday.
— The city of Orlando sought support for affordable housing funding, restoration of arts funding, money for a DNA technology program for the Orlando Police Department, support for the Pulse Memorial being planned at the sight of the 2016 mass murder, and support for a controversial park being planned on 100 acres on Orlando's west side.
The park would feature tennis courts being moved from a Parramore park because of construction of Orlando's Creative Village Development. The new park also would be home to an urban agriculture program to aid low-income families in growing and producing their own vegetables. The plan has drawn strong opposition from environmental advocates, who contend the park would hurt the Little Wekiva River headwaters.
— Apopka Mayor Bryan Nelson called for aid for water quality and quantity priorities, including one outside his city's limits, Camp Thunderbird for children and adults with special needs, which is seeking money to replace 11 septic systems with a sewer system.
— Valencia College asked for the Florida Legislature to increase funding for the state college system. While the state's university system got a big increase in funding, the state colleges took a state funding cut last year, said Valencia Vice President Jay Galbraith. What is needed, he said, are adjustments to the funding system to address the rapid growth of Valencia and other colleges. Antone and Torres agreed. "We have a serious funding issue we need to address," Antone said.
— The University of Central Florida asked the delegation to accept that the university is doing everything it can to restore trust after a state funding scandal emerged last year, revealing the university had misspent or misprogrammed $85 million in operational money toward construction. "Our number one priority for the 2019i session is to reestablish your trust in UCF."
— MetroPlan Orlando, the region's transportation planning agency, called for support for funding for safety upgrades, particularly toward bicycle and pedestrian infrastructure, and flexibility in programming other transportation money.
The key emerging issues for Central Florida transportation have to deal with the area's commuter train agency, SunRail, and bus system, Lynx. SunRail will be needing some sort of new local funding by 2020 when the Florida Department of Transportation begins transitioning the system to local control. Lynx has been seeking dedicated local funding for many years. MetroPlan's director of regional partnerships, Virginia Whittington, told the delegation a local funding plan for SunRail is now being developed and a proposal should be available in a few months. Lynx funding has become a priority for Orange County's new mayor, Demings, but she suggested that is not expected to emerge soon.
— The Orange County Sheriff's Office asked for support for a bill introduced Stewart crack down on street racing, Senate Bill 116 would make a second offense a third-degree felony.