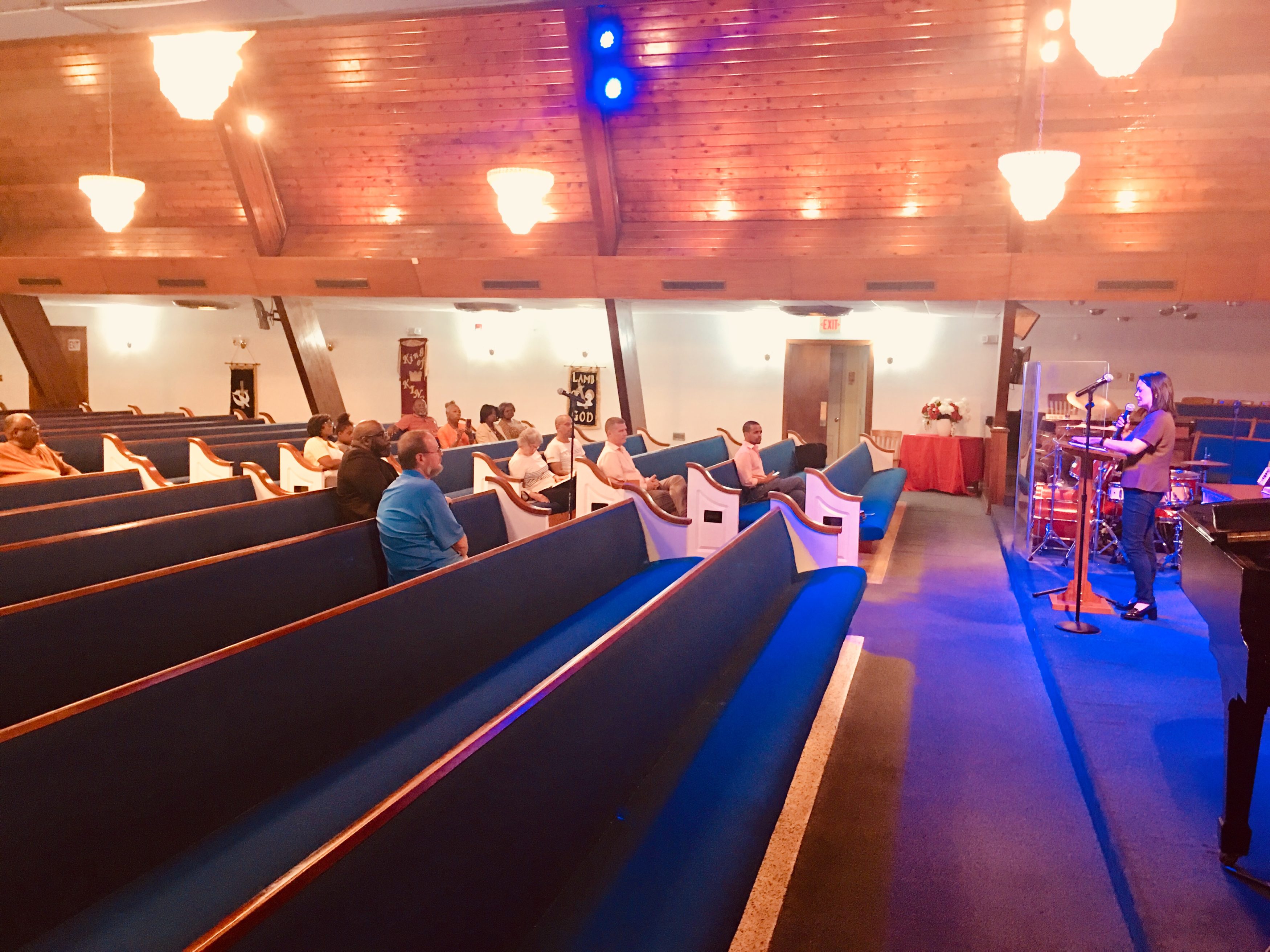 Brosche, a former Jacksonville City Council President, is 37 points behind Curry in the latest poll.
Anna Brosche, a Jacksonville Republican mounting an intra-party challenge to Mayor Lenny Curry, made her case Friday evening directly to voters.
At least, a few of them.
At 6 p.m., when the town hall was supposed to start, the church was empty except for two reporters, a woman, and two children.
Twelve minutes in, twelve people were in the room.
A few more showed up as the event progressed. By a half hour in, there were enough to pick sides for a softball game.
Brosche attempted to engage the crowd, but it was a heavy lift initially. After a few minutes discussing what she sees as a closed, exclusionary process in City Hall, and Curry's "misfit mafia," she called for the crowd to ask questions.
"Don't everybody rush up at once," Brosche quipped, saying the goal of the event was to listen and foster the kind of dialogue that doesn't happen now.
A number of awkward exchanges like this happened, creating a vibe at times reminiscent of a corporate team building event.
One gentleman spoke three times during the first hour of the gathering.
Brosche took questions about people who had endorsed Curry, including Sheriff Mike Williams, who endorsed Curry and said Brosche had never reached out to him in an official capacity.
"Council Member Brosche's remarks attempting to politicize drug and gang violence in our city are false. I am particularly disappointed since during her time as an elected official Council Member Brosche never once reached out to me to discuss ways to fight crime and reduce violence in our city. Four years of ignoring the realities of protecting Jacksonville citizens hardly qualifies her as a leading voice on this life-and-death issue," Williams said.
Brosche seems to recall it differently.
"We have a very respectful understanding of each other," Brosche said. "He's always been very accessible to me."
At least one audience member suggested that she take a public safety idea back to the Mayor, which would be an interesting conversation to imagine.
Brosche, a former Jacksonville City Council President who has had ongoing disputes with Curry, is struggling to force a May runoff with the incumbent.
A new poll from the University of North Florida's Public Opinion Research Lab is showing Curry the choice of 52 percent of participants, with Republicans  Brosche and Jimmy Hill at 15 and three percent respectively. Independent Omega Allen is at six percent.
If Curry clears 50 percent in March, there is no need for a May runoff.
Curry was ahead of Brosche by 38 points in a public poll of the race conducted last week. Between hard money and his political committee, the campaign has nearly $2 million on hand.
Brosche had roughly $100,000 in hard money at last check, and whatever is left in her statewide political committee (which had raised $374,000 by the end of January, but which has been spending also, on television and mail).
Curry has benefited greatly from using the buying power of the Florida Republican Senatorial Campaign Committee in recent weeks, which has given the incumbent a disproportionate edge on television saturation. In recent days, Curry's Jacksonville on the Rise sent Curry another $500,000, bringing the total to $800,000.
While Brosche's "New Day" political committee will have spent nearly $265,000 on television by the end of February, the FRSCC will have invoiced $721,585 on Curry's behalf by Mar. 1. Curry will have spent $140,000 in hard money by Mar. 4 also.
Debates? Curry has agreed to one with the field.
With a 37 point lead, he has little incentive to engage.
The campaigns and surrogates are squabbling over ads.
Curry compelled television stations to cease and desist playing a "false, malicious, and defamatory" Brosche ad saying 109 people in Jacksonville were killed in 2019. The ad is being recut with more killings over more time
Curry's campaign drew a Hatch Act complaint over using uniformed police in an ad.
Ironically, the pastor of the church Brosche spoke at, R.L. Gundy, filed that Hatch complaint.
Early voting begins Mar. 4.