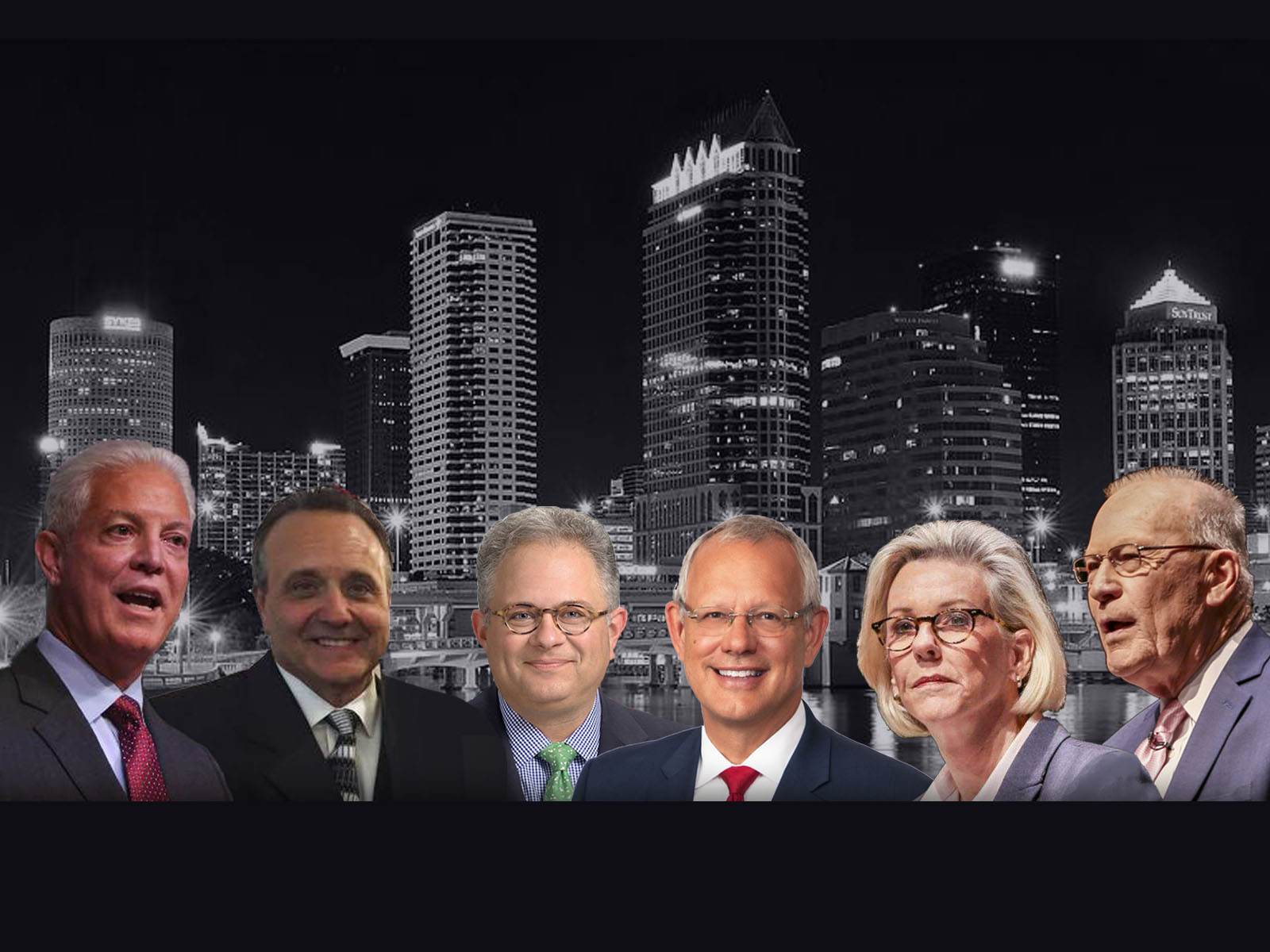 There are seven candidates for mayor.
Early voting in Tampa's municipal races begins Monday morning at 10 am at seven locations citywide. For those planning to nab an iconic "I Voted" sticker, here's your guide to all things 2019 Tampa election.
There are seven candidates for mayor at the top of the ballot. Here's where they stand on the issues.
Transportation
Jane Castor: Castor would increase transit options in the city by using both expanded bus service, light rail and extending the existing Streetcar service north from Downtown to Seminole Heights. She supports using existing CSX tracks to create passenger rail service connecting downtown Tampa to the University area. Castor would also use revenue from the All For Transportation tax to fix sidewalks and alleviate congestion on roads using smart transportation options like traffic signal timing. She has a detailed transportation plan here.
David Straz: Straz has not gotten into specifics on transportation issues facing the city, but has loosely expressed support for increased transit, better sidewalks and traffic congestion relief on roads. He supported the All For Transportation referendum raising sales tax 1 percent to fund both transit and transportation enhancements throughout Hillsborough County. Straz would use his proposed "quality of life" cabinet to prioritize projects using the approximately $40 million in additional revenue the city will receive from the new tax.
Dick Greco Jr.: Greco has not released a transportation plan, but supported the All For Transportation revenue. He tells voters he is not focused on building detailed plans on things like transportation because it's too premature. Instead, Greco says he would work to build relationships with partners like the Hillsborough Area Regional Transit Authority, Hillsborough County Commission and the Florida Department of Transportation in order to build collaborative plans once in office.
Harry Cohen: Cohen supports using All For Transportation to convert existing CSX tracks into passenger rail service throughout the city. He also supports extending the Streetcar north to Seminole Heights. Cohen's transportation plan also focuses on transit oriented development that would protect and enhance neighborhoods by providing amenities like grocery stores, retail, restaurants and affordable housing in underserved areas. Cohen's transportation plan can be read in detail here.
Mike Suarez: Suarez has not released a specific transportation plan, but has talked about the issue in public forums. He's been mostly quiet on using CSX tracks as a transit solution, but wants to expand bus service throughout the city and supports extending Tampa's Streetcar. Suarez also wants to ensure connections between downtown Tampa and the Westshore area including the airport. Suarez backed the All For Transportation referendum and was critical of a plan to create a 41-mile bus rapid transit route along Interstate 275 from St. Pete to Wesley Chapel. He didn't directly oppose it, but said the plan would better serve residents if the route operated in dedicated lanes.
Ed Turanchik: Turanchik has an oft-cited "Go Plan" that leverages a host of transportation solutions including using CSX tracks for passenger rail and creating local transit connections between neighborhoods and job centers. His plan emphasizes local connectivity over regional connectivity. Turanchik also supports using waterborne transit to connect South Tampa to downtown and Westshore. Read his plan here.
Topher Morrison: Morrison's transportation plan is by far the most unique. In addition to the traditional transit solutions like enhancing and expanding bus service and the Tampa Streetcar, which Morrison supports, he also proposed using gondolas as a transit solution. The urban aerial cars are cabled propelled above ground. Morrison would use gondolas for downtown transit and possibly to connect to St. Petersburg.
Affordable housing
Castor: Castor's affordable housing plan leverages her transportation plan to ensure people are able to affordably get to work and have access to jobs. It also utilizes transit oriented development to promote residential density so people can live closer to where they work. Castor also supports increasing education so more residents can train for jobs either in post-secondary education or through vocational training. She would consider revising city land use codes to reduce or eliminate parking minimums to create more housing options. She also supports using density bonuses for developers.
Straz: Straz supports a $15 minimum wage, which he would implement for city workers. He also cites his "quality of life cabinet" as a tool for identifying ways to provide more affordable housing.
Greco: Greco acknowledges the need for more affordable housing and has loosely shown support for increasing housing density. But, like his take on transportation, does not have a specific plan because those would be worked out in office with community partners.
Cohen: Cohen has been very vocal about finding ways to support innovative housing solutions like tiny homes and container housing. Tiny homes, because they take up so little space, are more affordable for young singles. Container housing can be built, by many estimates, for as little as half the cost of traditionally constructed homes. He also supports revisiting city codes to reduce or eliminate parking minimums where appropriate to make it more affordable for developers to construct affordable housing. He would also increase access to city programs to obtain home loans or help repairing existing homes.
Suarez: Suarez is also onboard for reducing parking minimums, but more specifically wants to better utilize city-owned property for affordable housing development to drive down costs for developers who can then pass those savings on to residents.
Turanchik – Turanchik would leverage his Go Plan to create affordable housing in transit corridors that creates what he describes as smart growth. He opposes urban sprawl. Turanchik would also support creating or expanding city programs to help residents obtain loans or pay for repairs to homes they already own.
Morrison: Morrison does not have a specific affordable housing plan, but has said it would be a priority. He would leverage transit improvements to increase access to jobs and make commuting more affordable. He also proposes free or reduced cost transit for low-income residents, reduced parking minimums to increase housing density and livable wages so residents can afford to live where they work.
In addition to mayoral candidates, all seven City Council seats are up for election this year. Four of those are for open seats. Here's who's running.
District 1 citywide:
District 2 Citywide
Charlie Miranda (incumbent)
District 3 citywide
District 4 South Tampa
District 5 downtown, East Tampa
District 6, South Tampa
Guido Maniscalco (incumbent)
District 7, New Tampa
Luis Viera (incumbent)
There are also 18 charter amendments on the ballot, which are procedural updates to the city's charter. Read about those here.
Early voting locations:
Cyrus Greene Center
2101 E. Dr. Martin Luther King Jr. Blvd.
Fred B. Karl County Center
601 E. Kennedy Blvd.
Jan Kaminis Platt Regional Library
3910 S. Manhattan Ave.
New Tampa Regional Library
10001 Cross Creek Blvd.
North Tampa Branch Library
8916 North Blvd.
Robert L. Gilder Elections Service Center
2514 N. Falkenburg Rd.
West Tampa Branch Library
2312 W. Union St.
Hours: 10am-6pm February 25-March 3
What to bring
Please bring one or two forms of identification that include your signature and photo. Without proper identification, you may still vote a provisional ballot, which will later be evaluated by a canvassing board for eligibility. Any of the following forms of photo identification are acceptable:
Florida Driver License
Florida ID card issued by the Department of Highway Safety and Motor Vehicles
U.S. Passport
Debit or credit card
Military ID
Student ID
Retirement Center ID
Neighborhood Association ID
Public Assistance ID
Veteran Health ID issued by the VA
Concealed Weapon License
Government Employee ID
If your photo ID does not include your signature, you will be asked to provide another ID that has your signature.
Bring your sample ballot to the polling place with notes on how you plan to vote. By making your voting decisions before going to the polling place, you help keep the lines down.