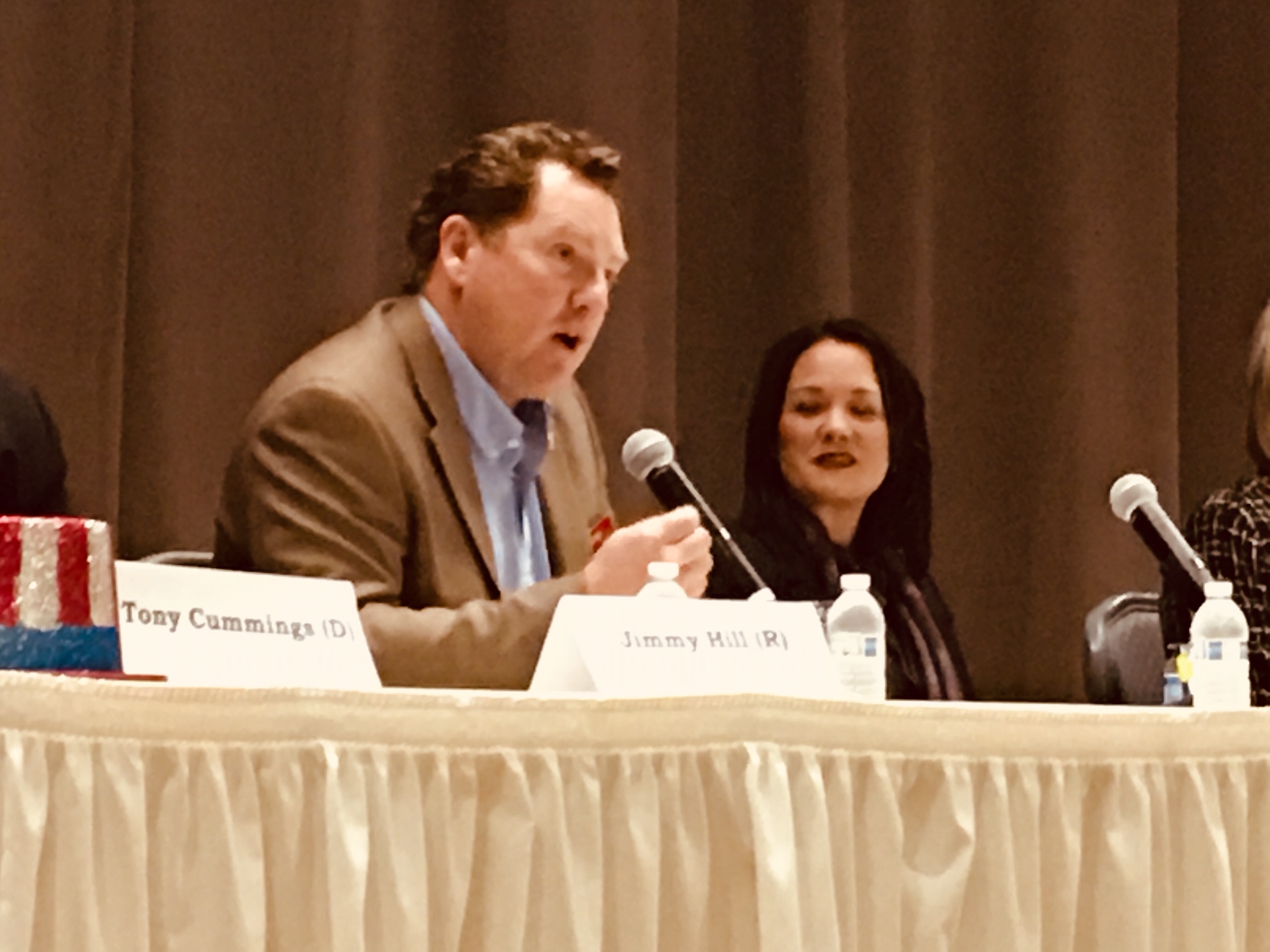 Jacksonville candidates up and down the ballot pitched Northside voters Monday.
Jacksonville candidates pitched voters Monday evening at a local community college.
With early voting beginning in a week, and Election Day three weeks from Tuesday, Mayoral candidates Omega Allen, Anna Brosche, and Jimmy Hill each made their cases for unseating Mayor Lenny Curry.
Curry has rolled up major leads in fundraising and polls,
Allen, an independent candidate, is polling at 6 percent; Brosche and Hill, Republicans, at 15 and 3 percent. Curry, meanwhile, leads the field with 52 percent. If that number holds, Curry will end the race in March.
If no candidate clears 50 percent, a May runoff is mandated.

Allen pledged to be free from the influence of "special interests and political parties," and lamented a "lack of cultural activity … a frustrated society due to neglect."
Brosche asserted her desire for a "safer, more inclusive, more transparent Jacksonville," with more of an emphasis on early childhood development and other "intervention" programs, including work in "neighborhoods."
"We need to make sure more people are at the table making decisions," Brosche said, "even if you have to bring your own chair."
References to the "misfit mafia," a nickname for Curry's team, were absent from the dialed-down pitch.
However, Brosche painted a picture of a "partisan, exclusionary" administration.
"You deserve a government that cares more about what's happening in your neighborhood than in Washington, Tallahassee, or the next step along the way," Brosche said.
Hill made the anti-media, anti-polls pitch a candidate in low single digits would, saying that you wouldn't see him on television, as the electronic media doesn't know he exists.
Hill also noted that the local City Council was "neutered," and that he was best positioned to bring change to City Hall.
The Mayoral candidates talked crime also.
Jimmy Hill noted that "there's only one way to get in front of [crime] … the answer is in the neighborhoods where the crime is."
"If your neighborhood is downtrodden," Hill added, "it means your Council person didn't play ball."
Brosche, who has been messaging against the "Curry crime wave," said that "it is not OK for us to be experiencing this level of crime."
The "increasing pipeline of enforcement needs," Brosche added, is "because we're failing our kids."
"A combined investment in our children and the appropriate programs that are accountable and measurable … park managers back in our parks … making sure that we get back to a robust system of neighborhoods": all of these were among the former Council President's suggestions.
Omega Allen went old-school, holding up "old New York beat cops" as a model for enforcement.
"Gun control is absolutely necessary," Allen said, referring to an "extensive national background" check as a prerequisite.
These three candidates will be debating, sans the incumbent, Friday evening on Action News Jax.
____
Democratic Sheriff candidate Tony Cummings, facing long odds against Republican Sheriff Mike Williams, pitched with hard-luck autobiography to make a point.
"We're over enforcing the area that we need to help us solve the crime problem," Cummings said.
Cummings painted a picture of law enforcement failed.
"You're paying $439 million … 36 percent of the city's budget," Cummings said, painting a picture of a "poorly led and poorly trained" group.
Among his reform proposals: a public accountability office.
____
Property Appraiser Jerry Holland was on hand, as was his Democratic challenger Kurt Kraft.
Kraft, who has tweeted for days about stolen campaign signs, has a couple of hundred dollars for his third run for the office, against one of the most popular politicians in Jacksonville.
Kraft charged that Holland's office had been investigated by five agencies and is currently being sued for age discrimination. And that he installed a "private shower."
Holland noted that Kraft reported the office for investigation, that the union "bumped" the employee in question, and that, in general, Kraft was lying.
The Democrat also contended that Holland was only in his office for 24 hours a week, per parking records.
Holland noted the request was a frameup, one that encompassed periods where he was in Tallahassee training, or during the holidays.
"If you want your appraisal to be honest," Holland said, "you'd better stay with the guy currently doing your appraisal."
Holland, the only candidate on the program to face personal attacks, sidestepped them.
He noted that Kraft, who contended that property taxes were too low on high-end properties, was in no position to know, as he was not a certified appraiser.
Tax Collector Jim Overton and his Democratic challenger, Councilman John Crescimbeni, likewise made their pitches.
Overton and Crescimbeni, two veterans, both have long resumes. Crescimbeni is trying to win citywide with just over $32,000 raised and $4,000 on hand, and despite his reputation as a maverick, he will have to win on a shoestring and without a Democrat running for Mayor.
Overton noted that one goal of his office is to reduce customer wait times. Crescimbeni agreed, saying "more convenient hours" were something the office could and should do.
"If you pay online, you get penalized," Crescimbeni added. "That needs to be reduced or eliminated."
Crescimbeni and Kraft trail the incumbents, each by double digits, in polls.