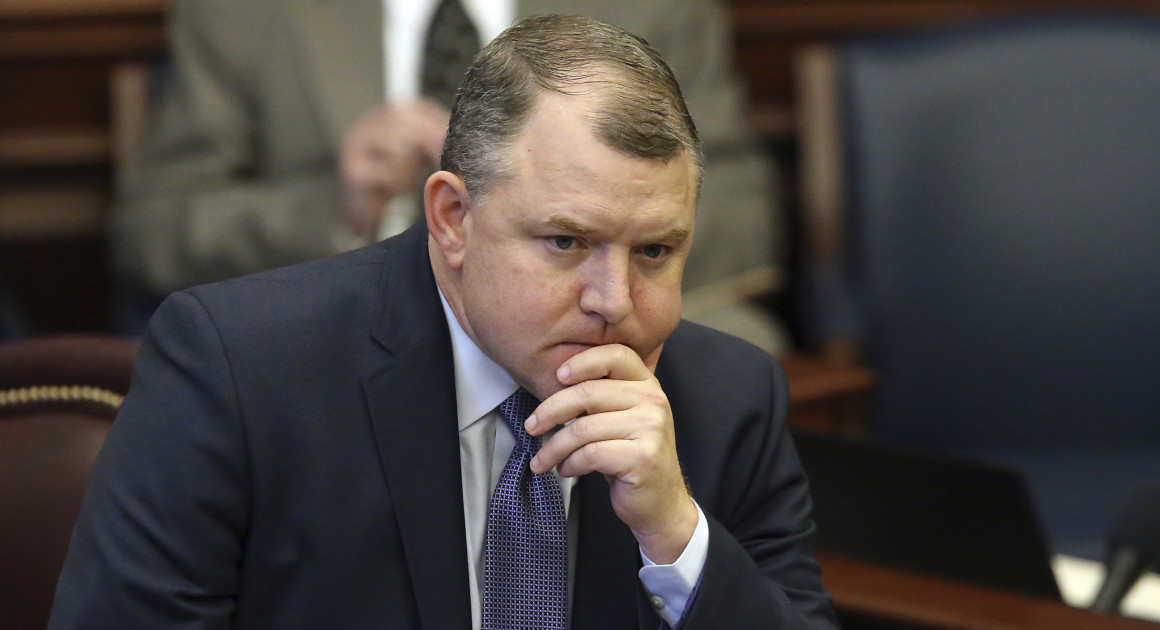 "We've spent a lot of our reserves on basic (hurricane) recovery efforts."
State Sen. Rob Bradley was already an unlikely candidate to propose a big spending budget as Appropriations Chair before Hurricane Michael ravaged the Panhandle last year.
Republican by registration and conservative by temperament, the Fleming Island Republican estimates a hefty $2.7 billion price tag.
While Florida's reserves can weather the fiscal storm, Bradley notes that Michael (and Irma before it) "created a major cash flow issue for our state."
"We've spent a lot of our reserves on basic recovery efforts, and it's taking the federal government a long time to reimburse us for their share of those costs," Bradley said. "It's going to be a very tight budget year."
In addition to balance sheet pressures, Bradley and other Tallahassee power players are working with a different administration than the previous budget process.
Senate President Bill Galvano credited the incumbent's team with more "collaboration" than the previous. 
Bradley's take: The difference is rooted in the difference in the chief executives themselves.
"Every administration is different. Gov. Scott was a product of his prior life experiences, and Gov. DeSantis is as well," he said.
"Gov. DeSantis learned in DC that a healthy republic needs robust give and take between the branches of government," Bradley continued. "He doesn't equate disagreement with disloyalty. Gov. DeSantis enjoys a good battle of ideas."
Indeed, with this being a non-election year, the odds are good there will be some drama.
"There's going to be disagreements between the Senate, House, and Governor, and that's OK," Bradley noted. "That's how the system is designed. What I see right now is an understanding by all sides that, while we may disagree on some things, at the end of the day, we are all conservatives who agree on the fundamental direction of our state."
While there are underlying agreements, there are also divergences. One such issue is medical cannabis.
Bradley broke with reformists when he lauded Rep. Chris Sprowls for inviting canna-skeptic author Alex Berenson to explain the downsides of marijuana to the House.
Bradley's perspective often is a window into the politics of the possible, and his concerns are extensive.
"It's not 'reefer madness' to ask basic questions about the effects of cannabis on children and adults. Research is sorely lacking," Bradley said. "We've received public testimony from medical experts on this point."
"The experts unanimously say that the research community is hamstrung by federal law," he noted. "You can't do double-blind studies and apply all the scientific rigors that one would normally expect to be applied to a medicine that is widely used. That's a real problem, and the federal government has grossly mishandled that situation."
"Here's what we do know: today's marijuana is more potent than ever, and the little research on its effects is either inconclusive or suggestive that there may be adverse effects," Bradley said.
"Our society has certain expectations for medicine:  there should be rules about dosages, research to confirm that those dosages will result in positive outcomes for patients, proper labeling, and restrictions on [the] availability to vulnerable populations like children," he added.
From there, the Senator laid out the crux of the argument.
"Our society regulates medicine, hospitals, alcohol, insurance and schools for very good reasons," Bradley said. "We are serious about protecting the health and well-being of our most vulnerable citizens. I respectfully disagree with those who want to peel out medical marijuana from this list and treat it like we are regulating the sale of an ordinary commodity, like a pair of shoes."
"Can you imagine if we legalized the proliferation of 'Mom and Pop' shops in every strip mall in Florida for the sale of prescription drugs?" he added. "We would never consider such a measure, yet some suggest such an approach for cannabis on the ground that we need a 'free market' for pot."
For those looking for buyers' remorse over Senate Bill 8, it's not there.
"We need to let research guide us a little more on this issue," Bradley said. "That's why I'm focused on Florida being a leader in medical marijuana research."
"We also must be serious about making sure that people who are entitled to receive medical marijuana in Florida do in fact receive it in a safe and professional manner, without unnecessary bureaucratic delays. Some of the delays in implementation have been unacceptable, but we have made significant progress recently and are now on the right path. For instance, ID cards are now being issued without unreasonable delays," Bradley added, before sounding a note of caution applicable to much more than cannabis.
"As for lessons from other states, there is one lesson that is repeated over and over," he said. "You can't close the barn door after the horse has bolted."
Bradley also signaled support for Leader Galvano's proposal for $75 million in rural highway spending, which promises to be a big talker in March and April.
"We successfully fast tracked the new Shands Bridge and the First Coast Expressway in the current year's budget. Chair (Travis) Cummings and I are focused on keeping that project on hyperdrive over the next two years," Bradley noted.
"The new roads described by President Galvano are a part of an overall long term vision for transportation needs in our state that includes the First Coast Expressway," Bradley said. "One should look at the FCE as a part of the larger Galvano vision."
And the larger Bradley vision, meanwhile: Does it include a run for higher office?
Wisely, the Senator and lawyer is keeping his own counsel and focusing on the next 60 days.
"Right now, I'm focused on finishing strong as the Senate budget chair for the next two years," Bradley asserted. "Too many people in this process are always thinking about the next office."