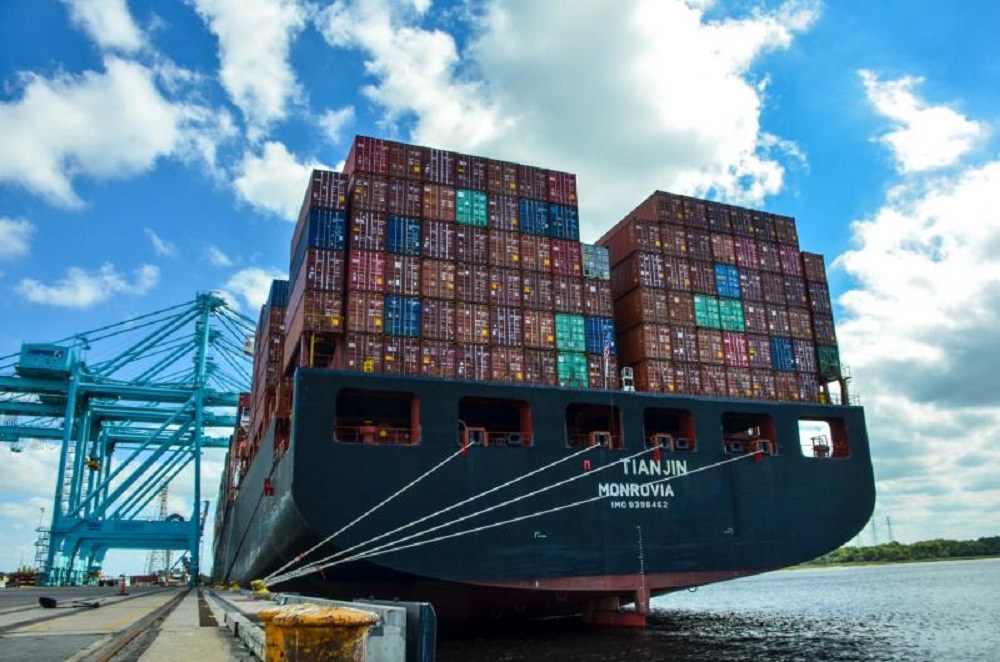 Dredging seems to be progressing ahead of schedule, free of incident.
At Monday's meeting of the JAXPORT board of directors, contractors revealed that the harbor deepening project is progressing well.
Indeed, current markers are being hit by contractors. And a new contract will provide more money for dredging and tenant stability into the 2040s.
Ray Waters of The Dutra Group and Russell Zimmerman of Great Lakes Dredging asserted that the project, which will deepen 11 miles of river to 47 feet, is proceeding free of notable adverse impacts.
Dutra noted that its end of the project ($484 million total) is just over 50 percent completed, with 1.5 million cubic yards dredged, and no notable environmental impacts created thus far.
Great Lakes, which started its part of the project in Nov. 2018, has a base contract of $113.167 million, and a potential option of $96 million. They expect completion by late 2020.
Thus far, 400,000 cubic yards have been dredged, a small fraction of the 2.7 million in its original contract and an additional 2.7 million cubic yards in its option.
As well, the board approved a 25-year, estimated $238.7 million pact with Seattle's SSA Marine for an international container terminal at Blount Island. SSA will contribute $28 million to the dredging project.
Strong support emerged for this move which will (in theory) move Jacksonville's port up to that level occupied now by Charleston, Savannah, and Norfolk, via U.S. Rep. John Rutherford.
"We want to see JAXPORT become the logistics hub of the Eastern seaboard and this is a big step forward in that direction. This whole city and region will benefit from this."
Monday's events follow on similarly encouraging comments by CEO Eric Green last week, which Action News Jax reported. The project, expected to finish in 2025, could wrap in 2023, said Green.
Environmental concerns have been voiced by the St. Johns Riverkeeper and others at every stage of the project.
Skeptics assert that water level will rise even more because of the dredge, and that there has been insufficient attention toward mitigating future flooding and related impacts.
The city's power structure has rebuffed such qualms, however.
In 2017, then City Council President Anna Brosche backed Mayor Lenny Curry and rebuffed calls for a workshop.
Brosche noted that JAXPORT was an independent authority, that city money was not being used for the project currently, and that the project was already underway.
Brosche and Curry, of course, are opposite each other on the ballot this month.
In the FY 2019 work plan, $46 million was allocated by the U.S. Army Corps of Engineers. The project has secured $96 million in three years from the federal government, and has received robust support from the state also.
Former Gov. and current Sen. Rick Scott said JAXPORT dredging was "vital to Florida being able to accommodate the large cargo ships traveling through the recently widened Panama Canal.
As a candidate, Gov. Ron DeSantis staged a media availability as JAXPORT after a tour, suggesting he knows the significance of the project also.