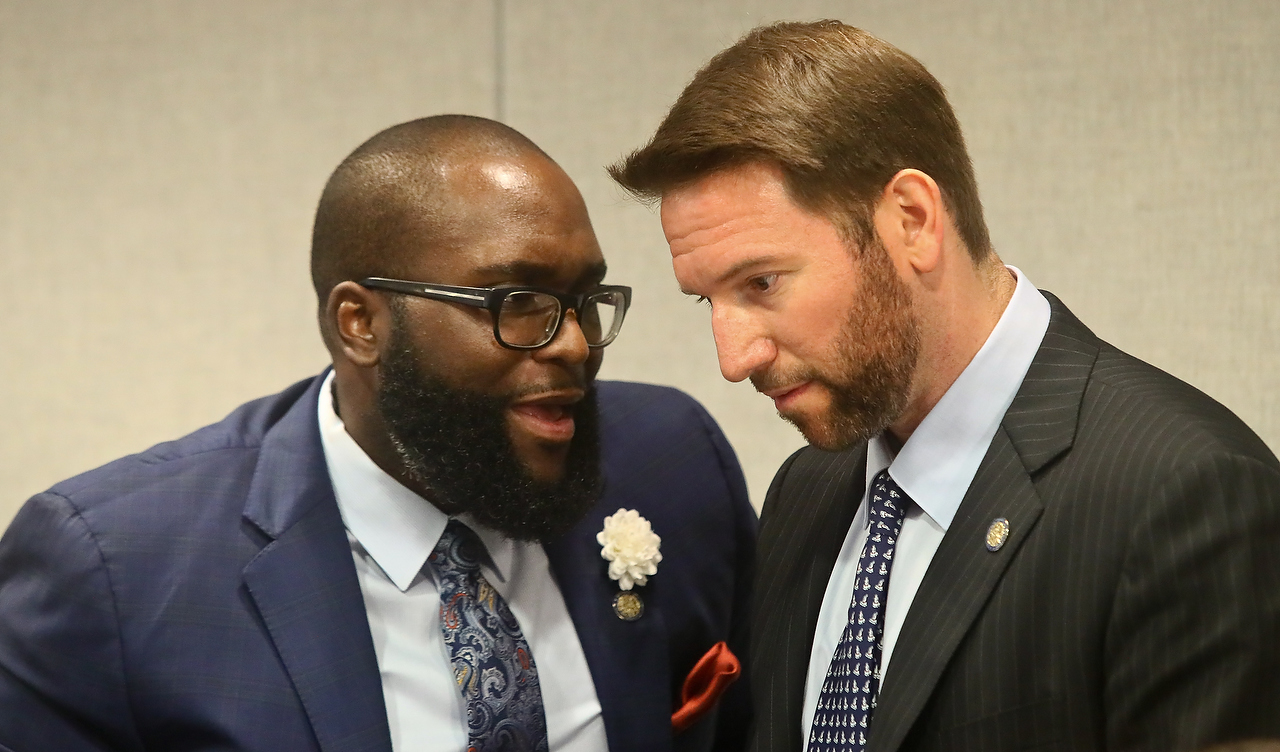 "No one knows what's going to happen."
As Rep. Shevrin Jones moves through his final two-year term in the Florida House, he says much of his attention in 2019 will be on school choice proposals put forth by the Governor and other lawmakers.
The West Park Democrat noted Gov. Ron DeSantis has been unpredictable so far, leading to what Jones dubbed a "mystery Session."
"No one knows what's going to happen," Jones said.
And while Jones has plenty of legislation of his own to shepherd through the 60-day Session, the former educator said he'll continue to push back against school choice proposals from his GOP counterparts thats could hurt the state's public schools.
"I might not be on the Education Committee but I haven't gone anywhere. I'm right here, and I'm going to be there still fighting the same fight."

Jones argued that with public schools already facing a teacher shortage, opening and expanding charter schools and other facilities will only exacerbate the problem.
"They want to put schools next door to a failing school. Where are the teachers coming from? Teachers are leaving schools at an alarming rate. It's not as if you have this magic bag of teachers. So what are we talking about here?"
He said the focus on school choice from the Governor, Education Commissioner Richard Corcoran and Republican leadership in the Legislature shouldn't divert attention from aiding the public school system.
"We have taken our attention off it for more than 20 years," Jones said of public schooling.
As for Jones' own legislative priorities, he says expanding Miami-Dade County's needle exchange program statewide sits on the top of his to-do list.
Jones introduced the bipartisan bill (HB 171) with his GOP counterpart from Orlando, Rep. Rene "Coach P" Plasencia.
The pilot program in Miami-Dade started in 2016 as a way to cut down on the transmission of infectious diseases from used needles. And effort to expand the program last year failed. But Jones says he's feeling more confident this time around.
"Republicans last year, their fear was the Florida Sheriffs Association (FSA) having (an) issue with the bill. They wanted us to work that out and we just ran out of time. Then Parkland happened, and so a lot of attention shifted in that direction, and rightfully so," Jones said.
"This year, we've been able to work with the Sheriffs Association."
The FSA did oppose last year's version. But Sheriff Bob Gualtieri of Pinellas County said the FSA has made "a tremendous amount of headway" with Jones and Plasencia to address FSA's concerns.
Gualtieri said the primary issues are ensuring counties are not required to participate in the needle exchange program. The current version of the bill in the Senate (SB 366) requires counties to opt into the program.
Gualtieri also said counties should maintain flexibility in where the needles can be exchanged. While the bill permits the use of mobile units, Gualtieri says counties should be explicitly allowed to limit the exchanges to stationary locations, such as health care facilities.
Jones also said he'll continue to push HB 49, also known as the "Dignity for Incarcerated Women Act." The Representative said hearing stories of women inmates' mistreatment and difficulty accessing necessary hygiene products is something that should be stopped.
"No one should be treated like that," Jones said. "As a state, we have a few different responsibilities, but one is to ensure that we maintain individuals' dignity."