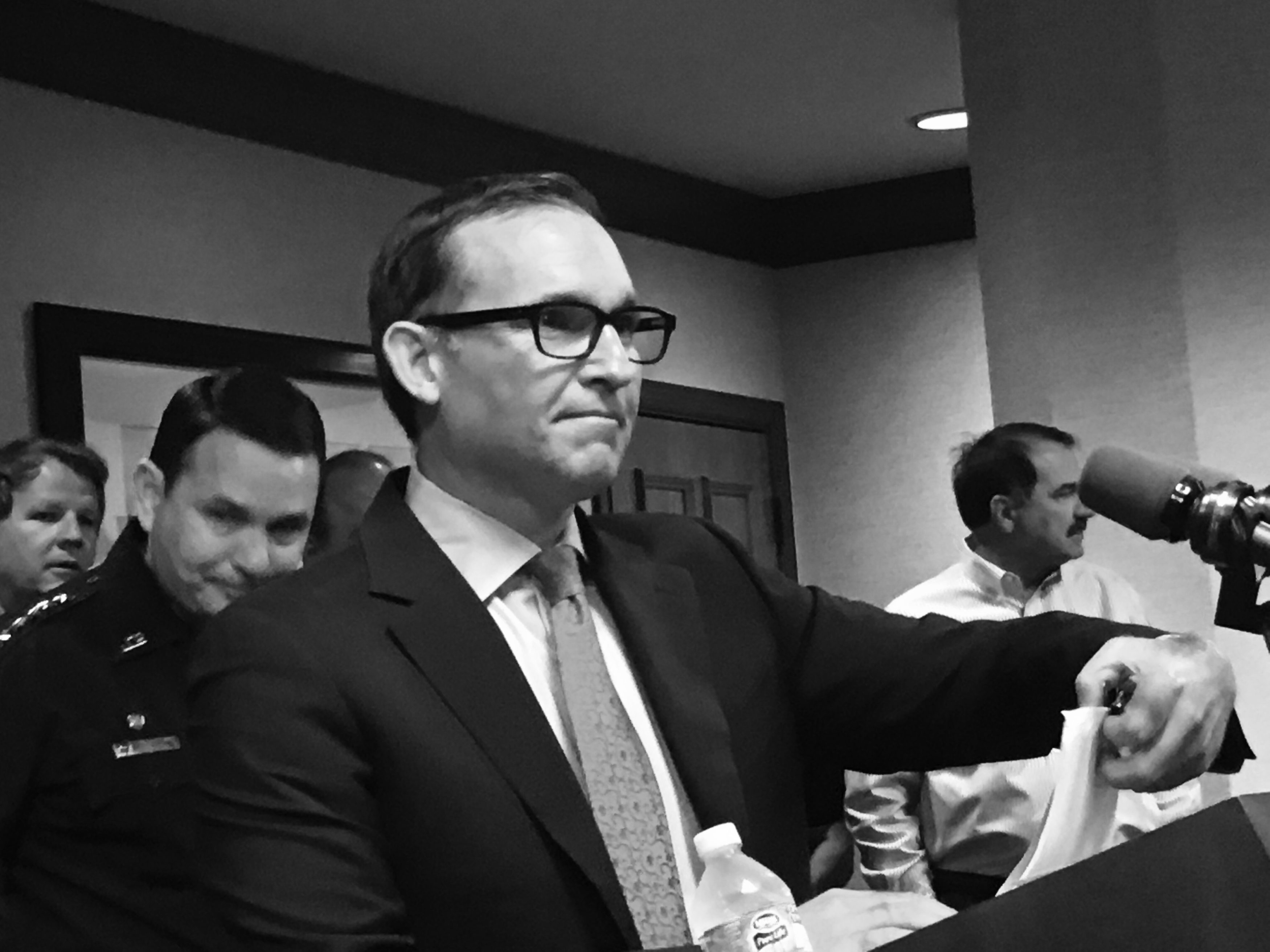 "Pink!"
Wednesday evening will be the sole chance that Jacksonville Mayor Lenny Curry's opponents have to confront him on a debate stage.
The event will be held at Jacksonville University starting at 8 p.m., and will be televised on WJXT-TV.
Curry, polling at over the 50 percent he will need to win re-election outright this month, has avoided forum and debate appearances with his three challengers.
In front of friendly crowds, they have savaged Curry.
In the biggest room of a campaign (a 600-seat auditorium packed with partisans), they will try to deliver fire. The lines are rehearsed at this point, calibrated for maximum reaction.
And Mayor Curry will try to keep it cool. To focus on the record.
He didn't seem too worried about the debate Tuesday evening.
Pink! pic.twitter.com/JysyBQ4isJ

— Lenny Curry (@lennycurry) March 6, 2019
Curry doesn't seem especially worried. He's not running simulated debates with actors playing his three challengers, though if he were that would make for interesting video.
Should Curry be worried though? He's going in cold against a trio that has appeared on stages all over Dirty Duval this winter.
Jacksonville City Councilwoman Anna Brosche, a former President of the Council and a Republican like the Mayor, is polling in the teens and twenties (haven't heard of thirties yet, but leak the poll if it exists, please), and has had the most trenchant critiques.
"The city lacks integrity," Brosche said Monday night, targeting "yes people" for the administration, "election-year payouts," and backroom dealings.
"It doesn't matter what I introduce," Brosche said Monday regarding her thwarted transparency legislation. "The Mayor's going to kill it."
A major talking point of Brosche's has been the effort in 2018 to, as she puts it, "sell JEA."
Brosche, Council President at the time, went to war with the administration over a desire to see what JEA might be worth to potential buyers.
Soon enough, the valuation/evaluation report manifested. Pushed forth by Public Financial Management, a national company also involved in helping to broker the exploration of value, the numbers were eye-popping.
Proceeds, the report said, could be between $2.9 billion and $6.4 billion after the retirement of debt.
Values ranged from $7.5 billion up to $11 billion, based on cash flow, price/earnings ratios, and other metrics.
All of this was, critics contend, aspirational.
At a special meeting of the Council on the subject, the then-President did not allow Mayor Curry to speak.
Tensions were so pitched thereafter that the Council nearly issued a subpoena to JEA's then CEO.
With a year having passed since the height of the drama, the bet Brosche has made is that voters still care. Turnout thus far languishes below 4 percent.
Polling third is No Party Affiliation candidate Omega Allen, who has been both Republican and Democrat at times.
Allen has avoided the rhetorical jabs Brosche has employed, though at Monday's forum she did propose a review of every contract entered into by the Curry administration.
Polling fourth: former Atlantic Beach Commissioner Jimmy Hill.
Hill's contention is that Curry has lost the party.
Like his fellow Republican Brosche, he has a personal reason for running also.
"Their actions just destroyed us," Hill said of his boat show that was capsized in 2017 after a dispute over event dates at Metro Park with the city proved fateful.
One great unknown: how Curry will approach the theater of the debate.
Expect that he will mention Brosche voting for his budgets, his key initiatives, and in line with the administration over 98 percent of the time.
Expect also that he argues Brosche's interest in public safety isn't borne out by her legislative record, which included no bills on the subject.
Expect most of all that he focuses on his record, one of stakeholder consensus.
The crowd is always advised to maintain silence. That's a challenge to enforce even for a seasoned moderator like Kent Justice.
Tickets are expected to be apportioned 150 to each campaign, which should make for some interesting moments if the field attacks Curry and the crowd "spontaneously" reacts.
The goal of Wednesday night for the Mayor: to get through the debate without anything interesting happening.
Time will tell if any of his opponents have the game to change that.
Last updated on March 6, 2019