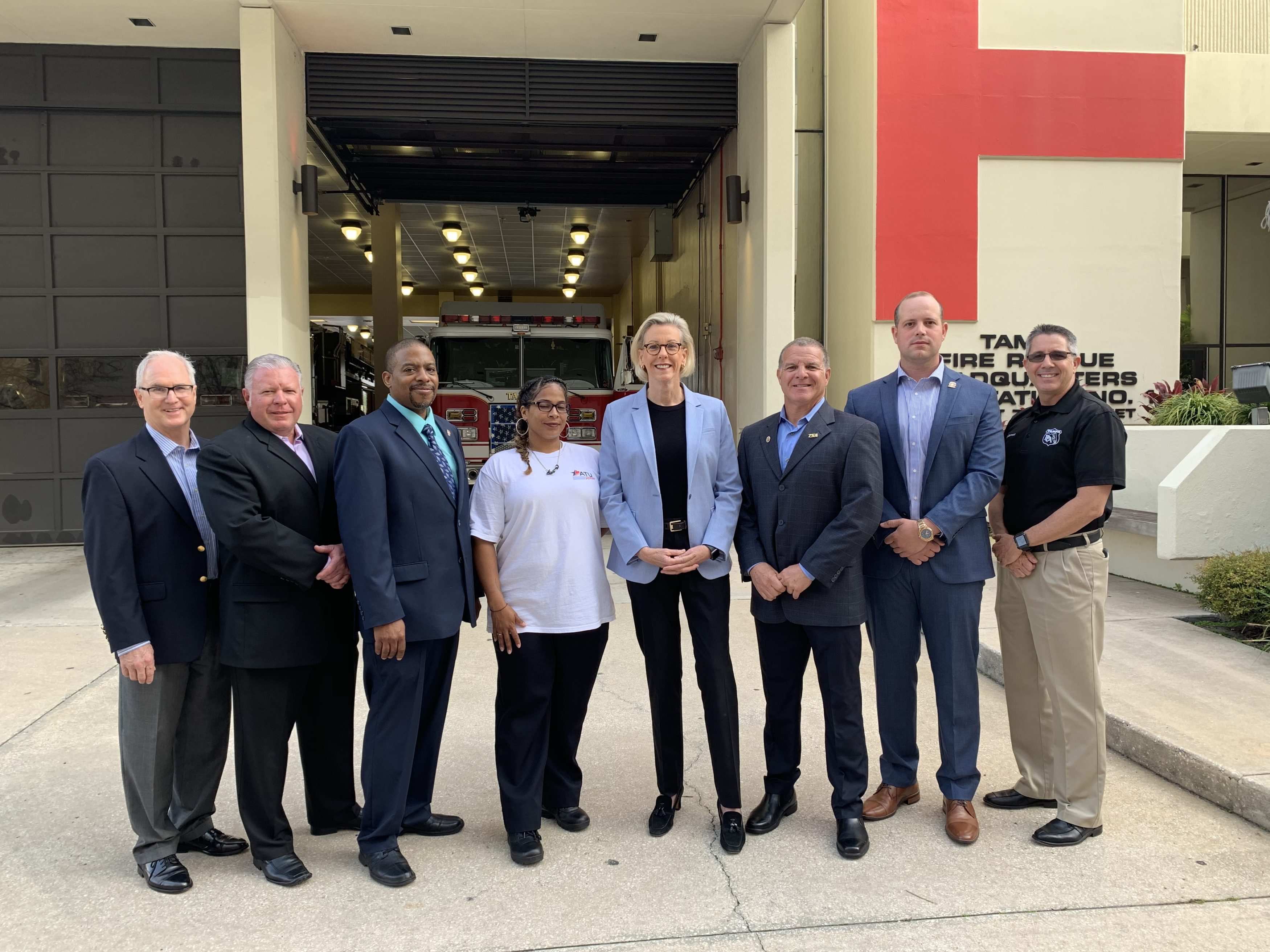 "As the former chief of police, Jane has always stood up for our city's first responders."
Three local unions are backing Jane Castor for mayor: The news came at a fire department in downtown Tampa Monday.
The local firefighters union had endorsed Mike Suarez in the race, but is shifting its support to Castor after Suarez was knocked out of the race last week.
"As the former chief of police, Jane has always stood up for our city's first responders," stated Joe Greco, president of IAFF Local 754.
"She alone has the skills and knowledge to keep our city safe, and is intimately aware of the challenges and struggles that folks in our line of work go through every day. We know she will continue to be an ally and friend to firefighters as our next Mayor."
The local Amalgamated Transit Union, which also had backed Suarez, is also now endorsing Castor.
"Today, our union are excited to endorse Jane Castor to be the next Mayor of our city," said Stephen Simon, president of ATU Local 1464. "She's the only candidate in this race who understands the importance of supporting and growing public transit, and making sure that the workers who keep our city running are properly taken care of."
Castor also received an endorsement from the local teamsters. The group's president, Brian Rothman, said Castor was the best candidate in the race to "stand up for the working men and women of Tampa."
The three groups are endorsing Castor over her opponent, David Straz.
The backing is yet another boost for Castor who has a huge advantage in the race. Castor received 48 percent of the vote last Tuesday in the municipal race against six other candidates.
Straz finished second in the race, pitting him against her in an April 23 runoff, with just 15.5 percent of the vote.
"It's an honor to receive the support of three of Tampa's largest and greatest unions, who do so much to defend workers' rights in our city," Castor said.
"Tampa's on a great path, but we need to make sure that that success is felt by every working family in every neighborhood of our city. These are the folks who make our city as great as it is, and a Mayor, I will fight every day to be their champion in city hall."
Castor has also already received endorsements from two of her previous opponents, retired judge Dick Greco Jr. and City Council member Harry Cohen.
Incumbent Mayor Bob Buckhorn also endorsed Castor.
While Castor has the edge by the numbers, she's likely to be at a disadvantage in the money race. Straz has already pumped $3 million of his own money into the race and has said he'll spend as much as necessary to pull out a win next month.
Castor had raised just over $1 million in her campaign and affiliated political committee.